Tailor-made and individual
Sealing solutions for tail lights
Fully automatic material application

Protection against moisture, corrosion and dust

Sealing with water-repellent and temperature-resistant polyurethane foams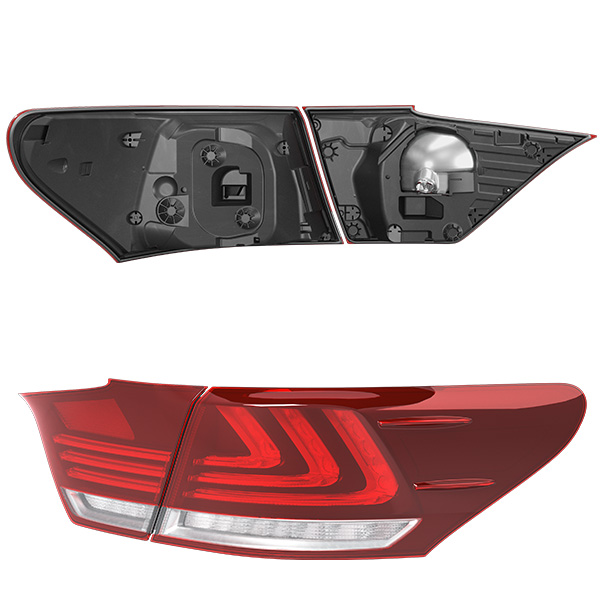 We offer efficient and flexible sealing and bonding solutions to meet your individual requirements for tail lights. Our 2-component sealing foam is installed and compressed in the overall part construction of the vehicle light. This keeps moisture away from the light sources and avoids the risk of lighting electronics corroding.

Tail lights are functional design elements that hug the car's contours and give each model a distinctive look.
The foam gaskets used to seal 3-dimensional tail lights must follow these contours so that the plastic parts are sealed against both the outside environment and auto body. However, conventional gaskets made of punched sponge rubber sheets cannot be used for 3-dimensional taillights.
In addition, the punching waste from this process is costly and not sustainable. Our thixotropic 2-component polyurethane foam systems FERMAPOR K31 are thus used for sealing 3-dimensional tail lights. Almost 100 percent of the sealing foam consumed is actually used.
Tailor-made sealing solutions for taillights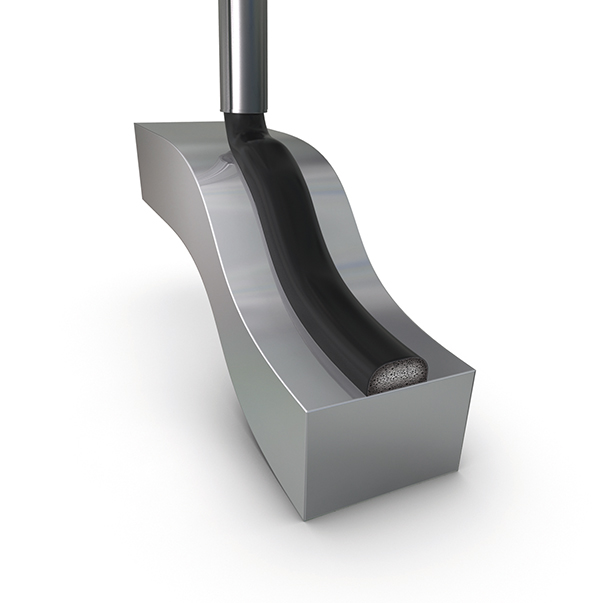 We develop individually for your specific requirements
Our dosing machines apply the FERMAPOR K31 foams to the 3-dimensional contour of the lighting housing in a fully automatic and high- precision FIPFG process. This creates a seamless gasket with an almost invisible coupling point of the foam gasket. Thanks to its high viscosity, the paste-like foam remains stable even on sloping contours. FERMAPOR K31 gaskets are ideally suited for practically all tail light designs.
Repeated removal and installation of tail lights for repair and maintenance purposes is possible without the sealing effect weakening, thanks to the very high resilience of the foam gasket and its excellent long-term behavior. To compensate for component tolerances, the polyurethane foam can be easily compressed during assembly thanks to a mixed-cell foam structure with low installation forces. We can modify our formulations to meet many of your requirements.
FERMAPOR K31-A-5555-1
FERMAPOR CC-A-5530-2-B
FERMAPOR K31-B-4
FERMAPOR CC-B-66

Mixing ratio

4 : 1
2.3 : 1

Pot life time

35 sec.
30 sec.

Tack-free time

4 min.
16 min.

Viscosity of A component

55,000 mPas
70,000 mPas

Density of the foam

0.27 g/cm³
0.31 g/cm³

Hardness (Shore 00)

54
55

Temperature resistance

from -40 to + 80 °C
from -40 to + 80 °C

Pretreatment

Primer P23 (solvent-based),
P13 (water-based) or plasma
Primer P23 (solvent-based),
P13 (water-based) or plasma
In addition to the reference products, we develop material systems according to your individual requirements. Influencing factors include pot life until start of foaming, curing time, and the viscosity, hardness and adhesion properties.

Repeatedly opening and reclosing for maintenance purposes with remaining sealing effect
The very good resilience of the foam seal allows the components to be opened and reclosed repeatedly for maintenance purposes without the tightness deteriorating. After installation, the rear light is sealed and the sensitive electronics are protected against splashing water and the effects of the weather.
The video shows the polyurethane foam seal FERMAPOR K31 in cross section - first in the uncompressed state, then 50 % compressed, so that the sealing function of the seal is given.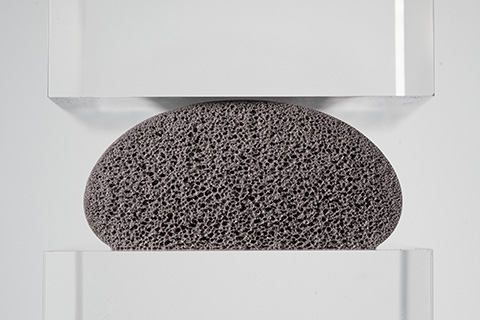 Cross-section of a polyurethane foam bead – unpressed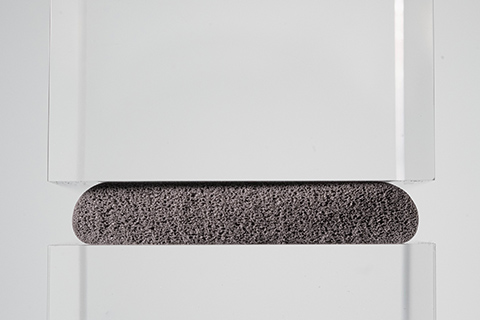 Cross-section of a polyurethane foam bead with 50 % compression.
DM 502 mixing and dosing system with 3-axis linear robot and a shuttle table for picking up parts of the tail light housing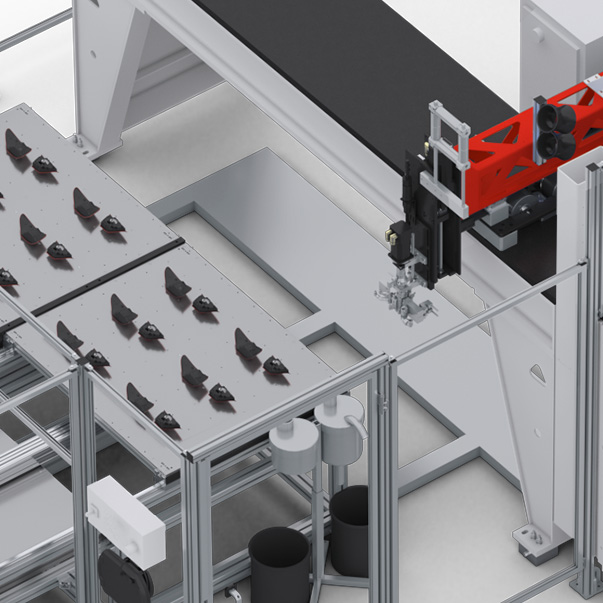 The reference configuration shown here for sealing the housings of tail lights consists of our DM 502 mixing and dosing system with the LR-HD 3-axis linear robot as well as a WT 1-LEVEL shuttle table for picking up parts. The two pick-up plates working in pendulum mode enable the workpieces fixed there to be picked up and processed in one plane. This makes it possible to guarantee continuous operation.
The placement and holding on the shuttle table of the tail light housing to be sealed is performed either by a machine operator, who can also check the parts for quality, or by a Pick & Place Robot. In this case, an optionally installed camera system could carry out the quality control of the parts.
Flexible and fully automatic – according to your requirements
For sealing the tail light housing, FERMAPOR K31 thixotropic polyurethane sealing foam is applied via the nozzle injector of the CNC-controlled MK 825 mixing head, in a high-precision and fully automatic process, onto the 2D or 3D application surface or into the groove of the component contour. After the dosing cycle, the coupling point of the foam gasket closes almost seamlessly and is thus virtually invisible. Due to the uniform compression in the installed state, a high level of tightness is achieved over the entire contour of the tail light.
For improved adhesion of the foam gasket to plastics such as PP or PE using plasma, we install an optional plasma application unit on the rear of the CNC Y-axis in addition to the mixing head.
Even with short cycle times and high unit numbers, the material application process using the FIPFG method is carried out with high dosing precision and repeat accuracy. As a result, you achieve foam gaskets of uniformly high quality. This means that your sealed tail lights can be processed rapidly, right through to final assembly. This saves time and money.
In addition, our fail-safe mixing and dosing system can be operated easily and intuitively without the need for extensive training. Due to the automatic logging of dosing program data, all process data can be traced and evaluated by the machine operator while production is running.