Closest to the sun
Sealing of PV inverter housings
Fully automatic material application

Protection against moisture and corrosion

Seamless foam gasketing
Sealing of PV inverter housings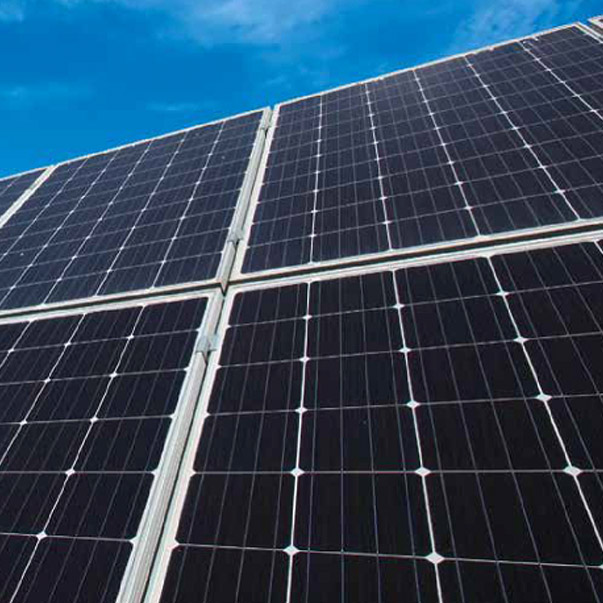 The climate targets, which aim to achieve CO2 neutrality, are safe-guarding future generations and preserving the viability of our planet as a place for human life. It will be also essential to use natural resources (e. g. wind, hydro and solar power) efficiently to generate renewable energy.
Whether located in stormy coastal location, deserts or Alpine chalets, photo-voltaic (PV) systems to convert solar energy into electrical power and solar thermal plants must run reliably for many years. To provide protection against enormous temperature differences, considerable wind loads, as well as ice and salt water; the toughest requirements are placed on the sealants, adhesives and potting materials.
PV and solar thermal plants are usually designed to have a service life of several decades. In order to ensure that these plants can be used sustainably and run economically, all of their components and functionality have to be designed with this period of time in mind. This is a challenge that many people underestimate.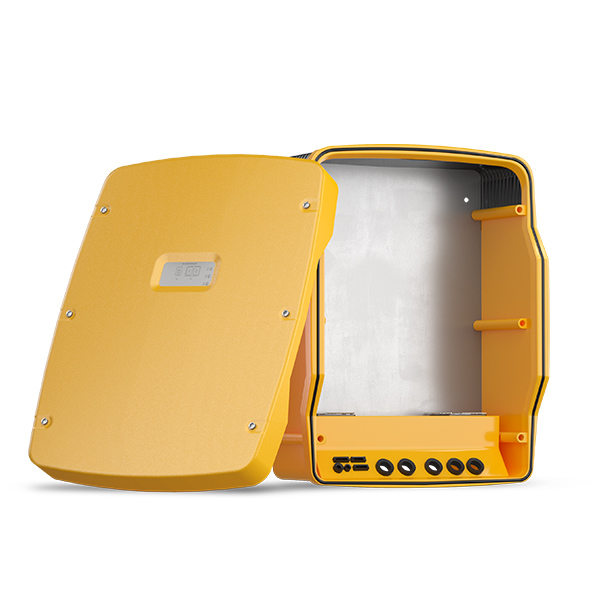 Are you looking for a single-source supplier of solutions for the sealing of inverter housings and solar thermal plants?
We will provide you with a perfectly coordinated sealing solution, consisting of a sealing foam that satisfies your requirements and a dosing system for high-precision, fully automatic material application, controlled by contour robots.
Do you require a flexible automation system that can be variably adapted to your production conditions?
The modular design of our mixing and dosing systems with their peripheral interfaces allows flexible and efficient use and excellent integration into existing production concepts. In addition, these systems are very easy and intuitive to operate offering highly dispensing accuracy and system process monitoring.
We offer you reliable sealing, bonding and potting solutions. These include application engineering advice, material systems with a broad range of characteristics as well as the matching dosing technology and process automation.
Tailored material systems for maximum product safety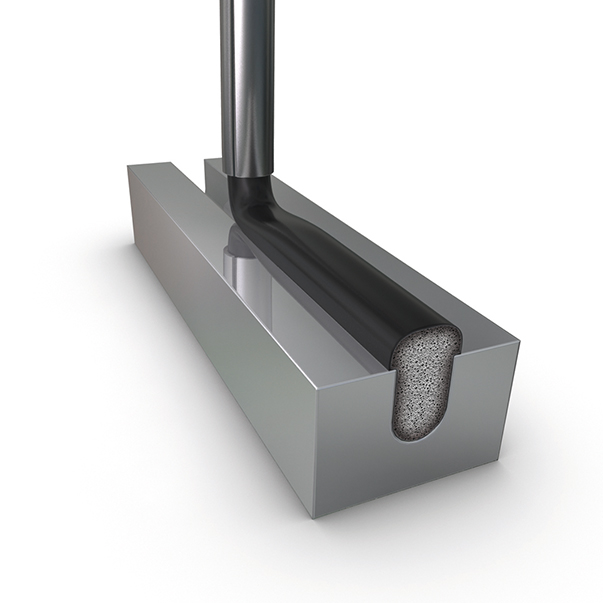 We carry out developments individually for your specific requirements
Henkel offers its customers many years of experience gleaned from a wide array of applications deployed for the photovoltaic (PV) industry. In photovoltaic and solar thermal applications, once installed many components and modules have to be so tightly sealed that there is no chance of moisture, dust or harmful media penetrating the housing or temperature related factors causing any detrimental effects.
Our polyurethane based, 2-component FERMAPOR K31 sealing foams have been specifically designed to meet the stringent standards required by photovoltaic systems and seal photovoltaic inverter housings against moisture ingress and temperature effects. The electronics within the inverter housing are thus optimally protected against humidity and corrosion. Sealing foams with different viscosities permit dosing application on flat surfaces, as well as on 3D contours.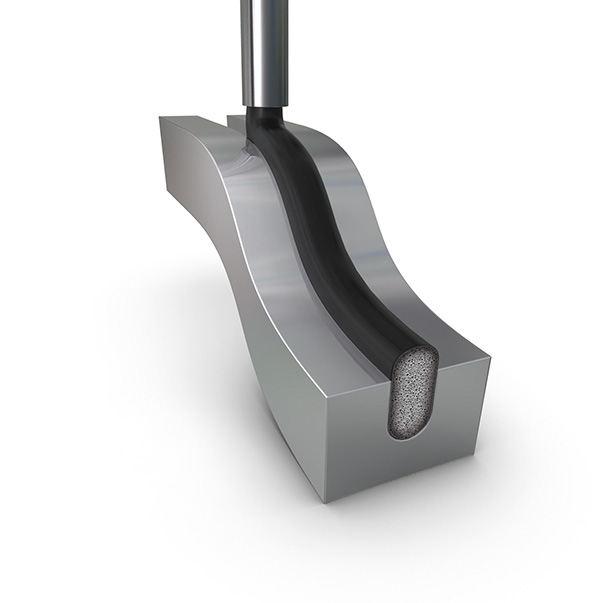 If PV inverter housings have to be opened for maintenance purposes and resealed, it is essential that the polyurethane foam gasket has very good shape recovery characteristics. As a result, the mixed cell foam structure can still be compressed easily even after many years (verified in accordance with DIN EN ISO 1856) and the foam gasket retains a consistently high level of impermeability.
A potential compression rate of between 30% and 60% (according to the hardness of the material system) allows for the compensation of component tolerances. The foam can be made harder or easier to compress by adjusting its degree of hardness.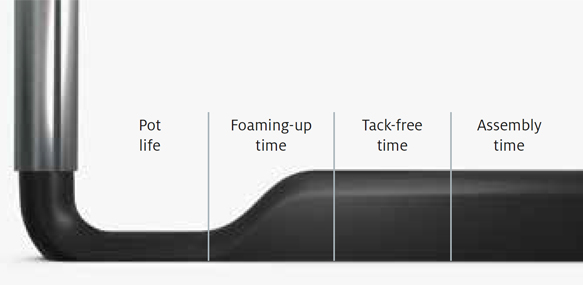 The different reaction phases of the sealing foam in the chronological sequence
| | | | |
| --- | --- | --- | --- |
| | | FERMAPOR K31-A-9675--2-VP | FERMAPOR K31-A-9230-2-VP |
| | | FERMAPOR K31-B-4 | FERMAPOR K31-B-4 |
| Mixing ratio | | 4 : 1 | 4.5 : 1 |
| Pot life time | | 38 sec. | 50 sec. |
| Tack-free time | | 3.5 min. | 8.0 min. |
| Viscosity of the A component | | 1,800 mPas | 50,000 mPas |
| Density of the foam | | 0.34 g/cm³ | 0.29 g/cm³ |
| Hardness (Shore 00) | | 64 | 62 |
| Temperature resistance | | from -40 to + 80 °C | from -40 to + 80 °C |
In addition to the reference products, we develop material systems according to your individual requirements. Influencing factors include pot life until start of foaming, curing time, and the viscosity, hardness and adhesion properties.
Protection even in extreme weather conditions
Besides protection against the ingress of moisture, dust and dirt, PV and solar thermal plants also above all require very good high temperature resistance.
The terminal box of a photovoltaic system contains sensitive electronics and must not suffer an outage – even under extreme weather conditions. FERMAPOR K31 sealing foam systems generally meet the component requirements for resistance to high temperatures and UV exposure and also comply with IP 67 (IP = ingress protection).
The video shows the polyurethane foam seal FERMAPOR K31 in a cross section in a groove - first in the uncompressed state, then about 50 % compressed, so that the sealing function of the seal is given and the component is tight.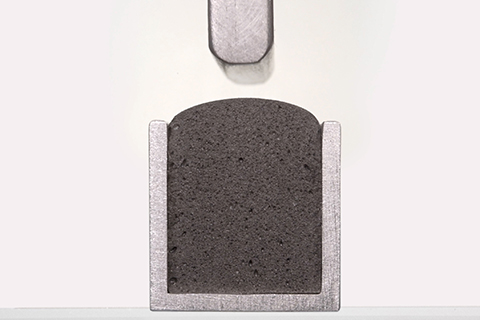 Cross-section of a polyurethane foam bead – unpressed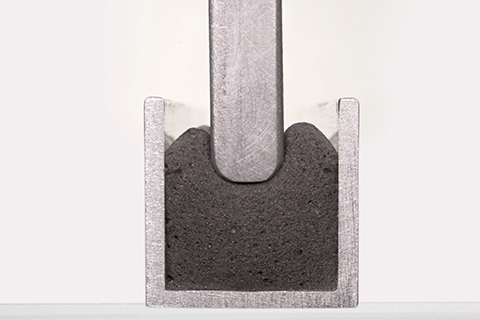 Cross-section of a polyurethane foam bead with approx. 50 % compression

Mixing and dosing system with 3-axis linear robot and a shuttle table for picking up parts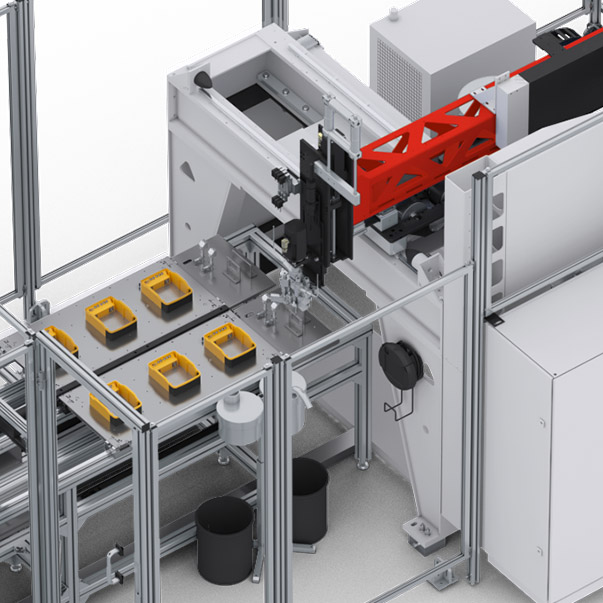 Flexible and fully automatic – fully in line with your requirements
As process experts, we support you with tailored advice for the automation of your manufacturing processes. We offer numerous configuration and equipment options for semiautomatic or fully automatic production systems, either with the 3-axis linear robots or through the use of 6-axis robots.
The reference configuration shown here for sealing the housings of photovoltaic inverters consists of the DM 502 mixing and dosing system with the LR-HE plus 3-axis linear robot or, alternatively, LR-HD and the WT 1-LEVEL shuttle table for picking up parts. The two pick up plates working in continuous shuttle mode enable workpieces to be picked up and processed in one plane.
The positioning of the housings on the shuttle tabletop is performed by a machine operator, who can also check the parts for quality, or by a Pick & Place Robot.
Seamless sealing of the PV inverter housing is ensured by the precise processing and true-to-contour application of foam using the DM 502 mixing and dosing system. The CNC controlled MK 825 PRO precision mixing head applies the 2-component polyurethane foam system within the groove of the inverter housing with high dosing precision and repeat accuracy. After the dosing cycle, the material undergoes a room temperature curing process. A soft-elastic polyurethane foam gasket with an almost invisible coupling point forms as a result.
Our fail-safe mixing and dosing system can be operated easily and intuitively without the need for extensive training. Thanks to the automatic logging of dosing program data, all process data can be traced and evaluated by the machine operator via the CONTROL 2 operating panel while production is running.
In all solutions, our main focus is on extremely reliable plant engineering, minimized maintenance times and consistent dosing quality.