Bacteria and mould have no chance
FERMAPOR K31 MICROBIAL INERT
Microbial inertness
Resistant to fungi and bacteria
in accordance with DIN EN ISO 846
Leak free mounting of air filters in filter frames
FERMAPOR K31 MICROBIAL INERT
...meet the hygiene requirements according to DIN EN ISO 846 for air conditioners
The Institute for Air Hygiene (Ruhrgebiet/Ruhr Area) has tested the FERMAPOR K31- A-7550-1-F + K31-B-4 (4:1) 2-component foam sealing system and confirmed their resistance to fungi and bacteria according to DIN EN ISO 846 (determination of the effect of micro-organisms on plastic).
The FERMAPOR K31- A-7550-1-F polyurethane foam gasket meets the requirements for microbial inertness and is suitable for use in air conditioners. It protects the seals of air-conditioning components for air flow, such as ventilation grilles, air filters, atomisers and access systems, efficient against attack from allergenic and bacterial micro-organisms.
The advantages of FERMAPOR K31 foam sealing systems with microbial inertness for sealing air filters in air conditioning systems: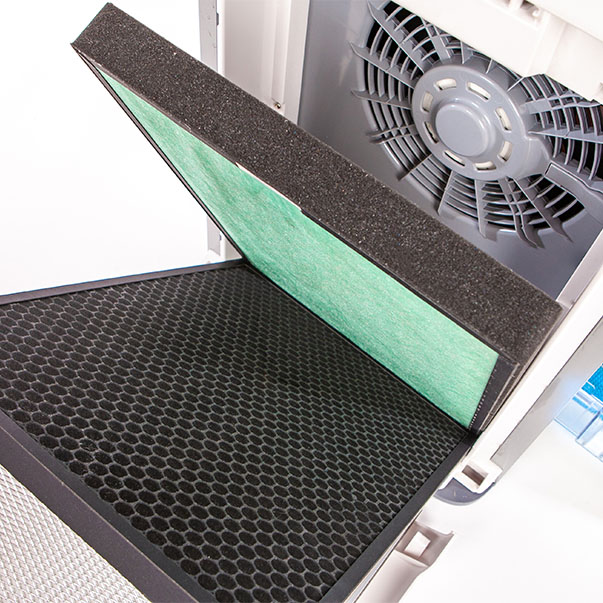 Zero-leak mounting of air filters in filter frames, ensuring no unfiltered air gets past the filter
Microbial inertness
Resistant to fungi and bacteria in accordance with DIN EN ISO 846
No release of harmful emissions and odours
Chemical resistance to cleaning and disinfecting materials
High resistance to tearing and low water absorption
Air filters employed in air-conditioning units are sealed by using FERMAPOR K31 MICROBIAL INERT. The special additives in the sealing recipe ensure protection against harmful micro-organisms, bacteria, and molds, which could otherwise, with the wrong room climate and high temperatures, colonize the seals.