Reliable functionality of ATMs in all climates
Sealing of ATMs
Fully automatic material application

Protection against moisture and corrosion

Seamlessly closing foam seal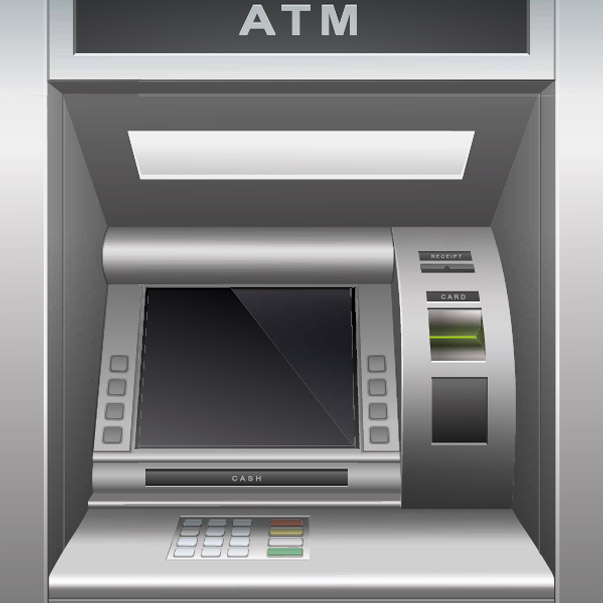 It has been some time since we collected cash at the cashier's desk inside our local branch. We now use an ATM approximately 85 percent of the time. These machines can be found in almost all possible and impossible corners of the world. This enables people living in even the most remote parts of the earth to withdraw money and carry out other banking transactions.
In spite of the ever-increasing number of cashless payment transactions, the importance of cash continues unabated. The more banks close their branches to cut costs, the more ATMs are installed.
In addition to being located in the entrance areas of banks, hotels, gas stations, train stations and shopping malls; ATMs are on the outside of building facades or free-standing terminals in pedestrian zones.
ATMs and multifunction terminals must therefore be robustly built and sealed for outdoor use. We offer a large number of tested solutions for the secure sealing of the installed components. The sealed inside of the terminal remains dry in spite of the influences of the damp weather and the electronics of the ATMs are protected against corrosion caused by moisture.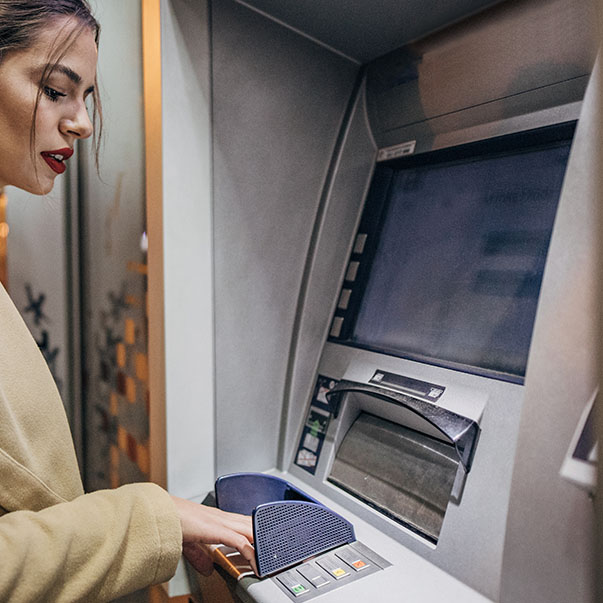 Are you looking for a more efficient way of using materials or cost effective solution for sealing the components of your ATMs than with conventional seals or without tooling costs compared to 2K injection molding?
We will provide you with a perfectly matched sealing solution that consists of a sealing foam that satisfies your requirements and a dosing system for high-precision, fully automatic material application that is controlled by contour robots.
Do you require a flexible automation system for sealing your components that can be variably adapted to your production conditions?
With our machine solutions, the focus is on the extremely flexible use of your dosing system which can be very well integrated into existing production concepts thanks to its modular structure. You will be provided with a fail-safe mixing and dosing system that is also very easy and intuitive to operate.
Reliable sealing with optimized material consumption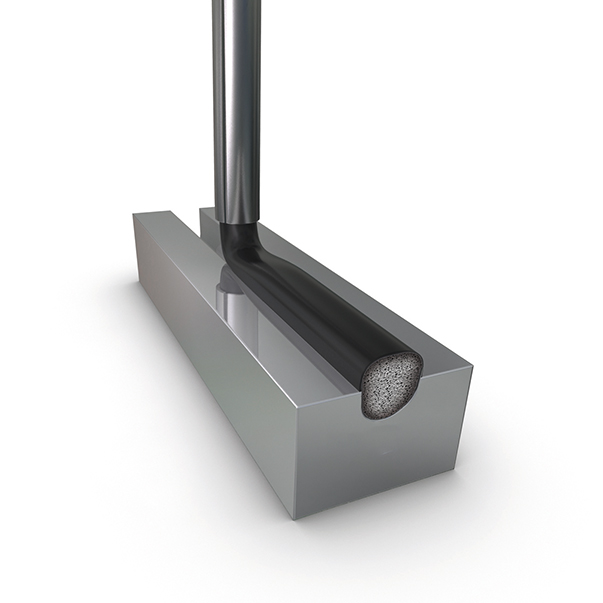 We develop individually for your specific requirements
components of ATMs mainly consist of plastic, on which the polyurethane sealing foams used for the sealing process usually offer good dry adhesion.
For components with a flat application surface, the 2-component polyurethane foam FERMAPOR K31 must have a thixotropic, stable viscosity. For contours with a groove, the sealing foam is applied in liquid form.
The variably adjustable degree of softness of polyurethane foams is advantageous for low installation forces during the assembly of ATM components. In addition, thanks to the efficient, very precise FIPFG (Formed-In-Place-Foam-Gasket) technology, significantly less material is used when sealing with polyurethane foam compared to the die-cut gaskets used in the past.
In the event of repairs to the ATM, non-destructive removal and reinstallation of the sealed components is perfectly possible with our polyurethane sealing foams. This advantage results from the very good resilience of the soft-elastic foam gasket without any loss of tightness. In this way, ATM components are completely sealed again even after reinstallation.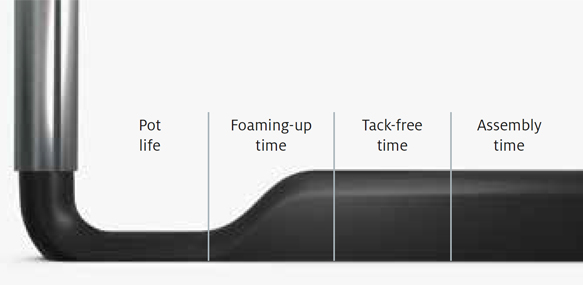 The different reaction phases of the sealing foam in the chronological sequence
FERMAPOR K31-A-9675-2-VP
FERMAPOR K31-A-230-2-VP
FERMAPOR K31-B-4
FERMAPOR K31-B-4

Mixing ratio

4 : 1
4.5 : 1

Pot life time

38 sec.
50 sec.

Tack-free time

5 min.
8 min.

Viscosity of the A component

1,800 mPas
50,000 mPas

Density of foam

0.34 g/cm³
0.29 g/cm³

Hardness (Shore 00)

64
62

Temperature resistance

from -40 to + 80 °C
from -40 to + 80 °C

Pretreatment

if necessary, plasma for e.g. PP and PE,
if necessary, primer for metallic surfaces
if necessary, plasma for e.g. PP and PE,
if necessary, primer for metallic surfaces
In addition to the reference products, we develop material systems according to your individual requirements. Influencing factors include pot life until start of foaming, curing time, and the viscosity, hardness and adhesion properties.


Optimum protection due to seamless sealing and excellent long-term behavior of FERMAPOR K31 polyurethane foams
The excellent long-term behavior of FERMAPOR K31 polyurethane foams and the seamless sealing of your components by means of our precise dosing technology prevent the penetration of moisture and protect the electronics of ATMs from malfunctions due to corrosion.

The unpressed polyurethane foam seal on an even application surface and in the component groove before installation.

By pressing the foam seal, tightness is achieved in the installed state on the level and in the groove.


DM 503 mixing and dosing system with 3-axis linear robot and a shuttle table for picking up parts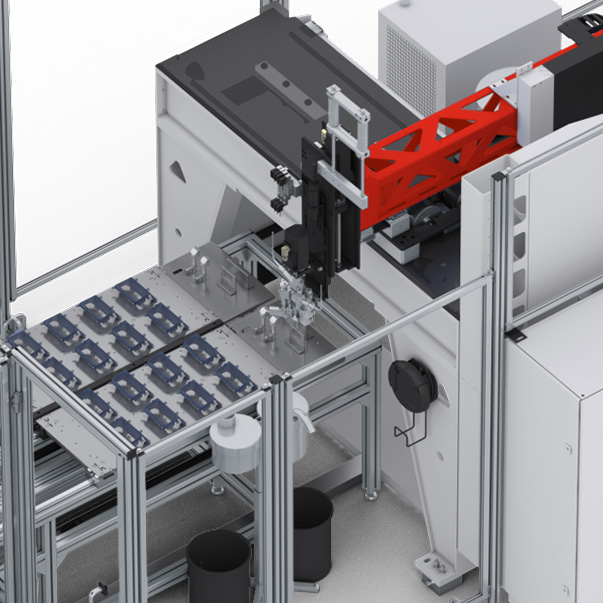 Flexible and fully automatic – fully in line with your requirements
The reference configuration shown here consists of the DM 503 mixing and dosing system for 3 components with LR-HE plus 3-axis linear robot and WT 1-LEVEL shuttle table for picking up parts. The two shuttle tables working in pendulum mode enable the workpieces to be fixed there and processed in one plane. This means that very short cycle times and continuous operation can be guaranteed.
The placement and positioning of the components on the shuttle table top is performed either by a machine operator, who can also check the parts for quality, or by a Pick & Place Robot. In such case, an optionally installed camera or sensor system could do the quality control of the parts.
The optional plasma nozzle mounted on the rear of the Y-axis, which is CNC-controlled by the 3-axis linear robot, applies plasma on the contour of the components for surface activation, resulting in better adhesion of the foam gasket.
The DM 503 mixing and dosing machine, which has been designed for three material components, can process and dose both liquid and thixotropic sealing material. This offers you the advantage of needing only one dosing machine for sealing the various components of your ATMs, even if you have to use different material systems for this purpose.
The MK 825 PRO precision mixing head, which is controlled by the contour robot, applies paste-like polyurethane foam to flat application surfaces or liquid polyurethane foam into the groove of the surrounding component contour in a fully automatic manner using the FIPFG process with high dosing and repeat accuracy.
After the dosing cycle, the coupling point of the foam gasket closes seamlessly and is almost invisible. When installed, the uniform compression of the foam gasket produces a consistently high level of seamless tightness over the entire contour of your sealed ATM components.
Due to the automatic recording of the dosing program data, all process data can be traced and evaluated while production is running. For all solutions, our main focus is on extremely reliable plant engineering, minimized maintenance times and a very stable application process of the sealing foam used – with very high dosing quality.