Special machine construction
mixing and dispensing
of polyurethane, silicone and PVC in automated processes tailored to your application
Tailor-made FIP (Formed-In-Place) mixing and dosing systems!
Mixing head, material preparation, process control and automation layout, individually configured
Product life cycles which become ever shorter lead to new forms of construction and designs of various industrial components. Thus, mixing and dosing systems and automation solutions that can be flexibly adapted to every requirement are in high demand. Our core competence therefore includes developing, consulting and selling of the appropriate technology for a particular situation, regardless of whether you want to operate a stand-alone unit from us or to integrate a mixing and dosing system into a complex production line.
System solutions are developed and implemented in close collaboration with our material experts or other suppliers and our customers – always based on the latest safety standards, technical performance and environmental compatibility. Our highly specialized engineers ensure this.
Our SONDERHOFF mixing and dosing systems – for the application of polyurethane, silicone and other reactive substances – consist essentially of three modules: the mixing head, the material preparation and process control and automation. Therefore, there are numerous different equipment options that allow you to tailor the system layout to your own production process.
We differentiate between two FIP technologies: the classic low pressure FIPFG technology for mixed-cell polyurethane foam, and the newly developed medium pressure technology SONDERHOFF FIP CC for closed-cell polyurethane foam, which distinguishes itself through the most minimal level of water absorption. The FIP technology also includes the application of non-foamed material such as polyurethane or silicone potting compound and adhesives – get in touch!
The six basic system types:
The components of the mixing and dispensing system
The combination possibilities are what make it so versatile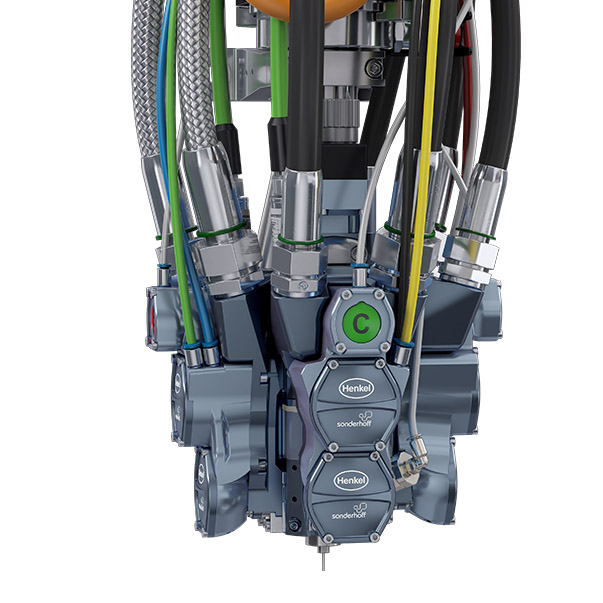 The dynamic mixing head
Small may be the mixing head in comparison to the total system, but its importance for the result is huge. Our mixing heads contain numerous patented technologies ensuring outstanding homogenisation of the material components, exact dispensing quantity control and the greatest possible process regularity. The specially designed agitator design ensures gentle mixing even after few rotations. Thus, in dynamic mixing, only little reaction energy need be imparted through friction. This leads to fewer rinsing spurts and lower material waste.
The precise nozzle lock system SONDERHOFF STOP-DROP DVS-3 in the mixing head ensures an exact, almost invisible join at the ends of the continuous stream of foam. The patented high-pressure water rinsing process in the mixing chamber makes Sonderhoff mixing heads additionally reliable.
For the low-pressure process we offer numerous different mixing head types.
Material preparation and process control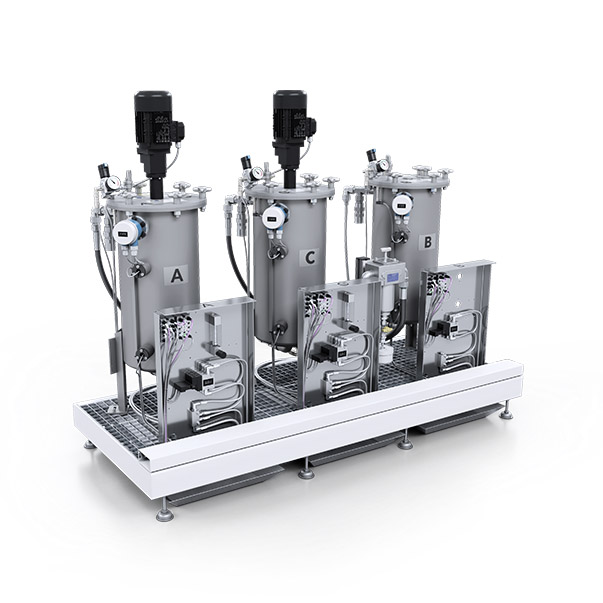 Further core parts of a mixing and dispensing system are the material preparation and the process control that belongs to it. Here are not only system and process parameters determined but also all process data recorded. For the true art lies in the preparation and controlled supply of the material systems.
Our systems are as much suitable for the application of sealing foams as for potting and adhesives, and can even be configured so that a combination of these applications can be achieved by a single machine! For example, a filter is framed with a foam seal and the filter-packet coated with potting.
And in order to optimise the result, according to the requirements of the application, further technologies are methods for material conditioning can be brought to bear, such as recirculation, nucleation, tempering or thin-film degasssing.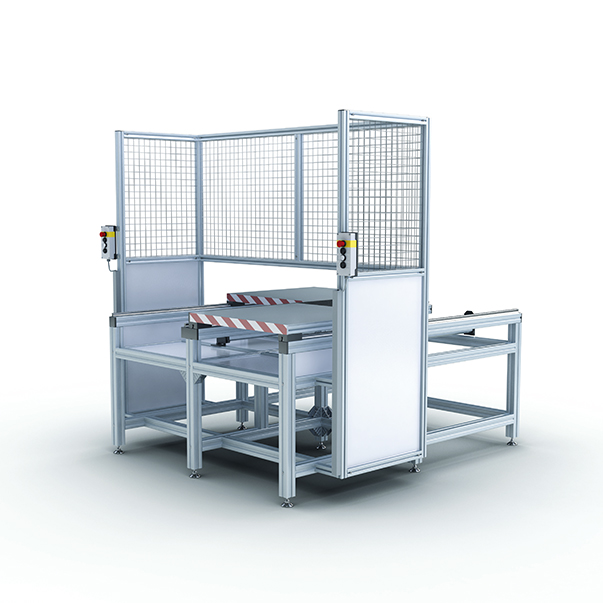 Other equipment options
Every application is different, and thus every production process has its own requirements. To react flexibly to these and offer an optimal system layout, other equipment options are available, such as:
3-axis linear robot for mixing head guidance
2-axis mixing head traversing unit (MKVE)
Shuttle tables for the component infeed and outfeed
Find out more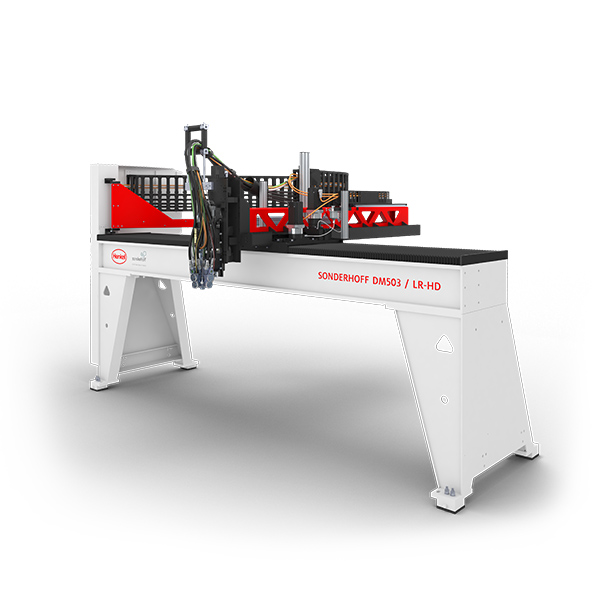 Automation solutions
The special advantage of our technologies lies in the possibility of automating the application process, either as an stand-alone solution or as a combined solution in a fully automated production line or in an inline production cell. The basis for this is the very precise CNC-controlled linear robot. With this, the highest possible repeating accuracy of the mixing head positioning over the part is achieved. Additionally, our mixing and dosing systems can be adjusted to the timing cycle of your production. We offer you the following variety of system concepts:
3-axis linear robot on steel profile base framework
3-axis robots in a dosing cell
mixing head traversing unit
6-axis robots on base plate, combined with a mixing and dosing system
dosing machine and 6-axis robots combined with injection moulding system (SONDERHOFF MOLD'N SEAL inline production)
Either the traversing unit of the linear robot moves the mixing head precisely over the part, or a 6-axis robot lifts the part and holds it under the fixed mixing head. With 3-axis linear robots a processing area for the mixing head of up to 3,000 x 1,000 x 500 mm (X/Y/Z) is achievable. With the implementation of 6-axis robots, there are practically no limits, and with the use of material systems of a suitable viscosity, even upside-down applications are possible.