Space-saving and handy
The mobile DM 70
1- / 2- component dosing and mixing system
Modular construction
Reliable technology
Manual applicaton
The hand-held DM 70
The mobile workstation for manual material application.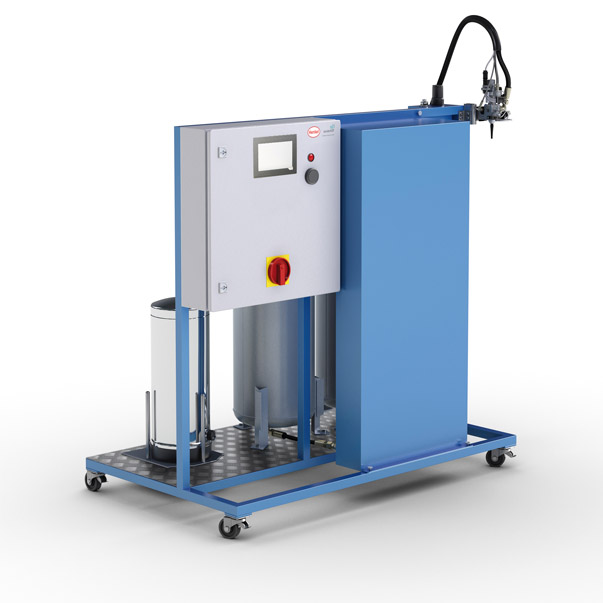 The DM 70 is a manual 1- / 2- component mixing and dosing system for sealing, glueing and potting of different types of components. The DM 70 precisely processes liquid, medium to high viscose media such as polyurethane, silicones, epoxy resins and other polymer reaction materials.
Simple processing
Sonderhoff has designed the DM 70 so that it is easy and safe for operators to fulfil their tasks. The system is run from a LCD operating panel with keypad control. The main outstanding feature of the devices is its non-recirculating system with continuous material dosing via precision-made geared pumps. The processed material is mixed by a static (MK 20) or dynamic (MK 50) mixing head. Another remarkable characteristic of the DM 50 and DM 70 is their compact design, which allows all components to be housed on a mobile chassis. The easy access to the machine permits the fast and trouble-free completion of service and maintenance work.
The DM 70 processes the input materials with constantly high levels of consistency with regard to dimensional stability and production quality. The control system allows the user to store and monitor the main material-processing parameters, such as material reactivity. Variable control is also provided for the parameters affecting automatic rinsing or the automatic repeat-shot, the gauging and shot-time, material feed amount and mixing ratios.
Flexible today, flexible tomorrow
Sonderhoff system owners are already prepared for tomorrows tasks as Sonderhoff systems are able to handle different parts with new geometries and materials under changing circumstances. The DM 70 permits the manual application of a wide range of materials by using a hand pistole.
The futureoriented technology concept of the DM 70 offers the use of both MK 20 and MK 50 Sonderhoff precision mixing heads. Thanks to their modular design the DM 70 can be customized for almost any size or type of job – for instance as a mobile stand-alone system in manual operating mode.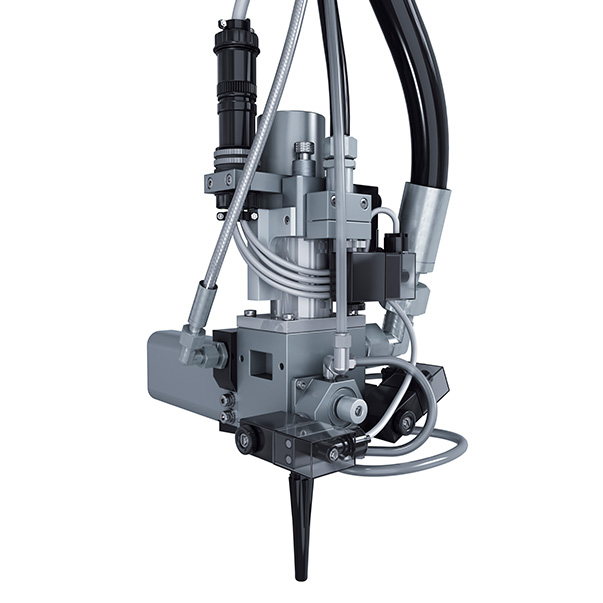 2-component mixing head MK 50 with dynamic mixing
for liquid to highly viscous polymeric reaction materials.
Control concept
Modular-design contact-free control system; operating terminal with display elements integrated into switchgear cabinet, keypad with LED indicators, size of display screen: 4-lines with 20 characters each
EMERGENCY OFF function provided by master switch
Switchgear cabinet fixed on a mobile chassis
Programmable potlife monitoring system, shot and repeat-shot preselection, automatic rinsing and material conditioning
Spontaneous output-quantity adjustment by use of frequency converter
Monitoring of components pressure
Component working-pressure indicated by manometer
Drive technology
Turning-speed controlled spur wheel back-geared motor with revolution counter and adjustment by use of the operating display
Driving power: 0.55 kW
Drive-system running speed: 40 -260 rpm
(optional with 15 – 260 rpm with separately driven fan)
Precision gear pumps (optional)

| | |
| --- | --- |
| Size | 0,1 / 0,12 / 0,25 / 0,3 / 0,52 / 0,6 / 1,0 / 1,2 / 2,0 / 3,0 / 4,0 / 6,0 / 8,0 / 12,0 / 16,0 / 20,0 ccm/R |
| Special pumps | available on request |
Hose Package
Length 3 m, with all electrical and pneumatic connection lines included
A-components
Woven fibre-reinforced polyamide high-pressure hose
B-components
Steel-reinforced teflon high-pressure hose
Compressed-air system
Compressed-air system with filter-pressure reducer and micron oiling system
Maintenance unit to control the pneumatically-operated items
Connection ratings

| | |
| --- | --- |
| Electrical system | according to DIN EN 40 439-1 and DIN EN 60 204-1 |
| Electrical power supply | 3 x 400 V, 50 Hz or 60 Hz, TT or TN network |
| Rated capacity | approx. 4 kVA (basic configuration) |
| Average consumption | approx. 2 kVA (basic configuration) |
| Compressed-air | 100 – 550 l/min bei 6 – 7 bar |



| | |
| --- | --- |
| Tank and pump chassis: | W/H/D 850 x 1.300 x 1400 mm |
| Switchgear cabinet: | W/H/D 600 x 600 x 210 mm |
| Total weight: | approx. 400 kg |
General

| | |
| --- | --- |
| Chassis | configured as shaped tubular-steel welded frame, supplied in RAL 5015 paint finis |
| Mixing ratio | from 100 : 5 to 1 : 1, infinitely variable |
| Output quantity | from 0,1 to 100,0 g/s, other output quantities are available on request |
| Viscosity processing range | from 100 to 2.000.000 mPas, other output quantities are available on request |
Control
Display languages available in English, German, French, Spanish or Italian
Wire identification
Operating hours counter
Adaptable to different power-supply ratings (60 Hz version)
Material preparation
Pressure container with capacitive minimum filling-level sensors and shut-off ball valve, with compressed-air fittings and compressed-air reducer valves for controlling of container pressures
Safety pressure valve, TÜV type-approved
12 l pressure container, single-walled, galvanized
24 l pressure container, single-walled, galvanized
24 l pressure container, single-walled, chrome nickel steel
44 l pressure container, single-walled, chrome nickel steel
44 l pressure container, double-walled, chrome nickel steel
90 l pressure container, double-walled, chrome nickel steel
19 l tank for cleansing agent, with safety valve and minimum-level monitoring
Wire-mesh filter cartridges and plate disc filter
Rotary current mixer: 22 rpm
Electrical heating for single-walled containers
Temperature control for double-walled containers
Heating-system control for double-walled containers
Manual nucleation mechanism
Manual vacuum degassing
Prepared to control an automatic refilling station
Single- or double - RAM-presses for 20 to 200 l drums
Quality assurance
Maintenance unit for monitoring of compressed-air supply
Additional monitoring of component operating pressure
Additional quality assurance devices are adaptable according to customer requirements
Hose Package
Electrical heating hoses with steel-reinforced teflon high-pressure hose core
Length: up to 10 m (depending on application)
Double-walled medium-heating hose with teflon high-pressure hose core
Mixing head types
1K – application valve
MK 20 with feed lines and static mixing
MK 50 with feed lines and dynamic mixing (rinsing is carried out, in automatic or manual operating mode, by use of a chemical cleansing agent)
General
Rinsing and filling shot container
Spare-part packages
Freestanding gallow with balancer for manual application
Adjustable with a third plug-in component
Interface for connection of external components
Compressed-air dryer MDK 6
Transport, set-up and instruction