The mobile dosing machine
DM 70 COMPACT
Compact construction on one movable chassis
Reliable technology
Manual applicaton
The mobile workstation for manual material application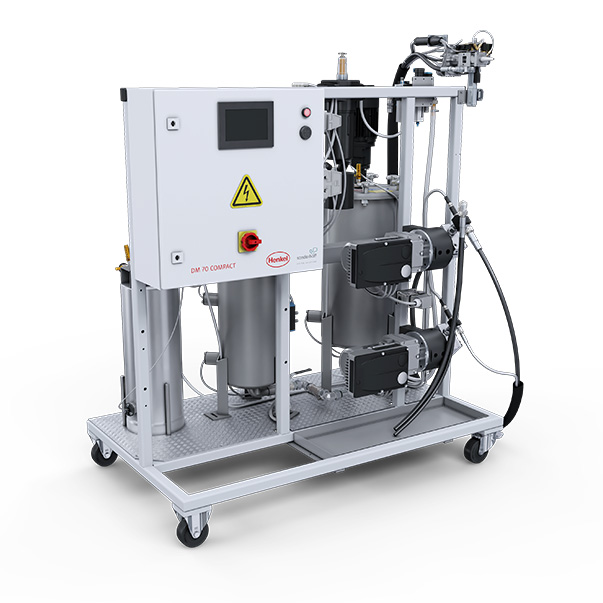 The DM 70 COMPACT is a low-pressure mixing and dosing machine for the processing of one or two components in manual operation for sealing, bonding and potting. This machine precisely processes and doses liquid, medium and high viscosity compounds such as polyurethanes, silicones, epoxy resins or other polymeric reactive materials.
Simple processing
The DM 70 COMPACT allows the operator to perform diverse programming tasks safely and easily with a 7'' touch screen. The DM 70 COMPACT is based on a non-recirculating system with continuous material dosing by utilizing precision gear pumps. The processed materials are mixed either with the dynamic mixing head MK 50 or alternatively the static mixing head MK 20. All machine components are placed on a mobile chassis enabling easy access to the machine and allowing fast and comfortable completion of service and maintenance work.
Guaranteed quality
The DM 70 COMPACT mixing and dosing machine processes the used materials with reliable and consistently high production quality.
The machine control allows the operator to store and monitor the main material-processing parameters, such as material reactivity data.
In addition, parameters for rinsing or repeat shot dosing and dosing time can be programmed, as well as the material feed quantity and mixing ratio can be variably set.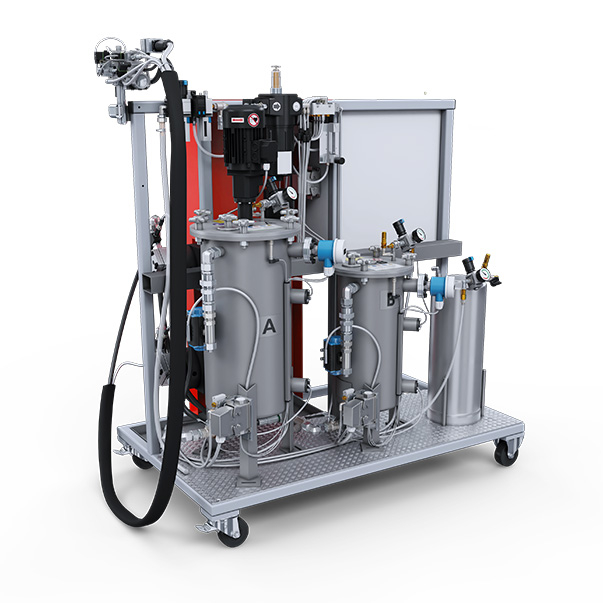 Flexible today, flexible tomorrow
The DM 70 COMPACT for the processing of one or two components permits the manual application of a wide range of materials by means of a handheld pistol, consisting of either the MK 20 or MK 50 mixing head.
It is a mobile stand-alone system that can be used in your production in a space-saving manner. Functional design, proven technology and reliable processes guarantee the profitability of your investment.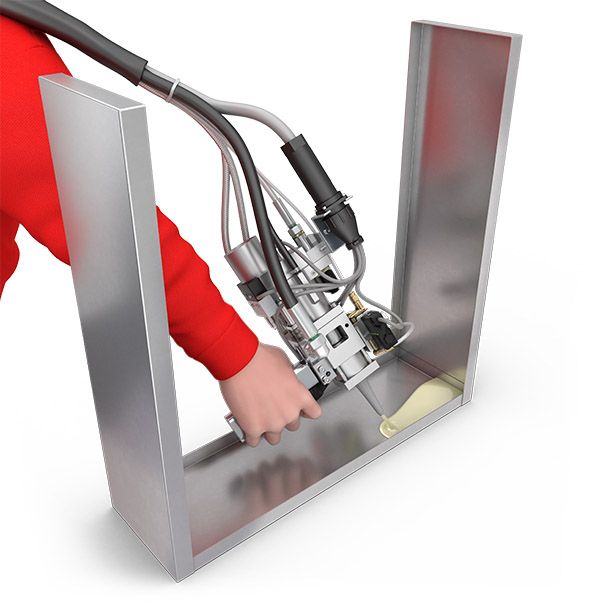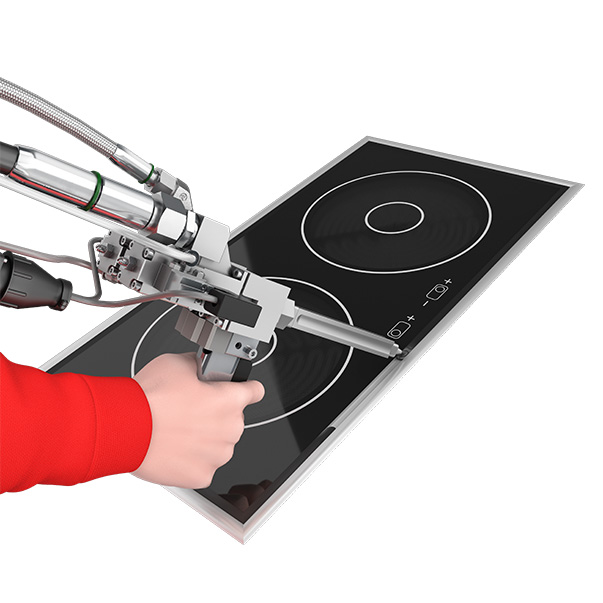 Henkel is the system supplier for polymeric sealing and potting systems.
From us, you get the dosing technology AND the application-specific chemistry from one source – tailor-made for your process and from our own development and production!
The knowledge consistently acquired over many years, as well as more than 1,000 recipes are the guarantee for optimal customer orientation, tailor-made products and market-driven solutions for your industry as well.
Henkel masters the interplay of material and machine, combining chemical-technical expertise with creative engineering in the fields of sealing foams, bonding and potting. Whether for fully automated inline production systems or manually operated stand-alone systems such as the DM 70 COMPACT, Henkel products always stand for precise, reliable and easy-to-operate production processes.
And so, with the DM 70 COMPACT, too, the sophisticated operating concept is the key to the consistently high quality of the dosed sealing and potting materials.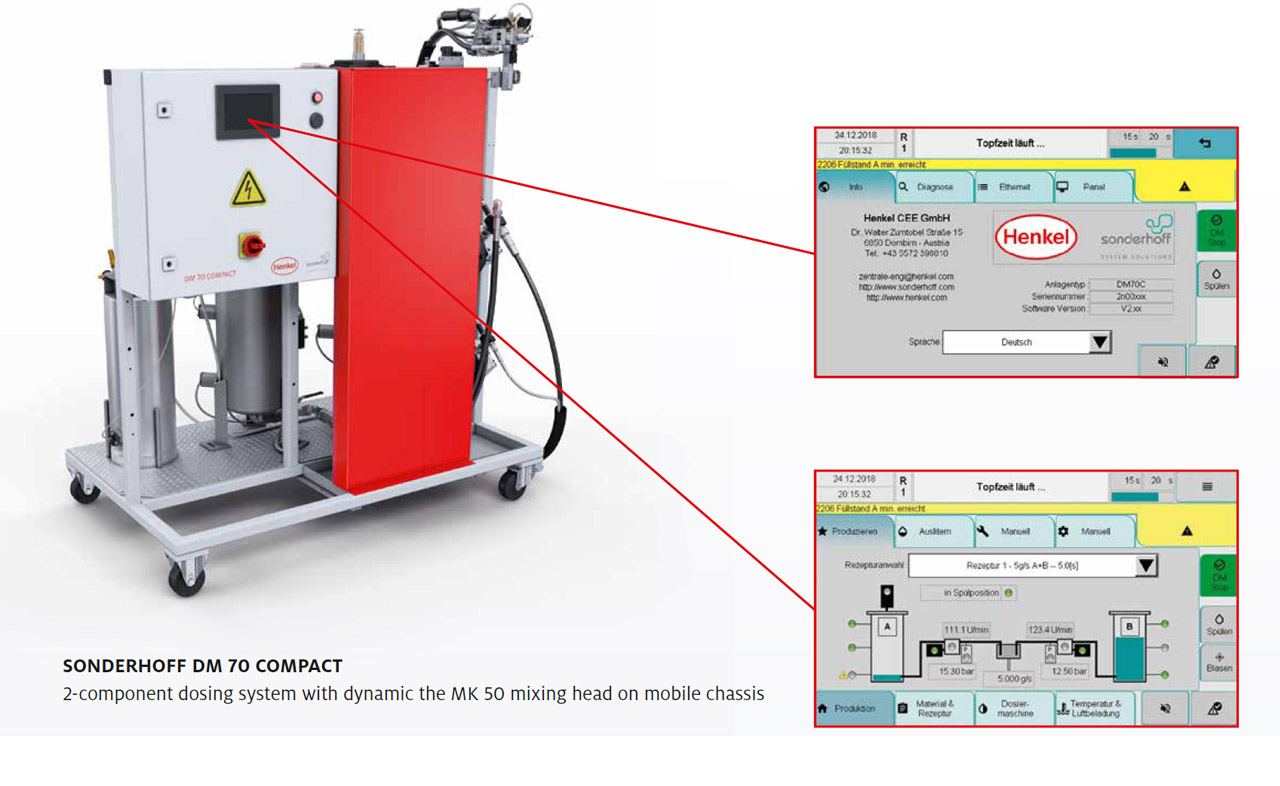 Control concept
Modular compact control with operation and visualization via 7" touch screen, integrated in the switch cabinet
EMERGENCY OFF function by master switch
Recipe management
Dosing machine on mobile chassis
Programmable pot life monitoring and dosing quantity preselection
Rinsing of mixing head depending on mixing head type used
Spontaneously available material feed quantity adjustment by means of frequency converter
Pressure monitoring of the components
Digital display of components' working pressure
CONTROL
Speed adjustable spur gear motor with setting at the display
Drive power: 0.75 kW
Drive speeds: 15 – 260 rpm
Precision gear pumps (optional)

| | |
| --- | --- |
| Size | 0.1 / 0.12 / 0.25 / 0.3 / 0.52 / 0.6 / 1.0 / 1.2 / 2.0 / 3.0 / 4.0 / 6.0 / 8.0 / 12.0 / 16.0 / 20.0 ccm/R |
| Special pumps | available on request |
Hose Package
Length 3 m, with all electrical and pneumatic connections
A-components
textile-reinforced polyamide high-pressure hose
B-components
steel-reinforced PTFE high-pressure hose
PNEUMATICS
Pneumatics with filter pressure reducer and micro mist lubricator
Maintenance unit for supplying the pneumatic consumers
Connection VALUES

| | |
| --- | --- |
| Electrical system | according to EN 60 204 - 1 |
| Electrical power supply | 3 x 400 V, 50 Hz |
| Rated power | approx. 4 kVA (basic version)) |
| Average consumption | approx. 2 kVA (basic version)) |
| Compressed-air | 100 – 550 l/min bei 6 – 7 bar |
DIMENSIONS
Tank and pump chassis:

1,400 x 1,300 x 850 mm W/H/D
Switch cabinet:

600 x 600 x 210 mm W/H/D;
with voltage adjustment 600 x 800 x 250 mm W/H/D
Total weight:
approx. 400 kg
General

| | |
| --- | --- |
| Mixing ratio | from 100 : 5 to 1 : 1, infinitely variable |
| Output quantity | from 0.1 to 100.0 g/s, other output quantity on request |
| Viscosity processing range | from 100 to 2,000,000 mPas, other viscosities on request |
| Chassis: | design in shaped tubular-steel welded frame, painted RAL 5015 |
Control
Display languages available in English, German French, Spanish, Italian
Strand identification
Operating hours counter
Voltage adaptation to different power-supply ratings, 60 Hz version
Material preparation
Material pressure tank with capacitive minimum fill level sensors, shut-off ball valve, with compressed air fittings and compressed air reducer valves for pre-pressure control of the tank pressures
Safety pressure valve (TÜV type approved)
24 L or 44 L material pressure tank, single-walled, stainless steel
44 L material pressure tank, double-walled, stainless steel
19 L tank for cleansing agent, with safety valve and minimum-level monitoring
Wire mesh filter cartridges and plate disc filter
Three-phase agitator with 23 rpm or alternatively 95 rpm
Electric heating for single-walled tanks
Temperature control for double-walled tanks
Manual vacuum degassing
Prepared to control an automatic refill station
Material supply by refill station for containers from 20 to 200 liters
Quality assurance
Maintenance unit for monitoring of compressed-air supply
Pressure monitoring of the components
Additional quality assurance devices are adaptable according to customer requirements
Hose Package
Electrically heated hoses with steel-reinforced PTFE high-pressure hose core
Double-walled medium heated hose with PTFE high-pressure hose core
Mixing head VARIANTS
1K application valve
MK 20 with feed lines and static mixing
MK 50 with feed lines and dynamic mixing, mixing chamber rinsing with chemical cleansing agents
General
Rinsing and filling shot container
Spare parts packages
Material supply monitoring for component pumps
Freestanding gallows with balancer for manual application
Interface for external integration
Compressed air dryer
Transport, setup and instruction