Sealing of indicator lights and LED encapsulation
Fully automatic material application

Protection against water, dust and other weather influences

Polyurethane potting systems in transparent or opaque design for LED lights
Sealing of indicator lights and LED encapsulation for optimal protection and light transmission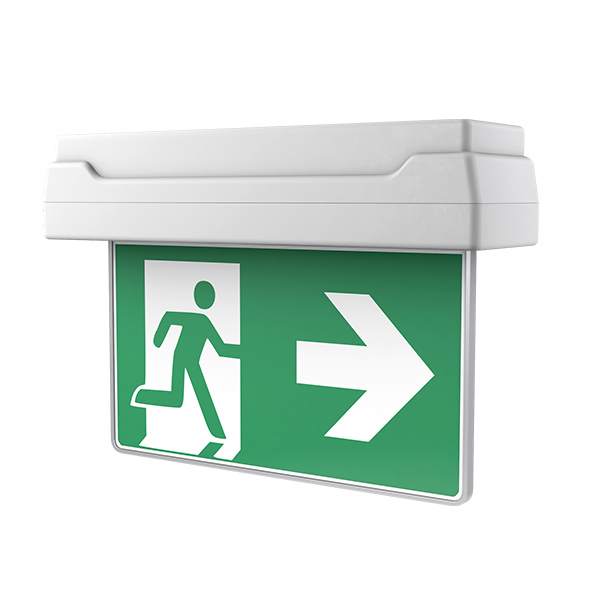 Illuminated signs, mostly equipped with LED lighting technology, are of critical, life-saving importance in emergencies as a route-finding system, e.g. improving orientation within a building to allow rapid evacuation in the event of a disaster. Legal regulations require those highly visible illuminated signs to be installed in offices, production facilities, public buildings, underground garages and tunnels.
For example, in the event of a fire they must function longer than standard light fixtures. They need to be sealed against the fire-fighting water from sprinkler systems in case of a fire in order to prevent the lighting electrics from being shorted out by moisture inside the housing which would cause the signs to fail.
For these housing seals, we use our FERMAPOR K31 series of 2-component polyurethane foams which have excellent long-term properties and very good resilience. This allows the illuminated sign housings to be repeatedly opened and closed for maintenance purposes without any reduction in the tightness of the housing seal.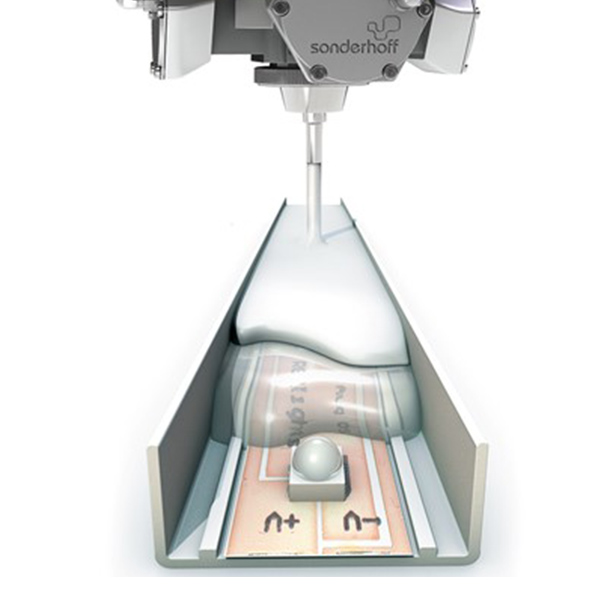 For indoor and outdoor lighting and illuminated signs, the LEDs used are often also protected from water, dust and other weathering effects by sealing them with casting resins.
For the fully potted LEDs, our polyurethane potting systems are available in transparent or opaque variants for better light diffusion. The high UV resistance of our clear aliphatic potting systems allows higher light transmission than from transparent plastic covers, which can easily get scratched. Even in a 40-day endurance test at +150 °C, the transparent potting systems still retain a light transmission of approx. 90 %.
The flowability, reactivity, hardness grading, density, temperature resistance and flame protection of the 2-component FERMADUR polyurethane potting systems can be specifically adapted to your application.
Safely protect lamps and
lighting electronics in indicator lights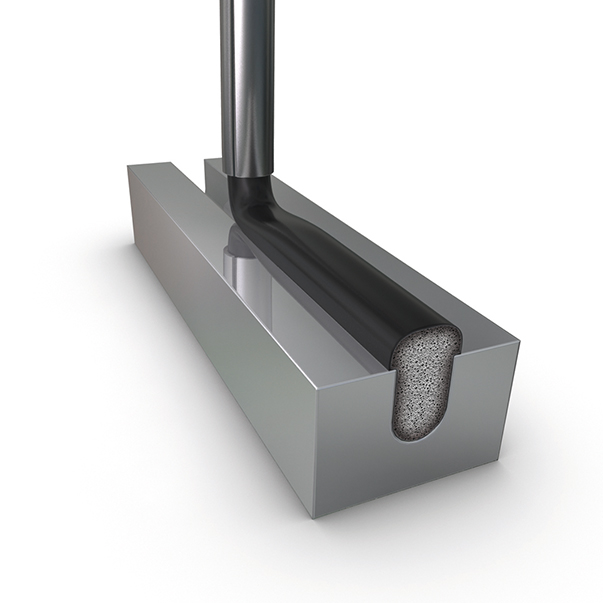 The sealing of indicator lights works by pressing the foam seal in the housing groove. As a result, the luminaire is sealed and moisture cannot penetrate into the housing. Thanks to the good resilience of the foam seal, the luminaire cover can be opened and closed again for maintenance purposes - with a consistently high level of tightness. Our sealing foams can be adjusted to be very soft so that they can be closed more easily. This also prevents bending of housings with thinner walls.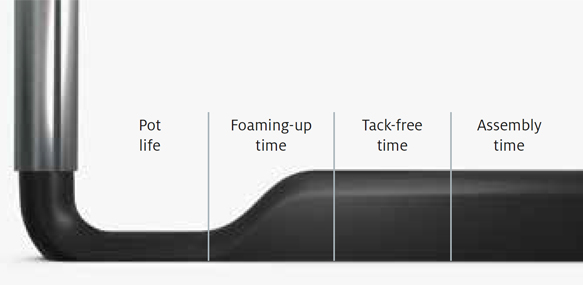 The different reaction phases of the sealing foam in the chronological sequence
Special Lighting
(Illuminated lights)
Special Lighting
(LED potting)
FERMAPOR K31-A-9675-2-VP
FERMADUR A-70A01-2-CL
FERMAPOR K31-B-4 (UL 50e)
FERMADUR B-136

Mixing ratio

4 : 1

0.95 : 1

Pot life time

38 sec.
480 sec.

Tack-free time

3.5 min.
10 min.

Viscosity of the A component

1,800 mPas
950 mPas

Density

0.34 g/cm³
1.13 g/cm³

Hardness (Shore 00)

64
70 (Shore A)

Temperature resistance

from -40 to + 80 °C
from -40 to + 80 °C

Pretreatment

Plasma, Corona or Primer
Plasma, Corona or Primer
In addition to the reference products, we develop material systems according to your individual requirements. Influencing factors include pot life until start of foaming, curing time, and the viscosity, hardness and adhesion properties.

Frequent opening and reclosing for maintenance purposes, with remaining sealing effect
The very good resilience of the foam seal allows the indicator lights to be opened and closed again for maintenance purposes without the tightness deteriorating. After closing, the housing is tight and the sensitive lights are protected against splashing water and the effects of the weather.

The video shows the polyurethane foam seal FERMAPOR K31 in a cross section in a groove - first in the uncompressed state, then about 50 % compressed, so that the sealing function of the seal is given and the component is tight.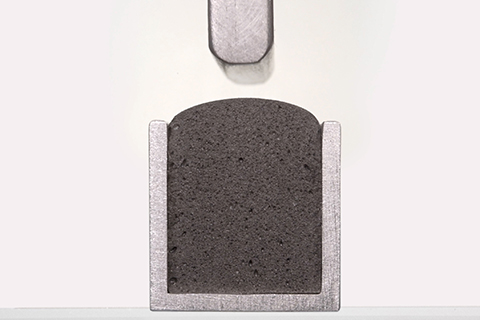 Indicator light when open, the seal is uncompressed.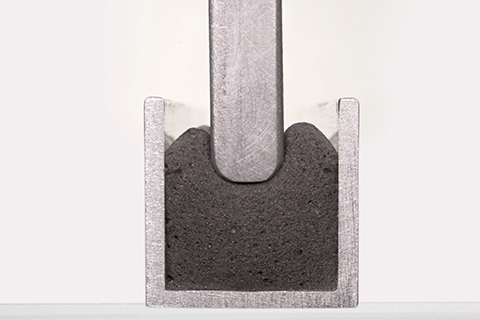 Indicator light when closed, the seal is compressed.
DM 502 mixing and dosing system with 3-axis linear robot and a shuttle table for the parts holder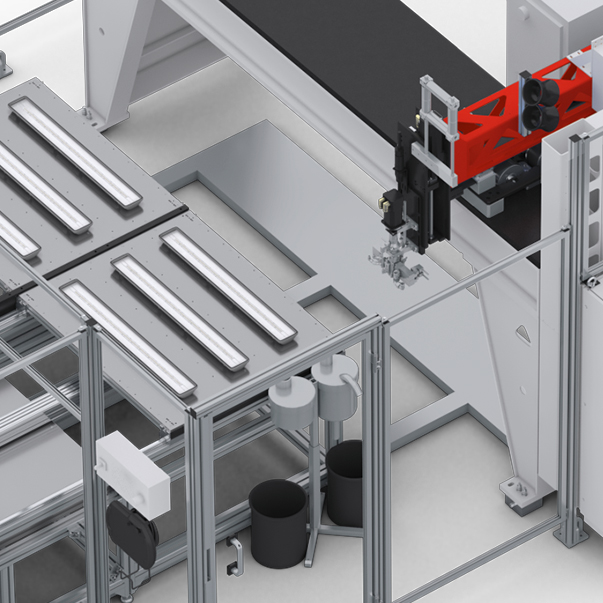 Flexible and fully automatic -
according to your requirements
As process experts, we support you with our application engineering expertise, from the design phase for your components through to fully automated material application using formed-in-place foam gasket (FIPFG) technology.
Our flexibly configurable DM 502 mixing and dosing system has a 3-axis linear robot and sliding table solution, and can be adapted to your production concept for the seal-foaming of luminaire housings or for LED potting.
To this end, we offer equipment options for semi-automatic or fully automatic production systems. If desired, CNC-controlled plasma application is also possible to achieve surface activation of the housing contour, resulting in better adhesion of the foam gasket to plastics such as PP or PE.
The reference configuration shown here for sealing linear luminaires consists of the DM 502 mixing and dosing system with LR-HD 3-axis linear robot and WT 1-LEVEL shuttle table for picking up parts. Two alternately operated pick-up plates facilitate continuous operation by allowing workpieces to be fixed and processed in a single plane.
The positioning of the luminaire housings on the pick-up plate is performed either by a machine operator, who can also check the parts for quality, or by a Pick & Place Robot. In the latter case, a camera or sensor system can optionally be installed to perform quality control on the parts.
The material components of the sealing foam used are mixed dynamically and homogeneously in the mixing head of the DM 502. The resulting fine-cell foam structure is crucial for low water absorption levels.
For material application using the FIPFG process, the MK 800 PRO precision mixing head is moved over the housing groove of the linear luminaire with high repeat accuracy by the CNC-controlled linear robot, and the sealing material is applied into the groove in accurately metered doses via the mixing head nozzle. The dosing loop completes the foam gasket with a seamless, almost invisible coupling point.
Highly efficient and precise material application by the DM 502 allows quick application processes in your production facility, and rapid processing of the parts through to final acceptance.
The basic solution for standard applications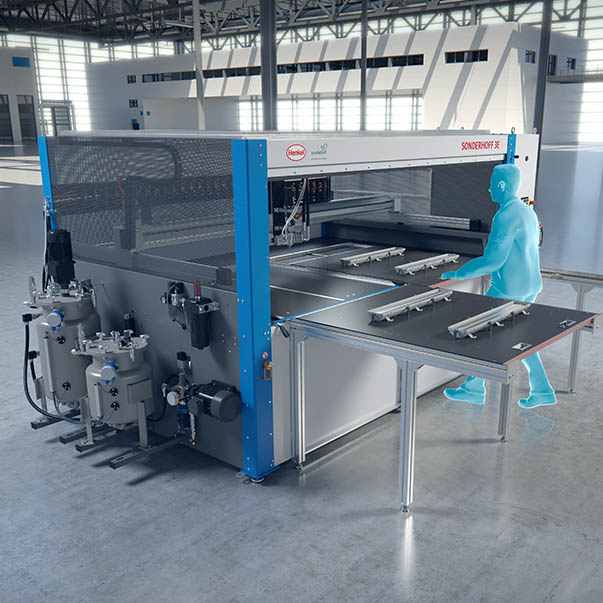 Dosing cell for easy handling and high process stability
The reference configuration of the 3E dosing cell shown is a low-pressure mixing and dosing system for two components for the partially and fully-automatic application of sealing foams.
The already compact design of the 3E dosing cell also takes up little space as a result because, as a CE-compliant dispensing cell, it does not require any additional safety fences or light barriers.
This is a pre-programmed Plug & Work version that is delivered pre-assembled in a container. As soon as electricity, water and compressed air are connected and the material is prepared in the material pressure tanks, production can begin. The costs of installation and training courses can therefore be kept to a minimum.
The dosing cell can process non-viscous, medium-viscosity and highly viscous material systems based on polyurethane. The application rate is adjustable from 0.5 to 5.0 g/s. Experience shows that this range covers 90 % of industrial applications.
The optional shuttle table allows components of different sizes to be processed in a single plane. Continuous operation is guaranteed by the two pick-up plates that can be moved manually in alternation. For larger parts, the two pick-up plates can be connected to form one large sliding table.
The CNC-controlled MK 825 BASIC precision mixing head for two material components applies sealing material into the housing groove of the linear luminaires with contour precision. With the sometimes very narrow and deep grooves, the metering of the sealing foams needs to be very precise.
The MK 825 BASIC precision mixing head performs this task with high metering precision and repeat accuracy. The dosing loop completes the foam gasket with a seamless, almost invisible coupling point.
With the CE-compliant 3E dosing cell, an immediate, safe start to production is possible, as well as efficiency-enhancing space and cost savings.