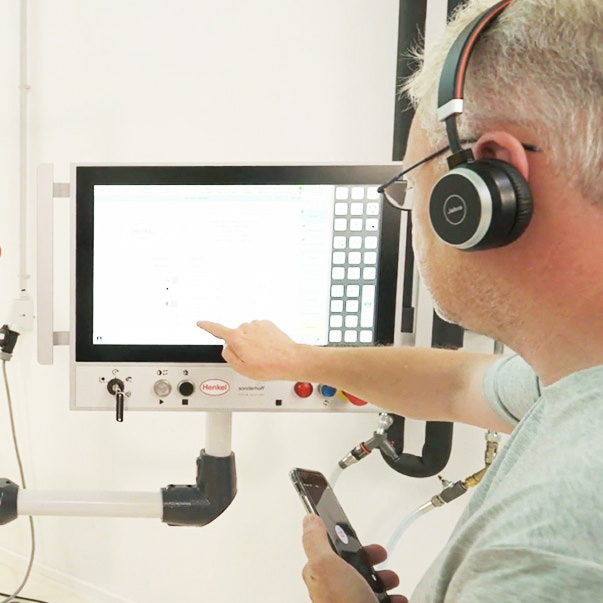 The productivity of a machine is largely determined by its reliable availability. Failure-related downtimes and maintenance-related production interruptions must be intelligently minimized.
The interaction of proactive in-house service, for example through risk analyzes, fast-reacting online service, keyword remote collaboration, and experienced on-site service, therefore supports you for a reliable production process.
Our various service packages - another reliable pillar of our system solutions.
Your direct contact to us: service-engineering@henkel.com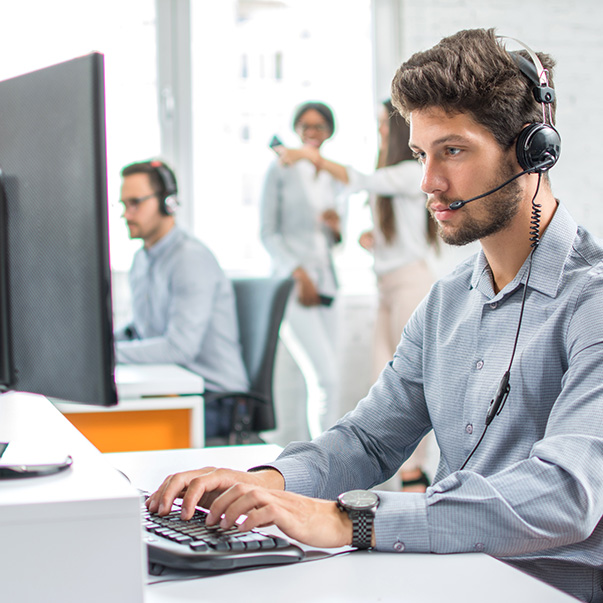 Proactive service is the best protection against machine breakdowns
The in-house service forms the basis of our after-sales services. All services that can be planned in advance and ensure continuous machine operation are provided here. Central elements here are the risk analysis of machines in ongoing production and the associated spare parts advice.
To do this, we create a risk analysis for existing machines for our customers, so that the customer has an overview of the availability of spare parts and the resulting downtimes of the machine. Because from this risk analysis, corresponding recommendations for repairs and overhauls that can be planned in a timely manner can be derived. In this way, customers can send parts for overhaul or repair that are tailored to their production schedule, which are then checked and repaired. After the overhaul, the customer can benefit from a product that is almost as good as new.
The risk analysis is also very helpful for the customer for his perspective production planning. Because often forward-looking ideas and inquiries for a conversion of the machine with regard to the customer's next series of components to be produced also arise here.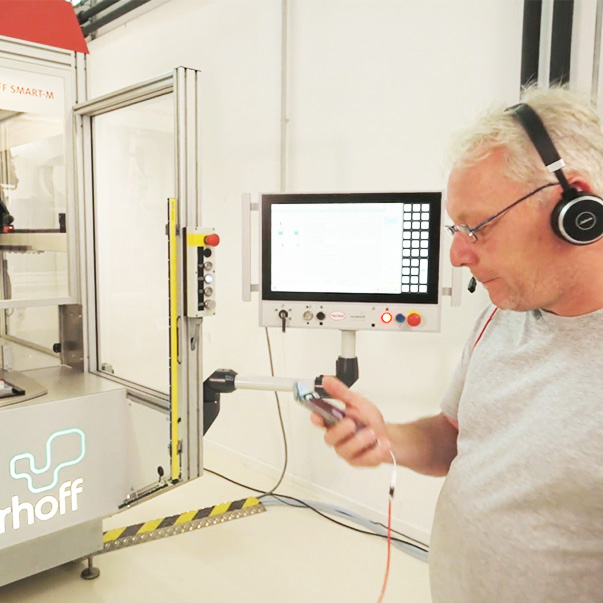 Remote collaboration - when distance no longer matters.
Pictures say more than a thousand words. And so the expansion of the remote service to include the image component is an enormous advantage for joint troubleshooting and troubleshooting. And with the new remote support via VPN and various other tools, in addition to voice and image communication, there is also direct comparison of the current machine data.
As soon as the service is connected to the machine via VPN, it has the option of displaying a mirror image of the machine control and thus of having exactly the same information as the machine operator. In this way, the task can be discussed, coordinated and resolved together.
With this technical possibility of using audio, video and machine data communication for services over any distance, we call it remote collaboration, there are of course expanded options for online training and preventive online machine checks.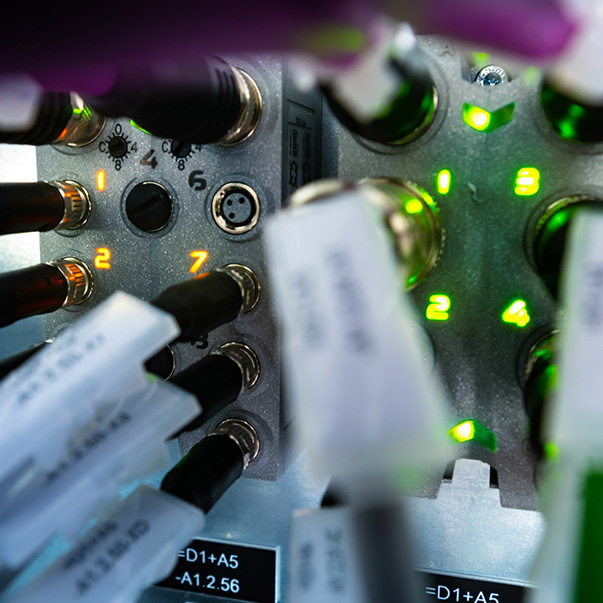 Online Maschine Check
For this purpose, a data backup of the machine is created together with the customer. In addition, the machine settings are checked directly on the machine via the VPN router:
Machine data
Preferences
Recipe and material settings
Options
Alarm history, process history, data history
For example, spare parts recommendations can be derived from the preventive online machine check. Regular online checks of the logged machine data can be used to draw conclusions about the wear and tear of machine components or worn seals, and preventive measures for daily business can be initiated in order to keep downtimes as short as possible.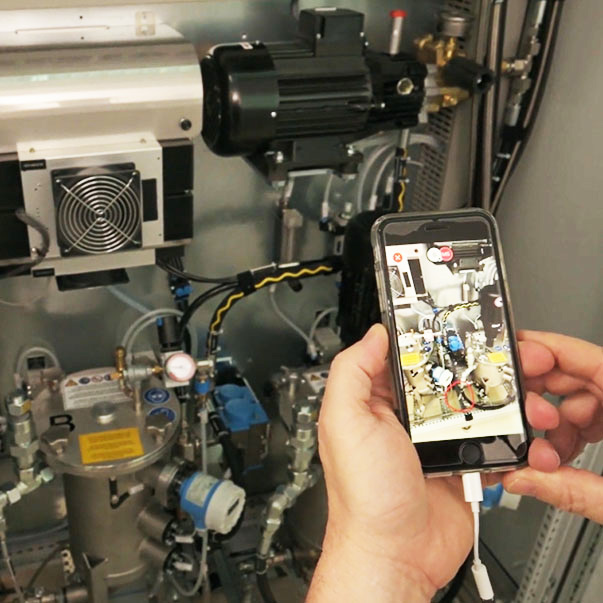 Remote support in the event of downtime
By using our various tools, we can react directly and quickly even in emergencies and the existing geographical distance.
The basis for this type of service is the trusting cooperation with our customers. In order to be prepared for an emergency, we set up a VPN connection between our service department and our customer in advance. Our consultants will be happy to help you set up this communication channel. The VPN connection is the prerequisite for both the preventive service forecast and for being able to react very quickly in the event of an error.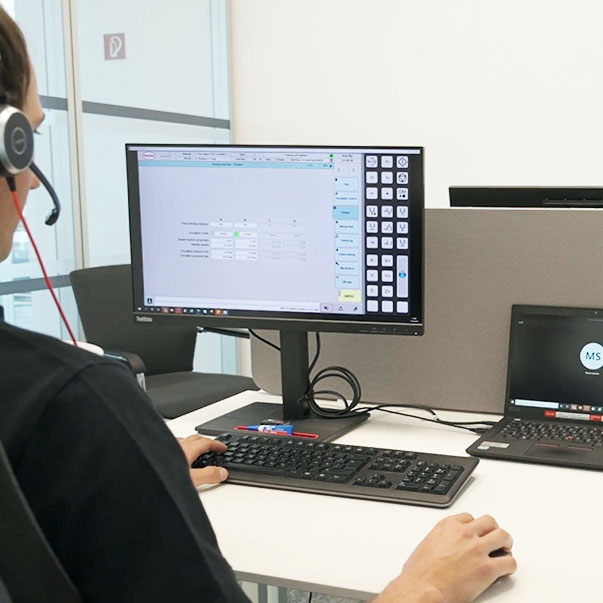 Online training
Online training courses significantly increase the flexibility in terms of time for implementation and enormously reduce the training effort. And what's more: online training eliminates possible national restrictions and regulations, increases the accessibility and availability of training and minimizes planning and travel expenses. Typical training content that can be easily conveyed online are:
1. Safety measures
2. Basic function of the machine
3. Menu navigation
4. Preparation for production (gauging, program selection)
5. Sample dispensing quality control
6. Daily work
7. Sources of error in daily business
After completing the training, the participant will receive a certificate about the online training including proof of performance.
You can find more information about our remote collaboration services here in our remote collaboration presentation or send us an email to service-engineering@henkel.com - we will get in touch with you as soon as possible.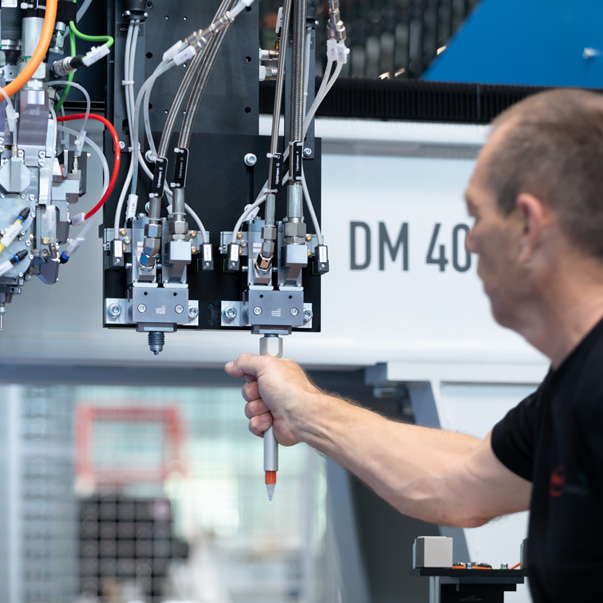 And we are also happy to come to you!
With the Sonderhoff 3E we offer our experienced customers a machine that can also be put into operation by our customers themselves based on the "place, plug and work" principle.
For us as a supplier of special machines, this is more of an exception. Our customers know about the importance of conscientious machine installation, employee training and machine commissioning. Complex manufacturing processes lead to automated machine-material solutions and individual machine layouts. Here, intensive support during the ramp-up phase is the basis for reliable production processes.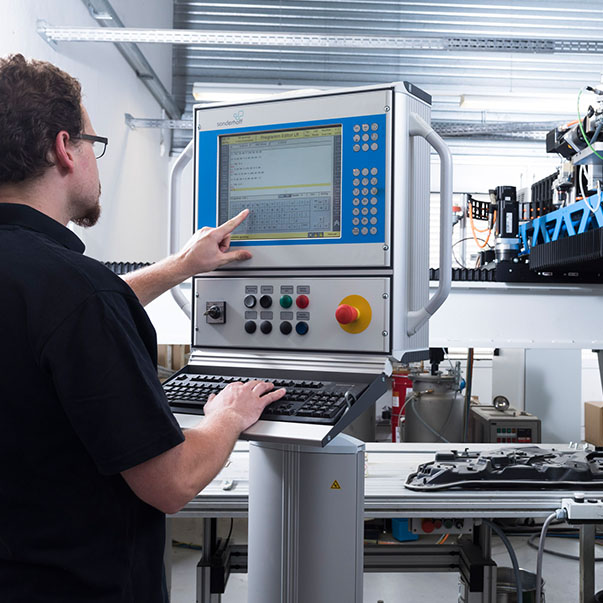 We offer a wide range of services for this purpose:
1. Machine commissioning
Commissioning
Recommissioning (after relocation or shutdown)
2. Creation of more complex programs
Variable programs
Support with cycle time / process flow optimization
3. On-site training, with a final test if required
Maintenance
Machine operation
Theory training (reading of pneumatic and electrical schematics, back-up, maintenance plans, spare parts lists)
Upon completion, you will receive a training certificate for internal audits.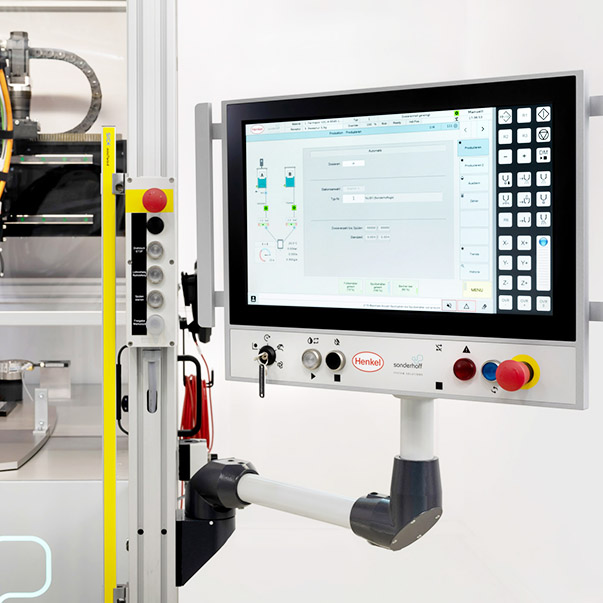 4. Machine inspection
Inspection according to expenditure (Henkel customers receive an individually designed spare parts offer on a case-by-case basis)
Inspection with service contract (regular inspection / maintenance, at agreed times, including assessment of the condition of the machine)
5. Repair of machines
There will always be unpredictable repairs, even if it is due to force majeure. In order to keep these downtimes as short as possible, Henkel is also a reliable and quick-reacting partner when it comes to repairs.
6. Moving the machine
Dismantling and reconstruction of the machines within the factory premises as well as for the change of the production location.
Our service contract
For a common future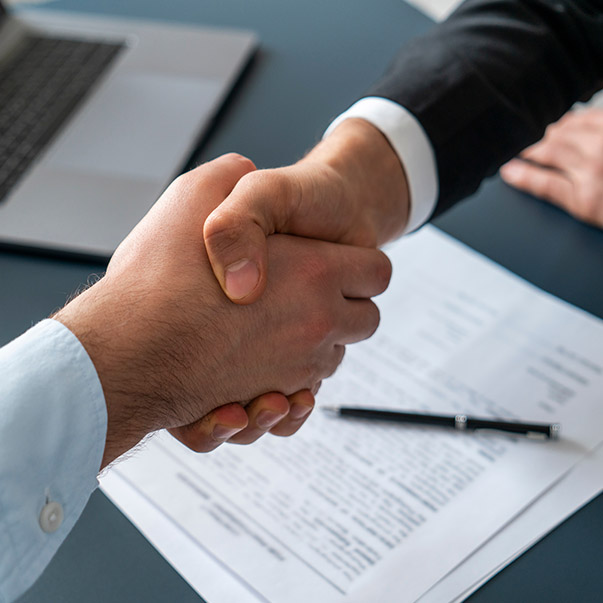 For a common future
Optimal functionality of the machines or systems through professional competence
The system is regularly checked and checked by competent service technicians. During all service calls, our technicians can access the knowledge base of all corporate divisions of the Henkel Group. You will be kept informed about legal changes and technical innovations.
Minimized administrative effort
Henkel CEE coordinates and monitors all measures and deadlines required for inspection and service. The support and maintenance service is automatically ensured by our service technicians at set intervals.
Carrying out the inspection
Inspection work and functional testing of all machines and system parts are carried out using original Henkel CEE spare parts.
Quick help in the event of damage
As a service contract customer, your repair request will be treated with special priority.
Operating cost reduction
Early detection of signs of wear and technical defects prevents costly repairs, protects against avoidable downtimes and promotes long-term maintenance of the system's value.
Costs become a predictable quantity
The agreed flat rate makes the costs for maintenance and service a predictable and calculable amount.