Mobile Panel and Operating Panel
Comfortable Working and Control
Mobile Panel MP 2

Multitouch Operating Panel

CONTROL 2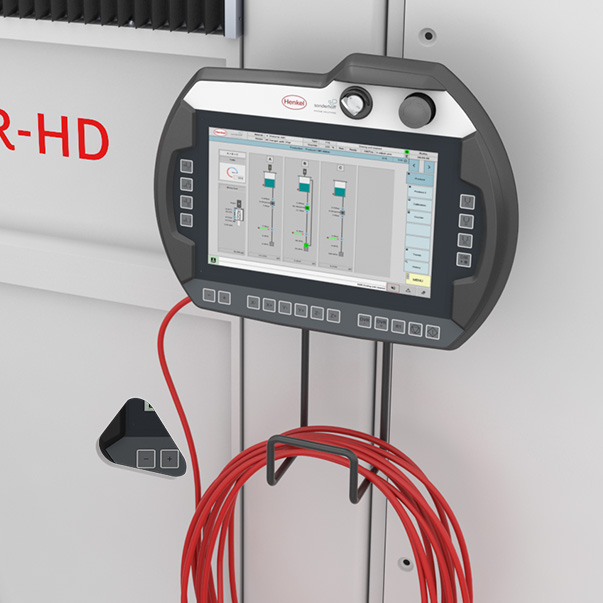 MP 2 Mobile Panel and
CONTROL 2 Multi-touch Operating Panel
The mixing and dosing systems of the DM 50x series are designed in such a way that you – as the operator – can easily and safely fulfill a wide variety of tasks. The multifunctional MP 2 Mobile Panel (WXGA TFT) with 10.1 inch touchscreen and the new CONTROL 2 multi-touch operating panel, which has been increased in size to 21.5 inches, are available for operating the dosing machine.
They continuously provide information on the performance status of the system and the process data that have been recorded. Use of the MP 2 Mobile Panel makes it significantly easier to program the dosing of component contours. The pre-adjustability and regulation of all machine and process parameters ensures the fully automatic production sequence of the mixing and dosing machine. The automatic logging of all system, material and process data ensures the transparency of the previous production sequence at any time.
DESCRIPTION
Multifunctional MP 2 Mobile Panel with integrated 10.1" single-touch touchscreen (WXGA TFT – 1,280 x 800 pixels)
Optional CONTROL 2 multi-touch operating panel, free-standing, on rollers, with display elements and control keys, visualization by means of multi-touch touchscreen (full HD, 1,920 x 1,048 pixels)
Intuitive operation with programmable keys, function keys and touch keys
Selection for Setup / Stand-by / Manual / Automatic operating mode
Recipe management
Operator password protection selectable on 4 levels
Programmable pot life monitoring and dosing quantity preselection, as well as automatic rinsing and material conditioning (air loading, stirring, etc.)
Clock timer with automatic switch-on
Display language switching for MP 2 and CONTROL 2: German, English, French, Spanish, Italian, Chinese (other languages possible)

Various possible uses of the control panel

Optional CONTROL 2 multi-touch operating panel, free-standing, mounted on rollers or swiveling laterally on an arm, with display elements and control keys, visualization via 21.5" touchscreen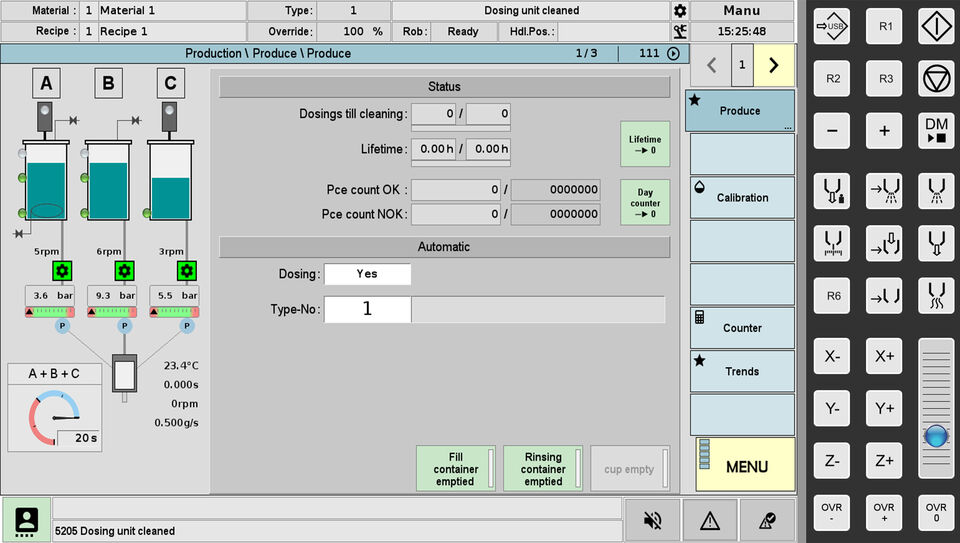 Intuitive operation: Screen "Produce"
Shows the active material components, tank level, pump speed, line pressure after pump, mixing head temperature, dosing time (s), dosing amount (g/s) as well as the reactivity of the material (pot life in s).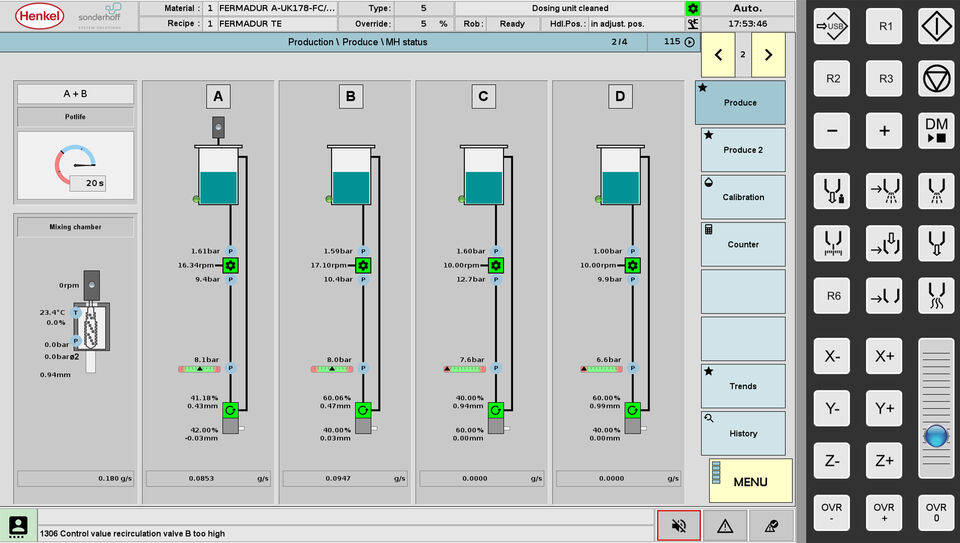 Intuitive operation: Screen "Status"
First column: Reactivity of the material (pot life in s) for active material components as well as detailed information on the mixing chamber and stirrer.
Columns 2-5: Overview of the four material components, depiction of fill level in the pressure tank, line pressure before the pump, number of revolutions of the pump, line pressure after the pump, component pressure at the valve, recirculation control value in %, recirculation valve offset in mm, recirculation status, dosing control value in %, offset dosing valve in mm, current component dosing quantity (g/s).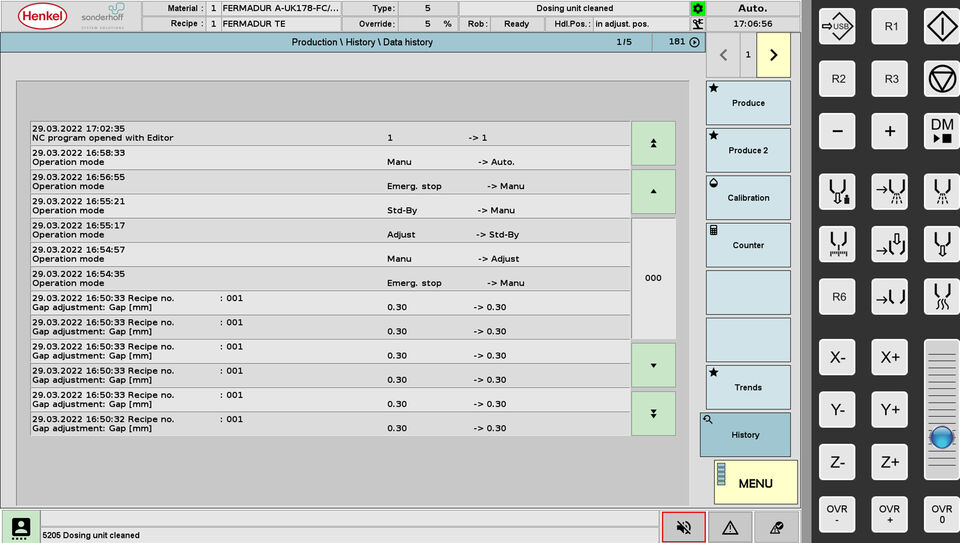 Data history
Display of date, time, change information old value and changed new value.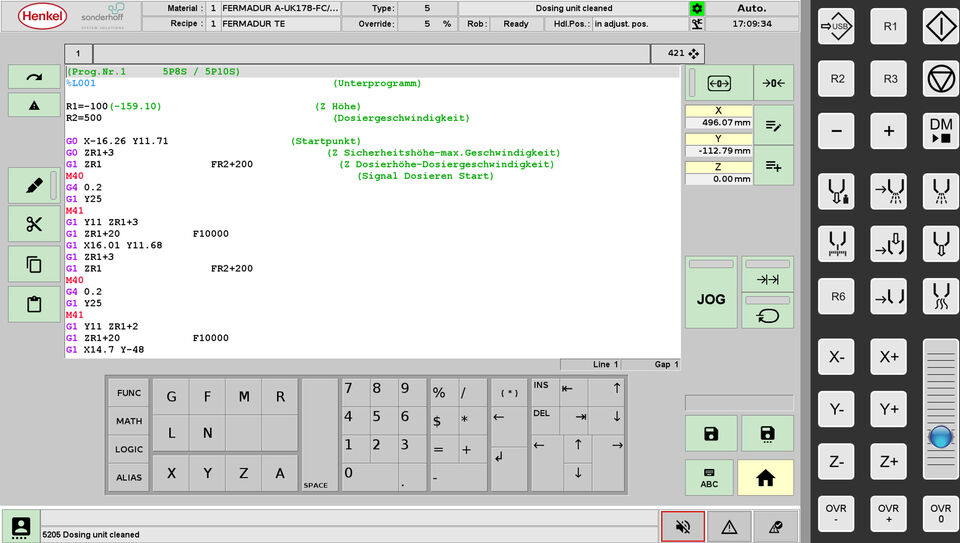 Editor
NC programming via keyboard on the touch screen or external USB keyboard.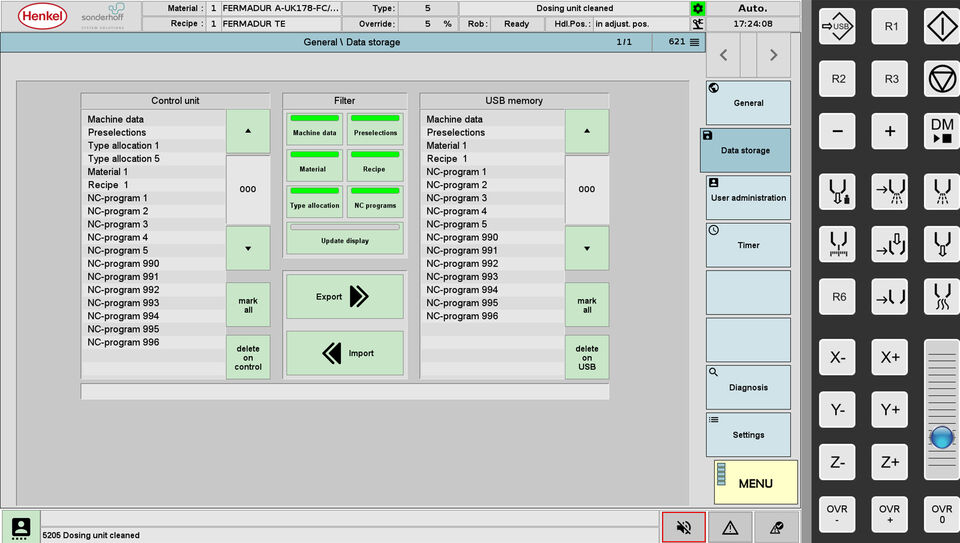 Data backup
Permits the targeted selection of machine data, presettings, type assignments, materials, recipes and NC programs for backup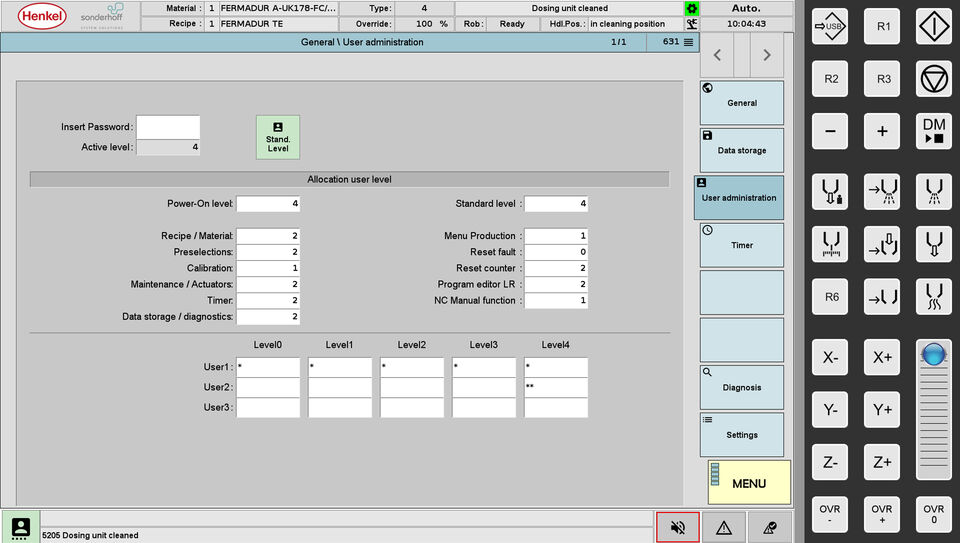 Password
User management for three users with the option of configuring differentiated access via password levels (0-4).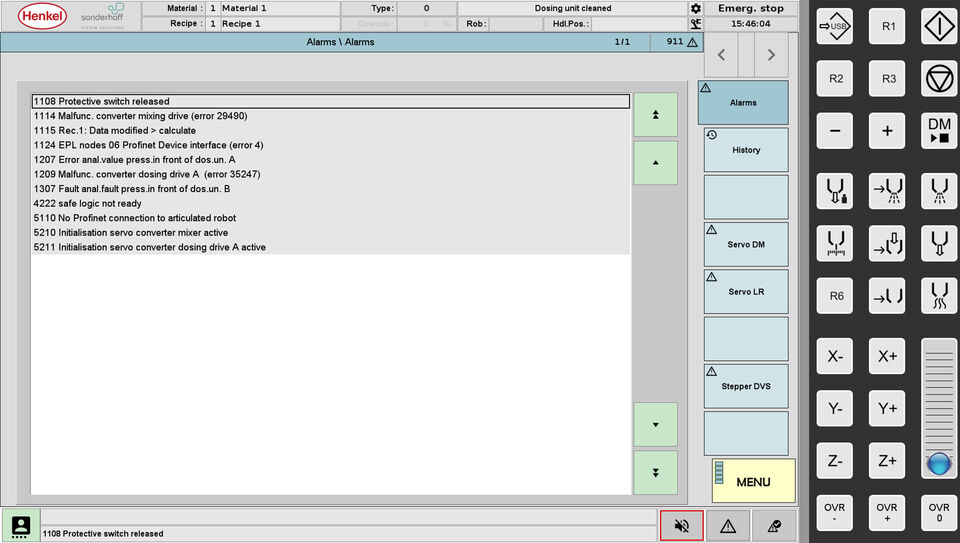 Alarms
Displays current alarm messages with alarm code and plain text.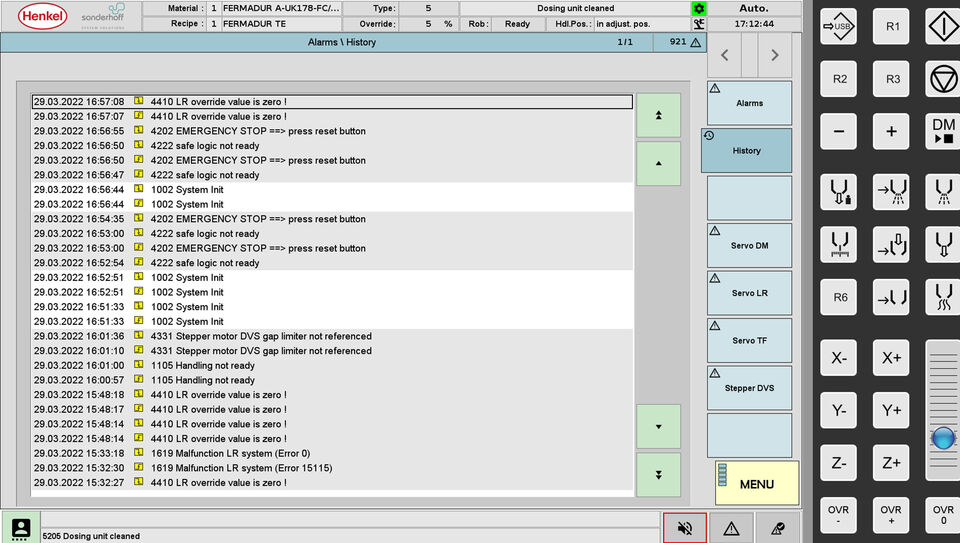 Alarms History
Displays past alarm messages with date, time, alarm code and plain text, and alarm reset status.