Customized material systems
Sealing of control cabinets (powder-coated)
Fully automatic material application

Protection against moisture, corrosion and dust

Compliant to the control cabinet standard DIN EN 61439 (IEC 61439)
Sealing of powder-coated switch cabinets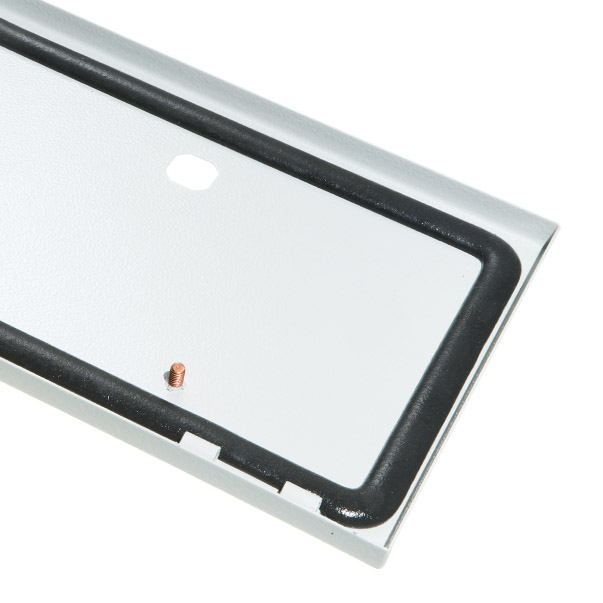 Often, a control cabinet is a powder-coated metal housing. These offer great advantages in terms of stability, flexibility in use, impact resistance, electromagnetic compatibility (EMC) and resistance to UV radiation. The powder coating gives the control cabinet a permanent corrosion protection for outdoor installation. However, control cabinets can also be made of plastic or sheet molding compound (SMC). Our polyurethane foams generally offer good adhesion to powder-coated surfaces. This can be further improved by pretreatment with primers.
Paste-like (thixotropic) polyurethane sealing foam of the FERMAPOR K31 product family is applied to the control cabinet parts with contour accuracy using our fully automatic DM 502 mixing and dosing machine or, alternatively, the 3E dosing cell. Due to its high viscosity, the applied foam remains stable on the flat surface of the control cabinet panels and doors. After final assembly, the control cabinet is seamlessly sealed in accordance with DIN EN 61439 (IEC 61439) and its overall construction is impervious.
Animation of sealing process of control cabinet panels with Sonderhoff DM 50x and shuttle table on two levels.
Tailor-made material systems for powder-coated control cabinets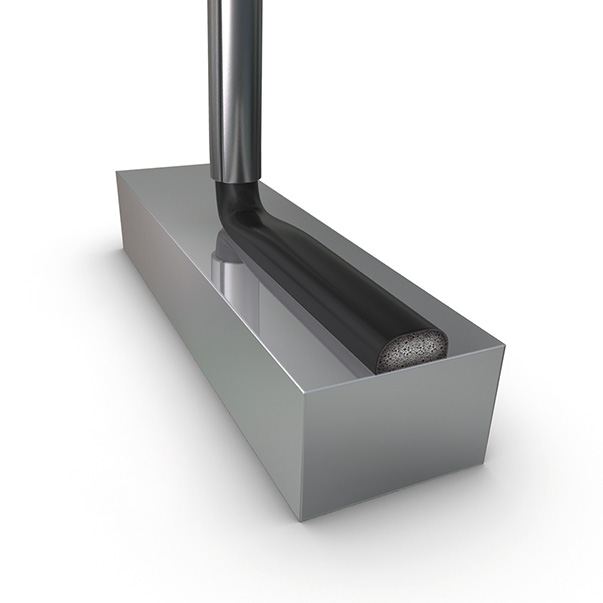 We develop individually for your specific requirements
With more than 30 years of practical experience in switch cabinet construction, even after years of use, the foam seal shows a very good recovery behavior (DVR) (tested in accordance with DIN EN ISO 1856). It enables the control cabinet door to be opened and closed frequently with a consistently high level of tightness.
Our PU sealing foams for switch cabinet construction are characterized by a large number of specific properties:
• Short installation and tack-free times thanks to very fast-reacting Fast-Cure foam seals for indoor and outdoor use
• High flame protection according to UL 94 V-2
• Resilience of> 95 % (compression set < 5 %), tested according to DIN EN ISO 1856
• Very good adhesion to most powder coatings
• Degree of protection up to IP 68 or NEMA 4 and 12 (depending on the component construction and foam system)
• US test standards UL 50E in non-explosion-proof areas
• Optional setting of a microbially inert protective function against mold and fungal attack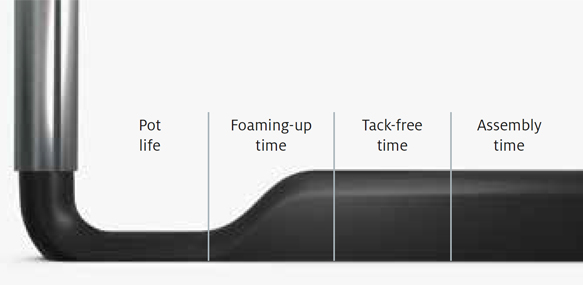 The different reaction phases of the sealing foam in the chronological sequence
Powder coating
Indoor
Powder coating
Outdoor
Powder coating
UL-94 V-2
FERMAPOR K31-A-4525-1-B-UL
FERMAPOR K31-A6060-4-B
FERMAPOR K31-A45C2-1-UL-FR
FERMAPOR K31-B-4
FERMAPOR K31-B-60-AD
FERMAPOR K31 B-16-FR

Mixing ratio

4.3 : 1
4.8:1
5.7:1

Pot life time

30 sec.
26 sec.
27 sec.

Tack-free time

4.0 min.
3.5 min.
4.0 min.

Viscosity of the A component

30,000 mPas
60,000 mPas
135,000 mPas

Density

0.24 g/cm³
0.25 g/cm³
0.24 g/cm³

Hardness (Shore 00)

45
56
47

Temperature resistance

from -40 to + 80 °C
from -40 to + 80 °C
from -40 to + 80 °C
In addition to the reference products, we develop material systems according to your individual requirements. Influencing factors include pot life until start of foaming, curing time, and the viscosity, hardness and adhesion properties.
Frequent opening and reclosing of control cabinet, while remaining sealing effect
The very good resilience of the foam seal allows the control cabinet to be opened and closed again for maintenance purposes without the tightness deteriorating. After the door is closed, the housing is tight and the sensitive electronic parts are protected against splashing water and the effects of the weather.
The video shows the polyurethane foam seal FERMAPOR K31 in cross section - first in the uncompressed state, then 50 % compressed, so that the sealing function of the seal is given.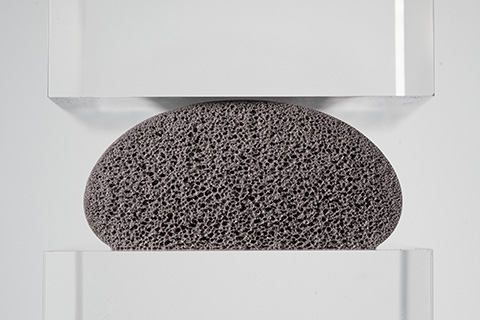 Cross-section of a polyurethane foam bead – unpressed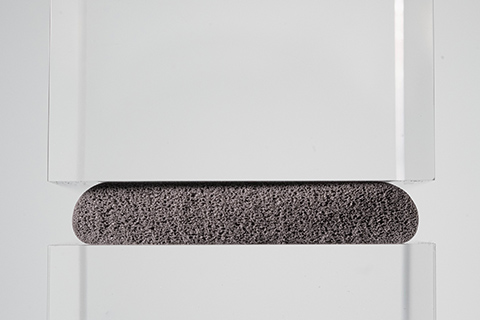 Cross-section of a polyurethane foam bead with approx. 50 % compression

DM 502 mixing and dosing system with 3-axis linear robot and a conveyor belt for the feeding of parts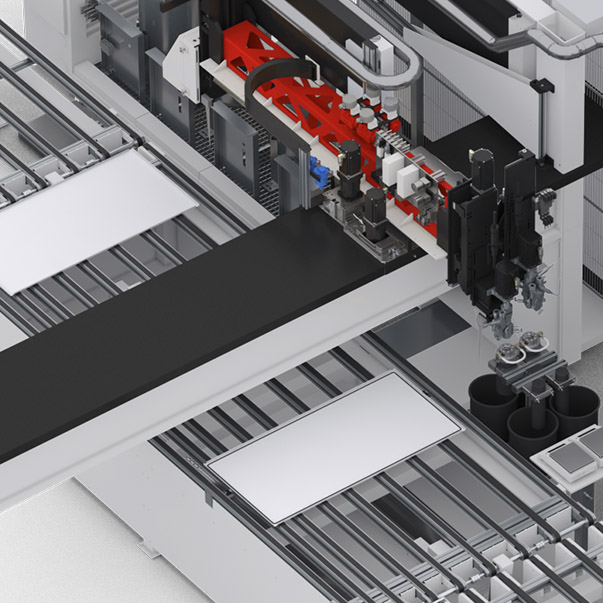 Flexible and fully automatic – fully in line with your requirements
Through our combination of individual material systems, customer-specific mixing and dosing machines and skilled process expertise, you receive solutions from us to meet your technical and commercial requirements.
For the construction of your control cabinets, we as process experts offer you individual consulting for the optimal integration of fully automated material application processes with the Formed-In-Place Foam Gasket (FIPFG) technology into your production. You can select different configuration and equipment options for semi-automatic or fully automatic production systems.
In the illustrated reference configuration of our DM 502 mixing and dosing system, the control cabinet parts are fed to the dosing station on a transfer belt at the cycle rate specified for your production, where they pass under the 3-axis linear robot.
The components with plastic surfaces are pretreated with plasma, whereas the components with powder-coated or stainless steel surfaces are pretreated with primer.
The 3-axis linear robot takes over the CNC-controlled movement of the precision mixing head above the component with contour accuracy. The primer or plasma is applied at the same time. This results in the improved adhesion of the foam gasket. We also offer the use of a primer exhaust station depending on the primer to ensure professional air cleaning on the machine.
For the sealing of the control cabinet parts and electrical distribution boxes, the CNC-controlled MK 800 PRO precision mixing head applies sealing foam to the preprogrammed contour. This process is fully automatic with a high level of dosing and repeat accuracy. The seal closes seamlessly with an almost invisible coupling point. The applied material foams and forms an elastic soft gasket with the desired foam hardness at room temperature.
The basic solution for standard applications
Dosing cell for easy handling and high process stability

The reference configuration of the 3E dosing cell shown is a low-pressure mixing and dosing system for two components for the partially and fully-automatic application of sealing foams.
The 3E dosing cell takes up little space due to its compact design, and as a CE-compliant cell, it does not require additional safety fences or light barriers. This is a pre-programmed Plug & Work version that is delivered pre-assembled in a container. As soon as electricity, water and compressed air are connected and the material is prepared in the material pressure vessels, production can begin. The costs of installation and training courses can therefore be kept to a minimum.
The 3E dosing cell can process liquid, medium- and high-viscosity material systems based on polyurethane or silicone. The application rate is adjustable from 0.5 to 5.0 g/s. Experience shows that this is the range that can be used to represent 90 % of control cabinet applications.
The optional shuttle table enables the processing of components of different sizes in one plane. Continuous operation is guaranteed by the two shuttle tables that can be moved manually in pendulum mode. For larger parts such as the control cabinet panels and doors, the two shuttle tables can be connected to form one large sliding table.
The CNC-controlled MK 825 BASIC precision mixing head for two material components applies paste-like polyurethane sealing foam with repeatable accuracy to the control cabinet parts that have a powder coating or consist of stainless steel. If stainless steel control cabinet parts should receive a primer application to improve adhesion, this can be prepared manually or with auxiliary equipment outside the dispensing system. In the case of electrical distribution boxes, our dosing technology ensures a very precise dosing application into the very narrow grooves in the housing contour.
With the CE-compliant 3E dosing cell, an immediate, safe start to production is possible, as well as efficiency-enhancing space and cost savings.