Quality committed
Quality Management
We face the constantly growing demands of our customers for quality, environmental protection and work safety.
In order to meet the constantly growing demands posed by our customers with regard to quality, environmental protection and work safety, Sonderhoff has imposed high quality standards, which are the basis for our company activities. In order to attain these objectives, we require all employees to be constantly involved in the improvement process, so as to optimise quality, service and safety.
The success of this strategy is proven not least by the great variety of certifications that Sonderhoff has received and which guarantee the highest standards.Through consistent quality management and permanent further development of our products, we will also be well-equipped to perfectly meet their expectations in the future.
TÜV-CERTIFIED QUALITY:
Our certificates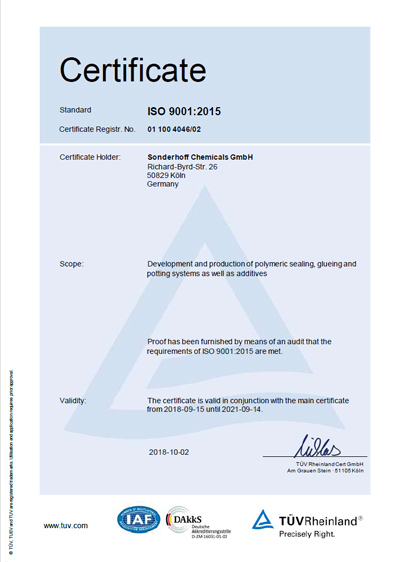 ISO 9001:2015
This German industrial norm defines the requirements of a quality management system (QM system). This standard describes the entire quality management system as a model and forms the basis for an extensive quality management system in the company. The current EN ISO 9001 was last revised in the year 2015 (9001:2015).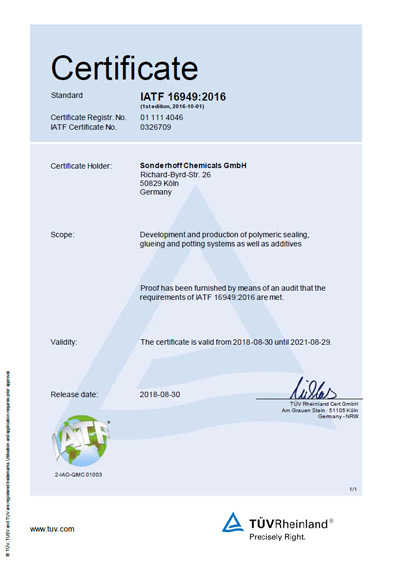 IATF 16949:2016
The IATF 16949 standard combines the existing general requirements of quality management systems of the (mostly North American and European) automotive industry. It was developed jointly by the IATF (International Automotive Task Force) members and published together with ISO as a TS = Technical Specification based on EN ISO 9001.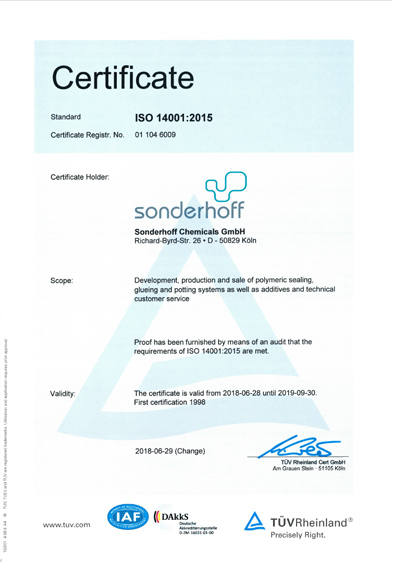 ISO 14001:2015
The international environmental management standard ISO 14001 defines the requirements of an environmental management system that are recognised worldwide.
Through ISO 14001, a company can prove that it conducts its business in an environmentally sound way.
ISO 14001 was first published by ISO in 1996 (14001:1996). The revised 14001:2015 is used for the clarity and comprehensibility of the requirements as well as to improve compatibility with ISO 9001:2015.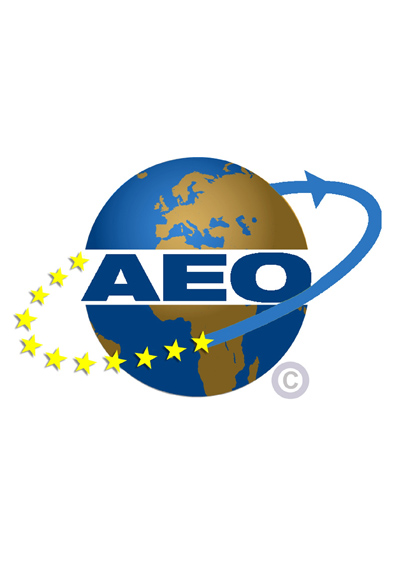 AEO-Zertifikat
AEO (Authorised Economic Operator) - Zugelassener Wirtschaftsbeteiligter
Die zunehmende Globalisierung und die veränderte internationale Sicherheitslage haben die Weltzollorganisation (WZO) veranlasst, mit einem "Framework of Standard to Secure and Facilitate Global Trade" (SAFE) weltweite Rahmenbedingungen für ein modernes effektives Risikomanagement in den Zollverwaltungen zu schaffen.
Die Europäische Union hat die sicherheitspolitischen Aspekte des SAFE im April 2005 mit der Änderung des Zollkodex (VO (EG) Nr. 648/2005) in europäisches Recht umgesetzt und mit der Veröffentlichung der Durchführungsvorschriften (VO (EG) Nr. 1875/2006) im Dezember 2006 konkretisiert.
Ein wesentliches Element dieser Sicherheitsinitiative ist die Einführung des Status des Zugelassenen Wirtschaftsbeteiligten (AEO – Authorised Economic Operator).