A story of success
Short journey through time into the history of Sonderhoff
A success story and its roots.
In 2017, Henkel AG & Co. KGaA acquired the Sonderhoff group of companies.
With the acquisition of the previously privately held company, we are further expanding our competence in sealants within our business sector Adhesive Technologies. It is an excellent addition to the existing portfolio, while at the same time offering access to an attractive market, because many future scenarios see automation and digitalization as the key growth drivers.
Since January 1, 2020, all former Sonderhoff companies have been integrated into the Henkel Adhesive Technologies division. The portfolio for tailor-made sealing, adhesive and potting solutions will be continued as the SONDERHOFF brand under Henkel.
But maybe you have already asked yourself how it all began and where the name Sonderhoff comes from – we would be happy to take you on a short journey through time...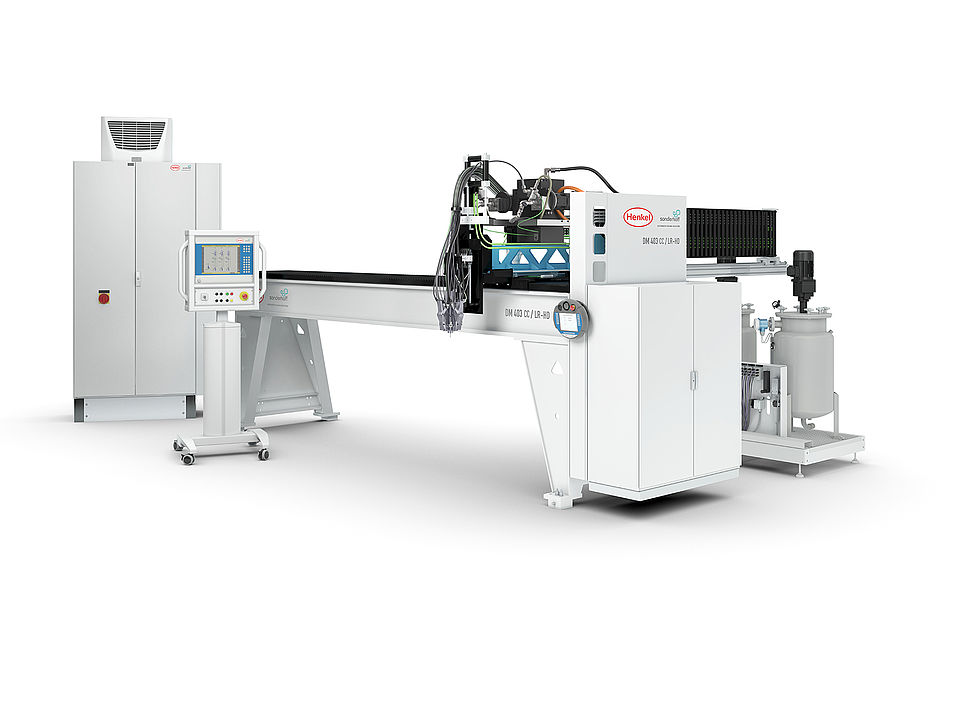 First sold system for FIP Closed-Cell sealing technology
The first reference plant of the new DM 402 CC for FIP CC sealing technology was sold at the Fakuma 2017 to an innovative injection molding manufacturer, which mainly supplies plastic components and system components to OEMs in the automotive industry. The DM 402 CC is very user-friendly and economical according to the customer. It has been developed by Sonderhoff for the fully automatic and contour accurate application of the new polyurethane foam seal Fermapor CC to components. The almost closed-cell foam seal Fermapor CC has a very low water absorption. It ensures a very high waterproofness in the overall construction of the components.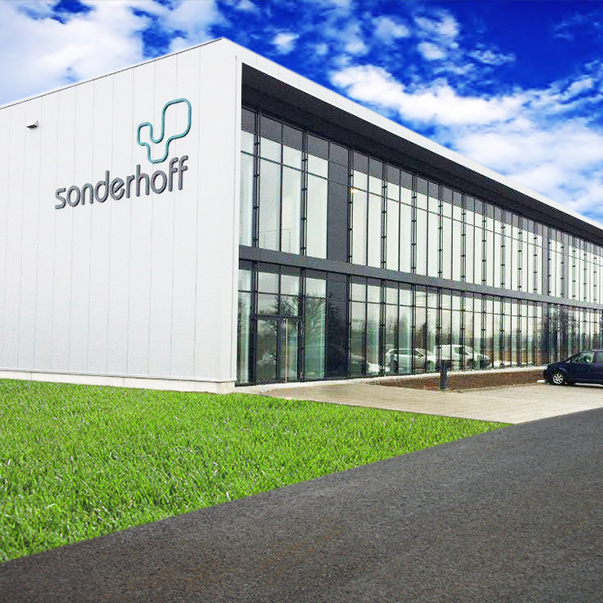 New building for Sonderhoff engineering
After less than a year's construction time, the new building for Sonderhoff Engineering in Dornbirn has been finished. The starting gun has been fired for a new era. With the move into an administration building that is fully equipped for modern working methods and a production hall that is oriented towards efficient processes, 4,500 m² are now available for use on a property of a good 10,000 m².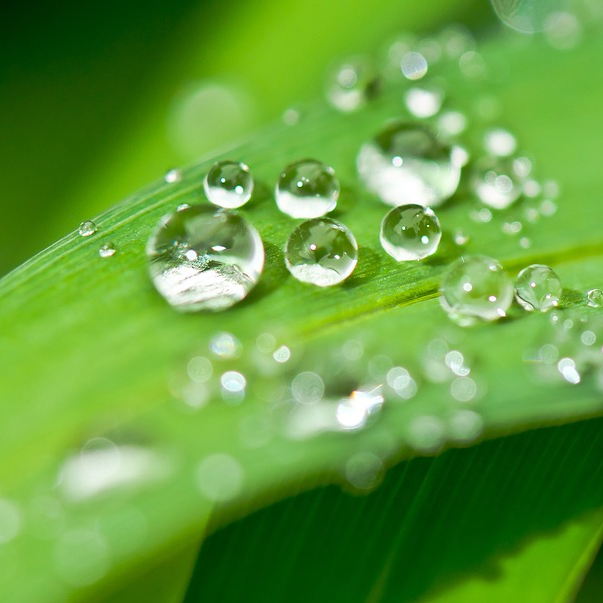 "Closed-Cell PU Foam" – Sonderhoff introduces a world first at Fakuma
The patented technology fills the gap between mixed-cell PU foam and closed-cell silicone foam. The predominantly closed-cell PU foam (CC) demonstrates outstandingly low water absorption at PU's typically attractive material price.
The medium pressure foaming process specially developed for its production confirms Sonderhoff's exceptional engineering know-how.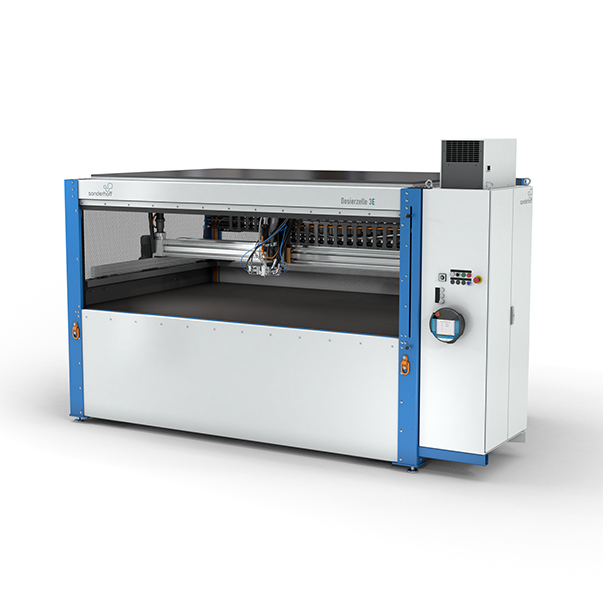 3E dosing cell - place, plug & work
With this machinery concept Sonderhoff is treading new ground. The 3E dosing cell is designed so that the machine can be delivered in a single piece, completely set up, in a container. It is arranged so that at the end location it only needs to be set up and connected to electricity, water, material pressure tank and compressed air. The machine is CE certified and therefore ready for an immediate, safe production start. And it entices with a combination of a very attractive entry level price with time-proven Sonderhoff quality.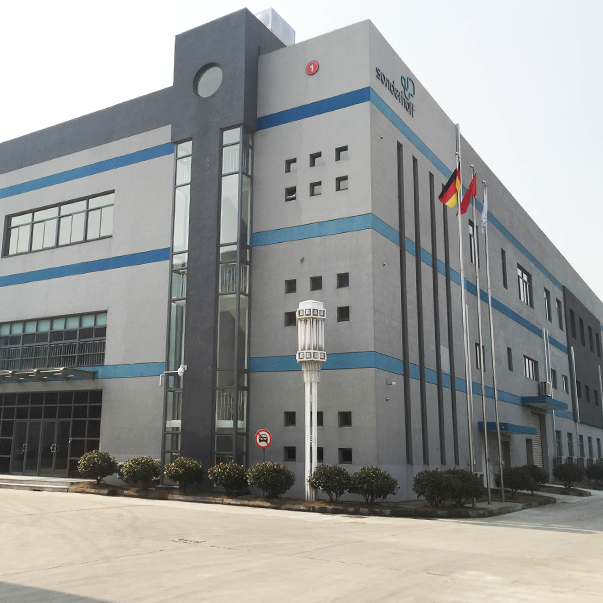 Sonderhoff (Suzhou) Sealing Systems Co. Ltd. moves to the new building in Singapore Industrial Park
For a company which, since its foundation in 2009, has grown continuously within the East-Asian field of operations, a larger space is now available. In this way its production capabilities will be substantially expanded. In addition, this marks the beginning of on-site material production and the achievement thereby of significantly greater flexibility, speed and independence for the development of the Asian market.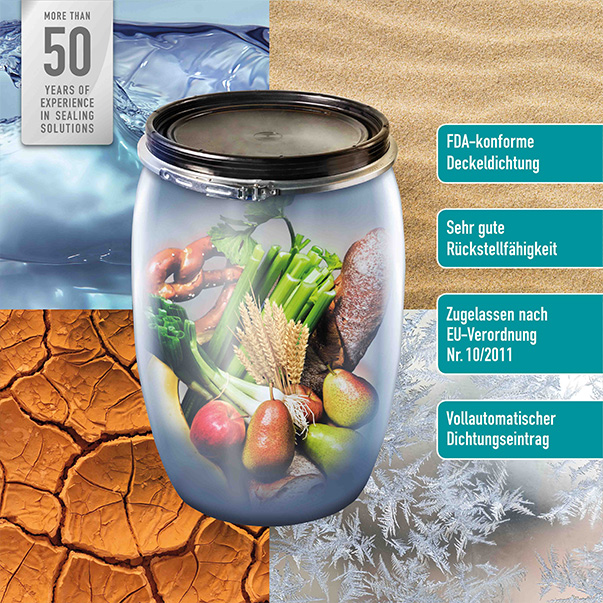 Sonderhoff PU-foam sealant for food product contact – in accordance with FDA and EU-regulations
The new polyurethane (PU) foam seal from Sonderhoff in the FERMAPOR K31 product range received the coveted American FDA compliance. This is considered the recognised standard for food packaging worldwide. The PU seal is also approved for direct contact with food in accordance with EU regulation no. 10/2011 which became effective on 1 January 2016.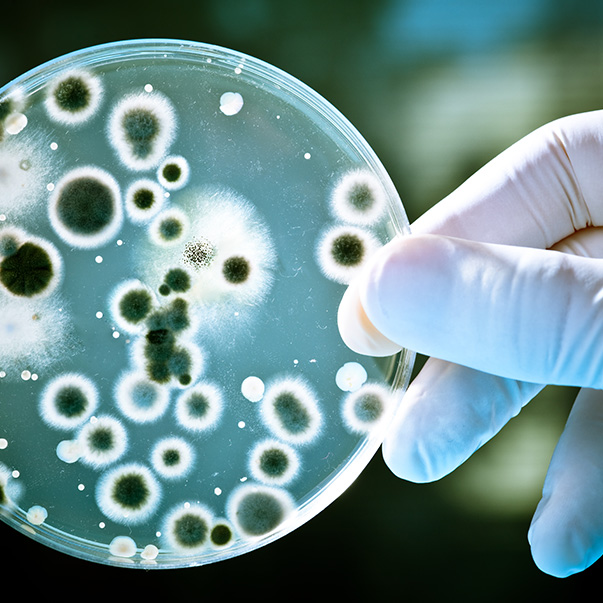 Anti-microbial sealants help improve room hygiene
Ever more frequently, infections transmitted through the air in a room are been observed to cause allergic reactions and infections – also known under the name of "Sick Building Syndrome".
The special foam sealants FERMAPOR K31-A-9020-17F and K31-A-9308-5-VP5-F developed for ventilation devices, as well as the potting product FERMADUR-A-196-4F comply with DIN EN ISO 846 in their resistance to fungi and bacteria and fulfil the requirements for microbial inertness specified by VDI 6022.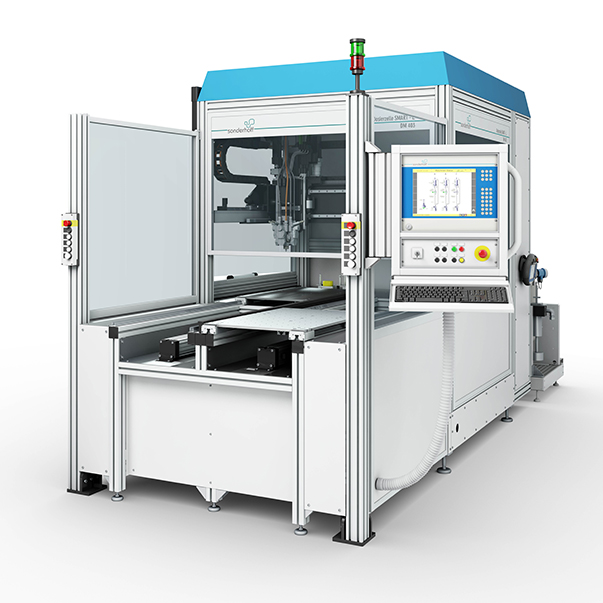 The Smart-L dosing cell with thin film degassing for perfect LED potting
With the use of thin-film degassing, air intrusions are completely evacuated from the potting in the material pressure tank, for a clear and bubble-free encapsulation of the LEDs - and thereby optimum potting transparency.
Through the employment of aliphatic isocyanates, Fermadur LED potting systems are highly resistant to UV radiation and have a very high light transmission of up to 80%. At the same time they demonstrate self-healing properties after scratching - the potting surface returns of its own accord into its original unscratched state!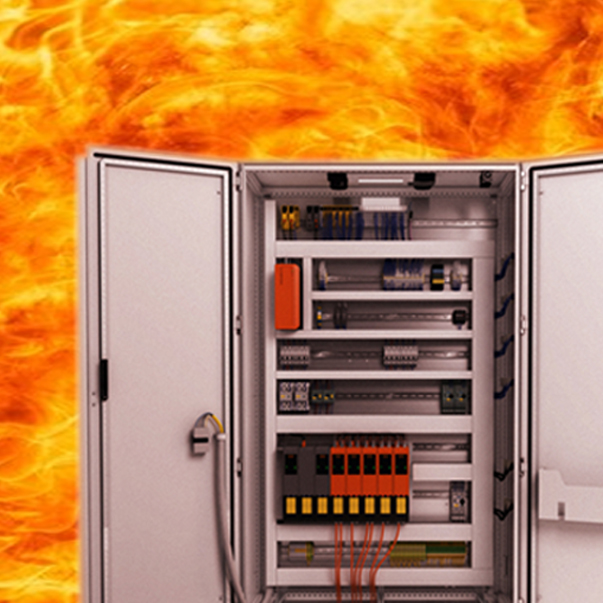 New FERMAPOR K31 formulations develop a wide spectrum of uses
FERMAPOR K31 FLAME PROTECTION meets US fire protection norm UL 94 HF-1.
FERMAPOR K31 FAST-CURE is non-sticky within 2-3 minutes.
FERMAPOR K31 LOW EMISSION meets the strict VOC requirements of the auto industry.
Together these new special recipes testify to Sonderhoff's development skills, in creating material systems for its customers with very different specific uses.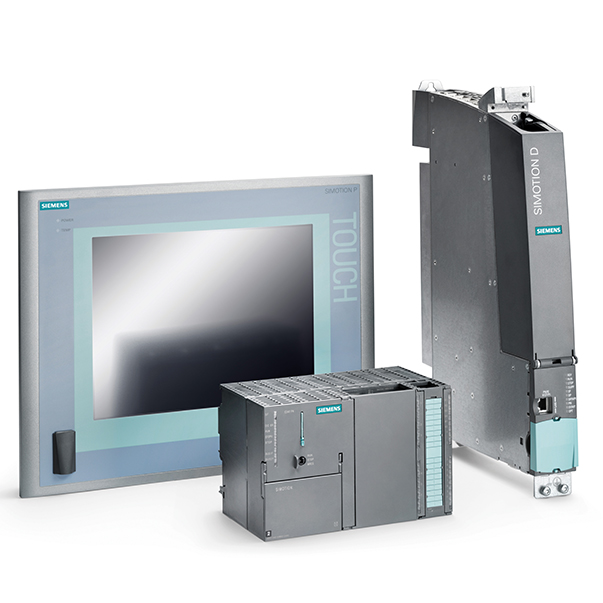 Introduction of the Siemens Simtion D 445 control
Sonderhoff presented the mixing and dosing machine DM 402/403 equipped with the Siemens Simotion D 445 control system for the first time at the Hanover trade fair Messe Industrie 2013. It is a scalable, modular, high-performance motion control system, with which it is possible to operate the axes and the peripheral equipment of the mixing and dosing machine synchronously, with a cycle time of 2 milliseconds.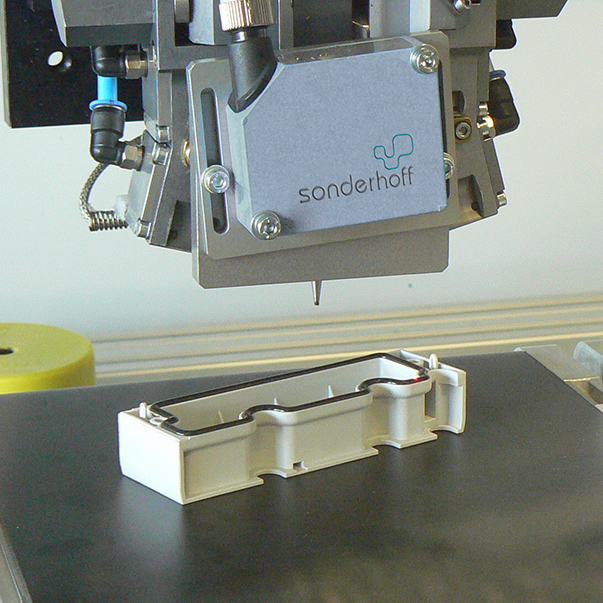 Quality assurance through sealing height measurement
To achieve an optimal sealing effect under compression of a foam gasket, a constant sealing height is an important parameter. The readings of the sealant height are recorded continuously so as to track the production quality and safeguard the functional reliability of Sonderhoff gaskets at any time, at defined measuring points.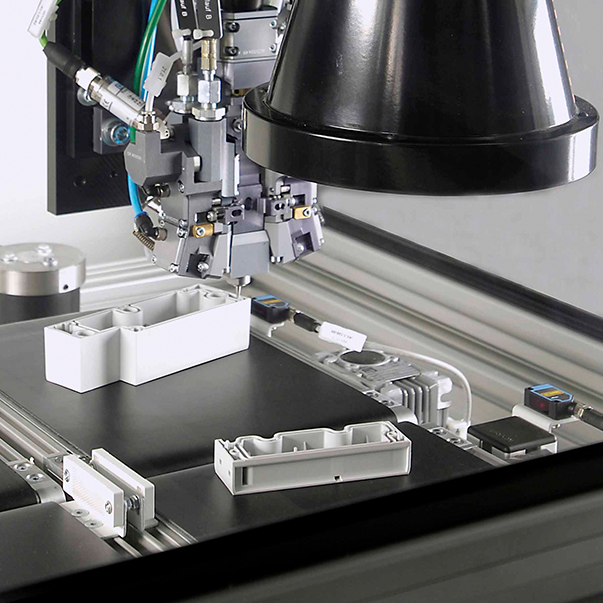 SMART – DM 402 dosing cell with automatic part recognition
At the Fakuma 2012 plastics trade fair, Sonderhoff presented the SMART - DM 402 dosing cell for the first time. Due to its compact design and small outer dimensions it requires only minimal space, which means it is easy to integrate into existing production lines. Automatic part recognition allows random part-feeding: Components with the most diverse shapes and sizes can be put on the transfer conveyor and transferred to the mixing head of the dispensing cell for sealing, gluing or potting applications in any order, without being positioned exactly.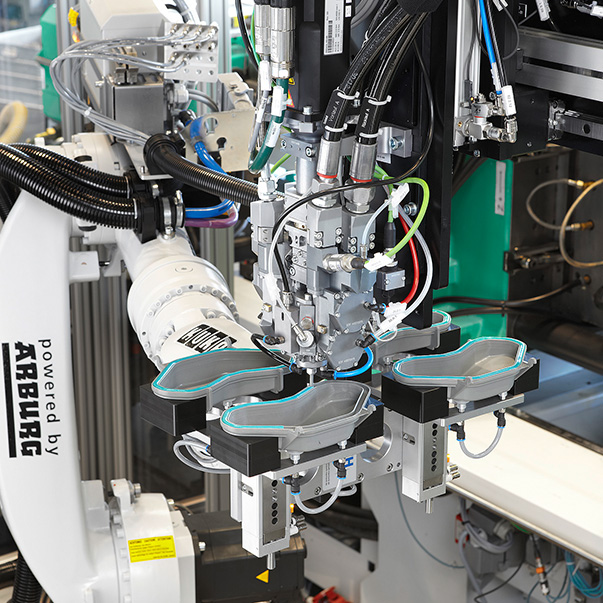 2011 Development of the MOLD'n SEAL process
The MOLD'n SEAL process is a sophisticated integration solution, by which the two formerly separate processes, injection moulding and foam gasket application, are combined in a single production step. Pre-production and intermediate storage of injection moulding parts are no longer necessary. The development of MOLD'n SEAL was accompanied by cooperation with the injection moulding machine manufacturers Arburg and Engel.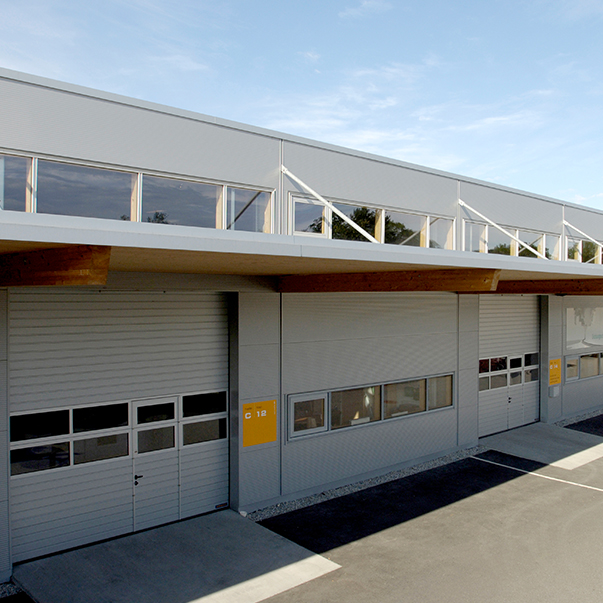 Founding of Sonderhoff Polymer-Services Austria GmbH
Sonderhoff offers OEM operators in the triple border region of Germany, Austria and Switzerland its proven production concept for foam sealing, gluing and potting of the most varied components on a PU or silicone base. With an area of 400m² the range of services offered by the new company includes the production of single pattern parts, through pilot and small production runs to mass production on a large scale. The company location, in Dornbirn, was chosen among other reasons for its proximity to its sister company Sonderhoff Engineering in Hörbraz, the producer of mixing and dispensing plants.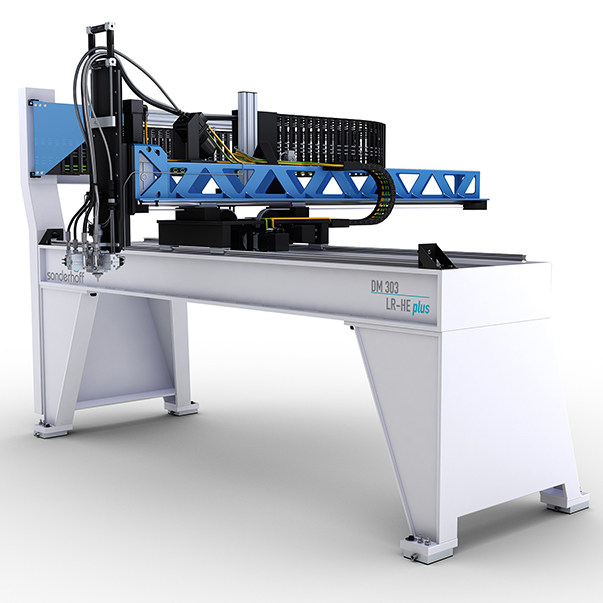 Development of the linear robot LR-HE plus
Continued development of the LR-HE linear robot: Dynamic 3-axis linear robot with Omega toothed belt drive for precision contouring of polymer reaction substances. It is operated, programmed and controlled by menu-driven dialogue input via a touchscreen, with visualisation by way of the movable MOBILE PANEL of the central mixing and dosing plant control system.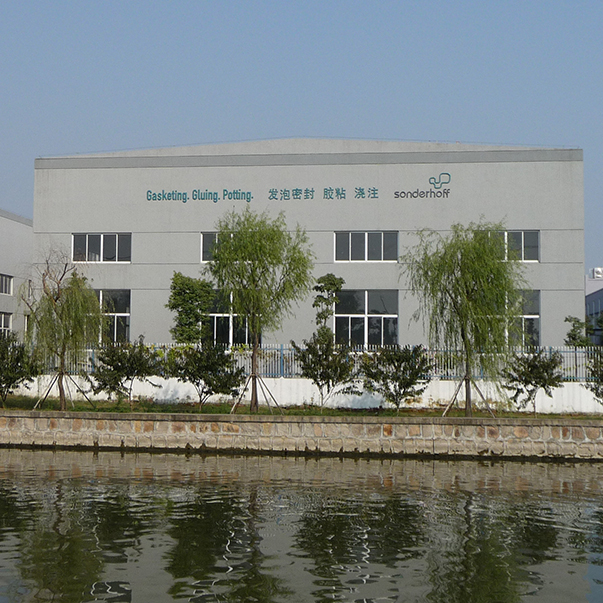 Establishment of Sonderhoff (Suzhou) Sealing Systems Co. Ltd. in Suzhou/China
In order to satisfy the growing demand from customers in the Pacific region, Sonderhoff opens its first plant in the Asian region in the People's Republic of China. From May 2009, in the Suzhou Industrial Park, Sonderhoff with its some 20 employees offers the sale of materials and machines as well as job order production. Looking to the future, production should take place on the site as well.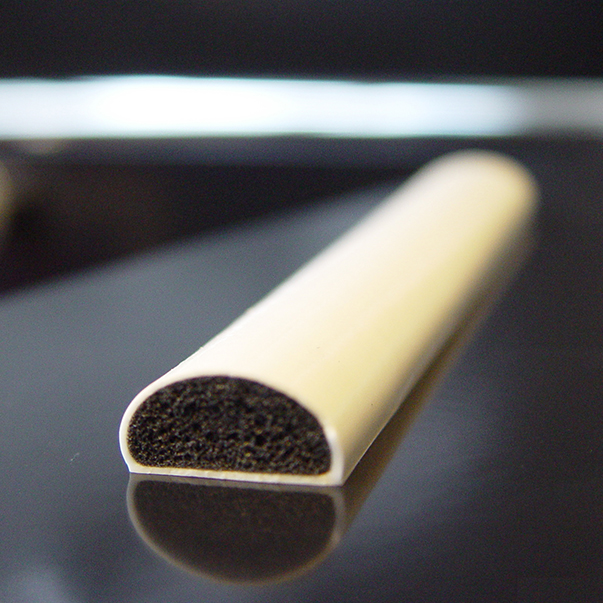 Development of FERMASKIN, the flexible foam system with skin layer
Sonderhoff develops a two-layered sealing foam: In addition to the familiar polyurethane sealing foam body, this foam has a very elastic protective sheath, which makes the seal resistant to water, UV effects and mechanical damage. This two-layer surface is created in a single production step.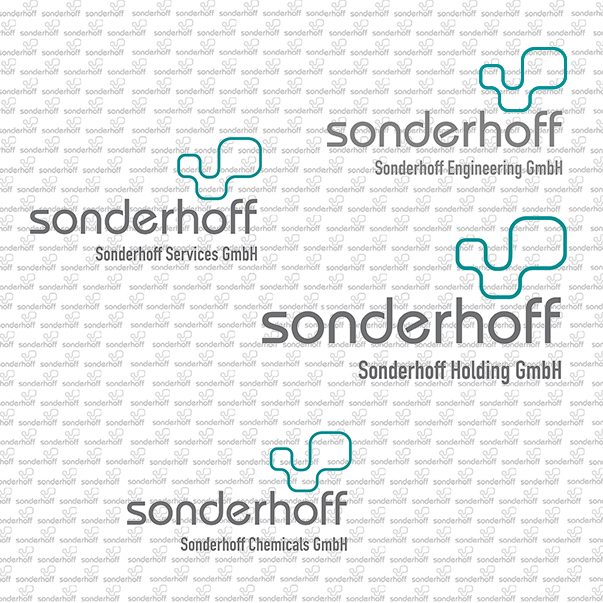 Reorganisation as Sonderhoff Chemicals GmbH, Sonderhoff Engineering GmbH and Sonderhoff Services GmbH
Sonderhoff decides to introduce an umbrella brand to create a uniform CI for all company segments. Thus "EDF" becomes Sonderhoff Engineering GmbH, "Sonderhoff GmbH" becomes Sonderhoff Chemicals GmbH and "Ferma Polymerservice GmbH", established in Cologne as an independent job order production company, receives the name Sonderhoff Services GmbH.
The Sonderhoff Enterprise Group is headed by Sonderhoff Holding GmbH.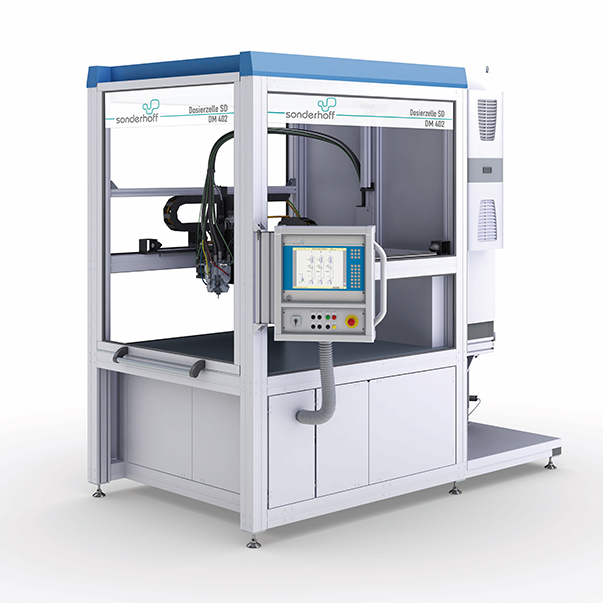 Development of the SD dosing cell
Sonderhoff develops a 2-/multicomponent mixing and dosing machine in a compact cell construction for foam sealing, bonding and potting of diverse components.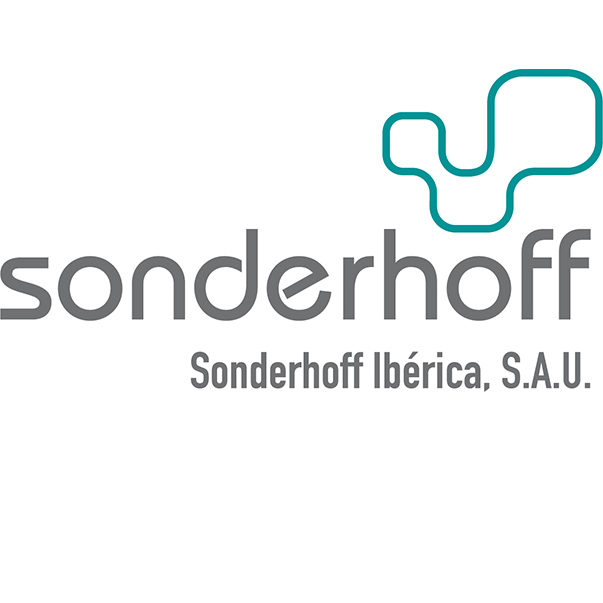 Establishment of Sonderhoff Ibérica, S.A.U.
The proprietors Heinz and Rolf Westhoff resolve to restructure the enterprise group. In 2004, next to POLYMERE HOLDING GmbH (Cologne), SONDERHOFF IBERICA S.A.U. (Esparraguera / Barcelona) is founded, the better to serve the west European market. Operative market processing and the offer of job order production began with four employees.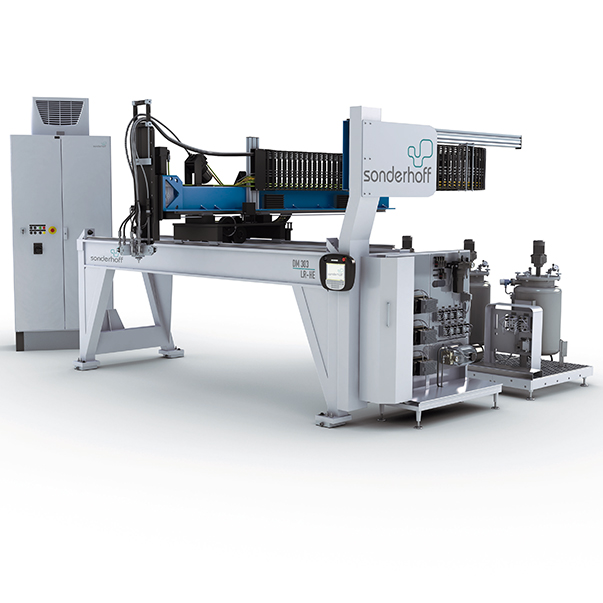 Development of the DM 302/303 mixing and dosing system
With the DM 302/303, Sonderhoff brings a 2-/multicomponent mixing and dosing machine on to the market, as a slightly smaller and more economically priced alternative to the DM 402/403. Like its big sister, the DM 302/303 was designed for use in part- and fully automatic operation for the foam sealing, bonding and potting of diverse components.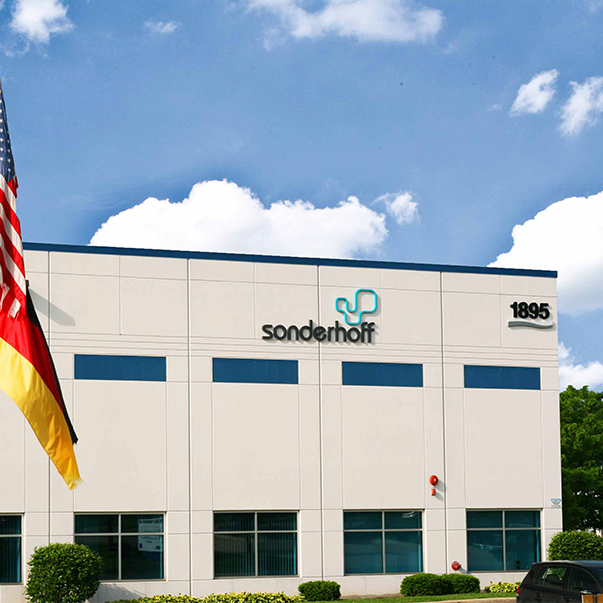 Founding of Sonderhoff USA Corporation
The distribution rights for the USA, Canada and Mexico are restructured and SONDERHOFF USA Corp. is founded in Illinois. In direct proximity to Chicago, distribution structures and contract manufacturing and production facilities for American clients are brought into existence.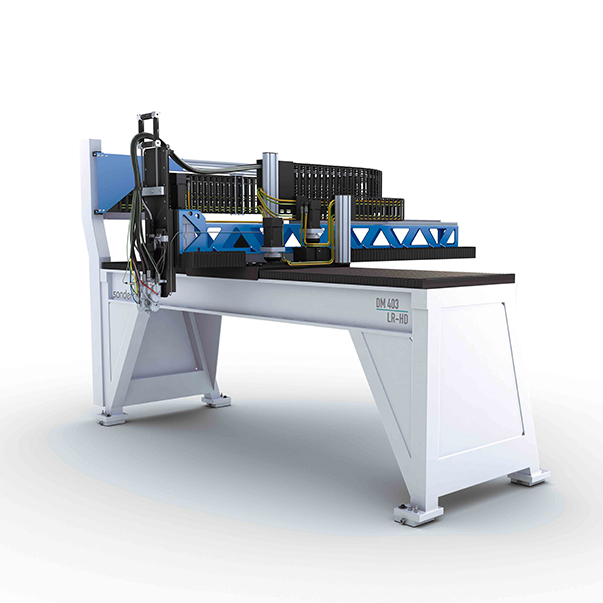 HD linear robot – acceleration on a planetary scale!
The new dosing system range DM 402/403, based on a modular concept and easy accessibility, is introduced. The presentation is accompanied by that of the next generation of the TYP HD EDF linear robot. For the first time, this robot permits acceleration values greater than 10 m/s². This is the acceleration achieved in free fall in the earth's gravity field. Discounting air resistance, such acceleration (acting on a stationary body) achieves a speed of 100 km/h in 2.83 seconds. A fully-laden jumbo-jet, by contrast, only experiences an acceleration of around 1.6 m/s².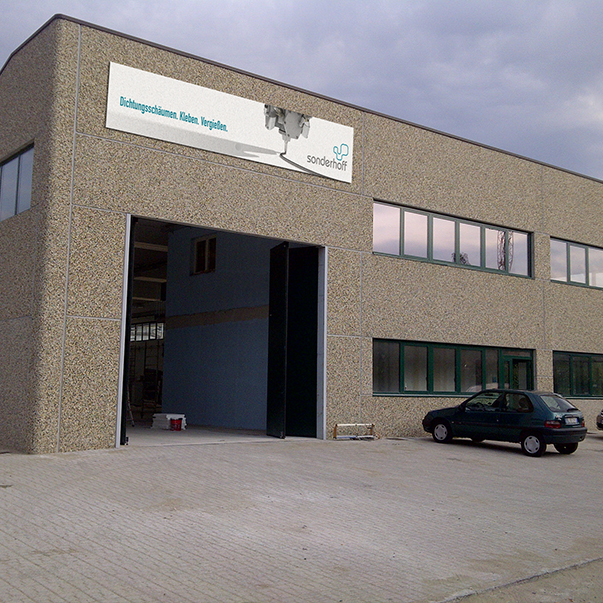 Entry into a new millennium
Sonderhoff invests in Sehab Trading AB and takes it over in 2001. This was followed by its renaming as SONDERHOFF SCANDINAVIA and the move into new premises in Anlingsås (near Göteborg in Sweden).
SONDERHOFF ITALIA SRL was founded in Lecco, Italy (near Como / Milan). With its own EDF mixing and dosing machines Sonderhoff Italia became a competence centre for contract foaming in Italy.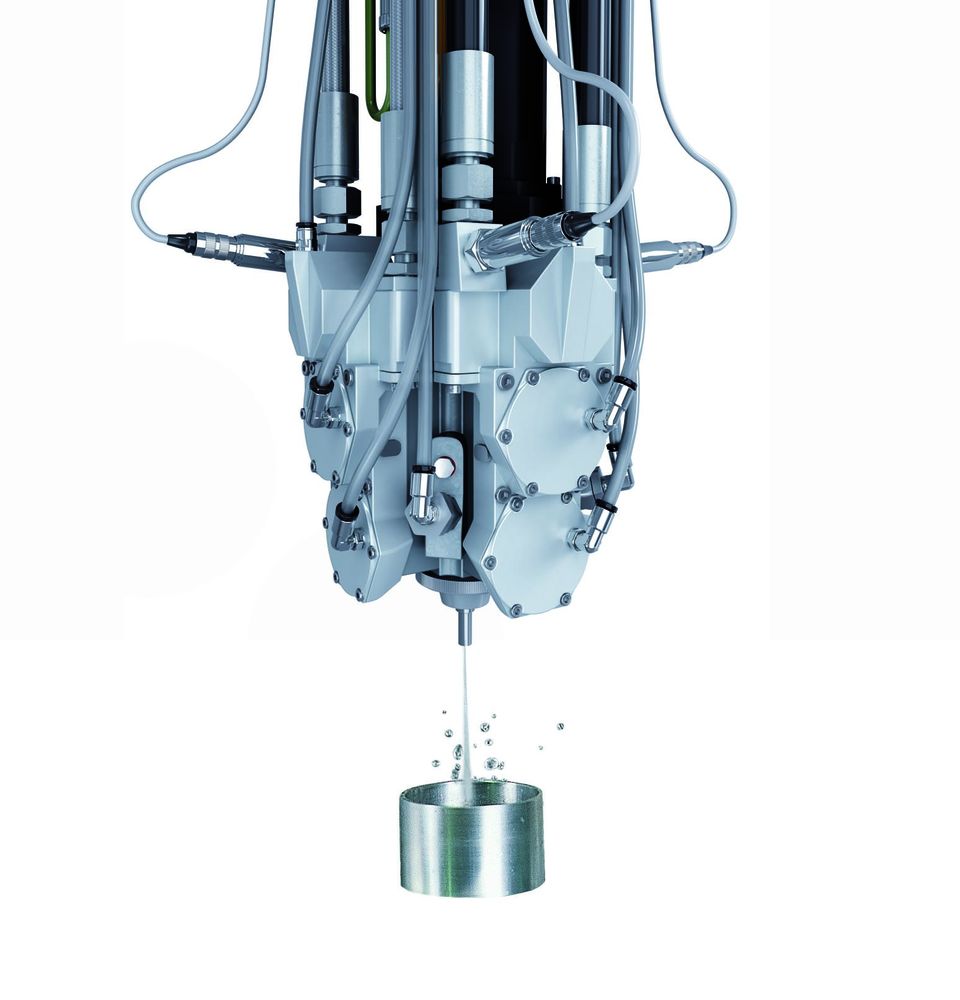 Development of the MK 600 mixing head with high-pressure water rinsing
The new MK 600 mixing head for 2 / 3 components is used for low-pressure mixing and dosing systems for the application of sealing foams, adhesives and potting compounds based on polyurethane or silicone. Thanks to its V-design construction, the mixing head MK 600 can be used for precisely applying material on the contour of also more complex component geometries.

With the MK 600, liquid to highly viscous polymeric reactive materials are dynamically mixed and dosed with a very high accuracy of ±1 %. Output rates of 3.0 to 100 g/s are thus possible, with a continuously adjustable mixing ratio of 100 : 1 to 1 : 100.

A further special feature of the MK 600 is the use of high-pressure water rinsing technology, which allows the mixing chamber in the mixing head to be cleaned in an environmentally friendly manner using tap water instead of solvents.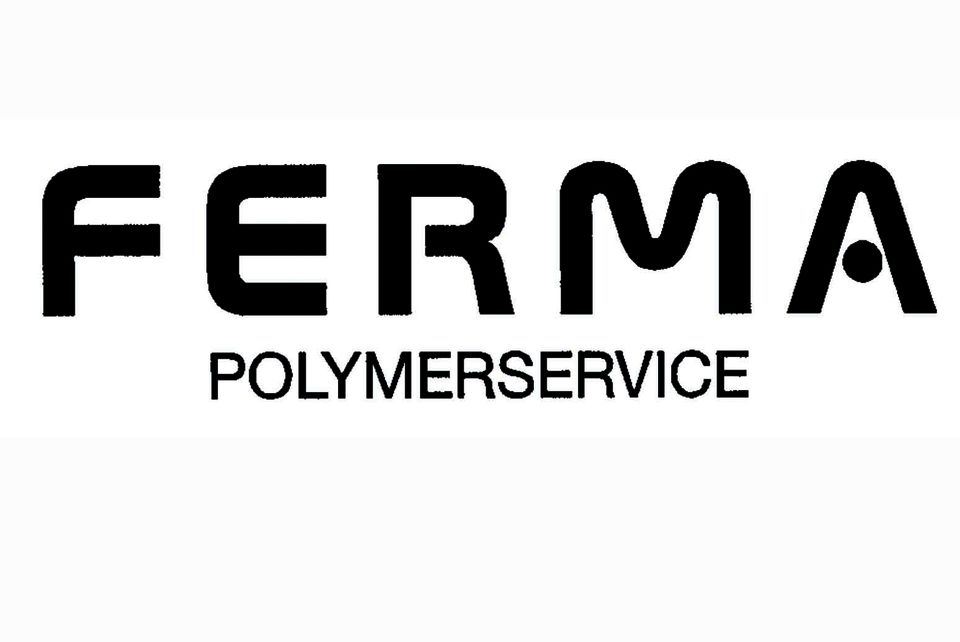 Founding of Ferma Polymerservice GmbH
In 1997, FERMA Polyservice GmbH is established to create a sustainable improvement in customer service. As a service provider, the new company offers contract foaming, the manufacture of sample parts and the assumption of volume production for the sealing of industrial components. FERMA begins with three employees and two EDF mixing and dosing machines.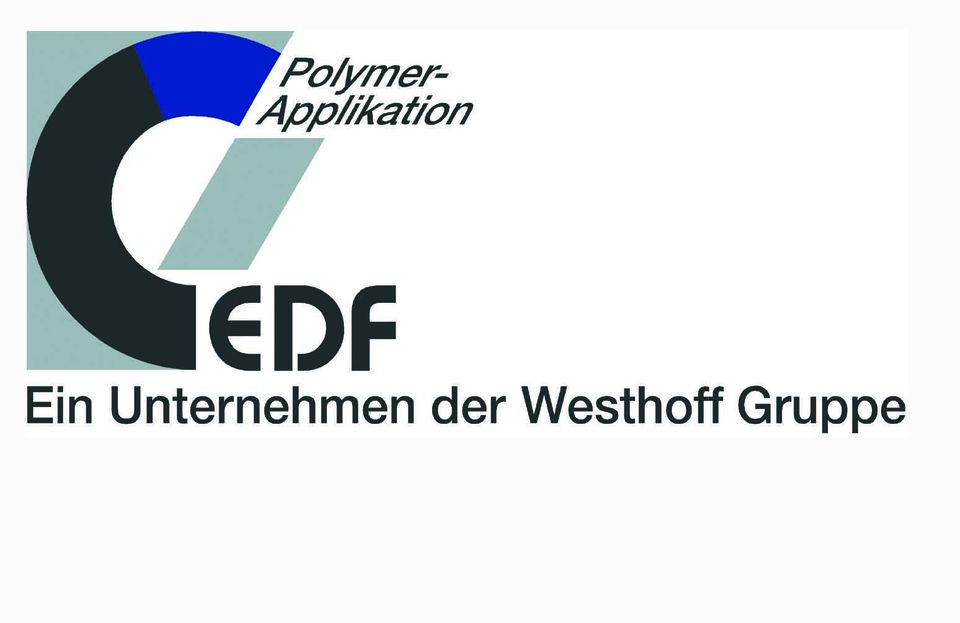 Sonderhoff & EDF
Enterprising vision, experience and customer focus – Heinz and Rolf Westhoff bring the EDF machine factory into the newly formed Westhoff group. This is the origin of "System 2": Material and machine under one hand and one responsibility.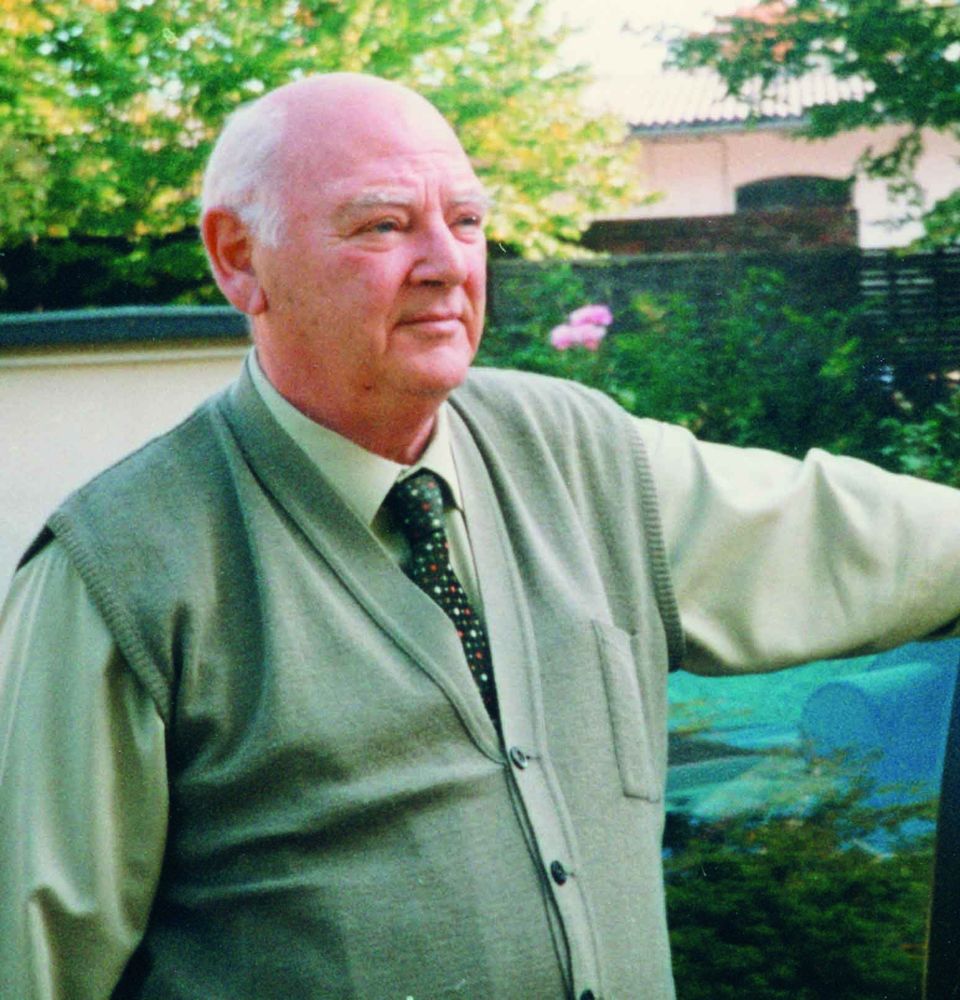 Rolf and Heinz Westhoff succeed their father as partners
After almost forty years of entrepreneurial activity, Karl-Heinz Westhoff relinquishes control and hands over an extremely well organised company to his two sons Rolf and Heinz Westhoff, who become partners and sole proprietors.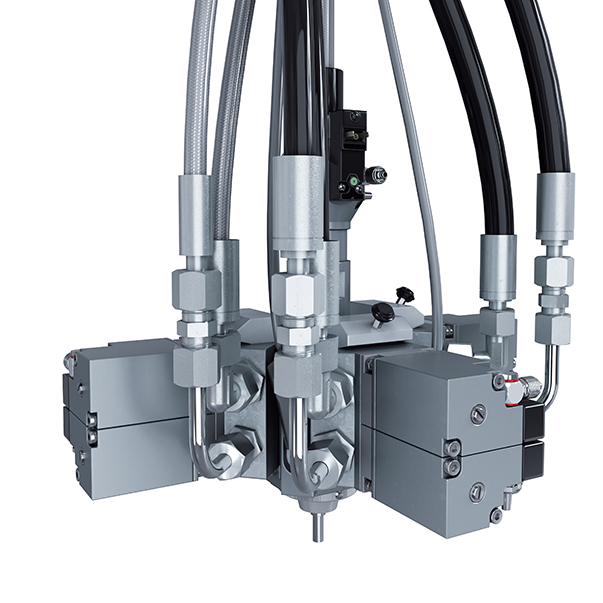 Development of the MK 400 mixing head with high-pressure water rinsing
At this first joint trade fair appearance by Sonderhoff and EDF at the K-Messe, the new MK 400 mixing head is presented. This revolutionary new development makes possible the cleaning of the mixing chamber, mixing elements and dosing nozzle by means of high-pressure water, thereby replacing the use of solvents.

EDF MASCHINENFABRIK
EDF presents the first 2-C gluing system, the DM 110 with the MK 200 mixing head at the "K'92" in Düsseldorf. The first contacts with Sonderhoff have already been made at this point. This leads to first joint sealing foam projects. Thanks to successful professional cooperation, talks at company level are also quickly initiated.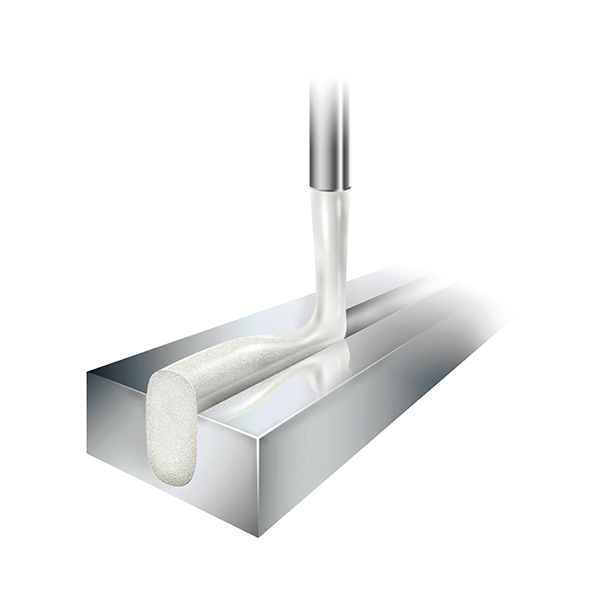 Development of silicon foam system FERMASIL
Sonderhoff develops FERMASIL, a two-component silicone system for the production of flexible silicone elastomers and silicone foam sealings, which are applied directly on to the part using FIPG/FIPFG (Formed in-place (foam) gasket) technology.

Sonderhoff FERMASIL systems can be used at a constant temperature from -60°C to +180°C, and for short periods even up to +350°C, but they always maintain their softness and flexibility. Because of their closed-cell structure they have low water absorption and are also highly resistant to other chemicals (e.g. cleaning agents, alcohols, lubricants, hydrochloric acid, nitric acid, brake fluids, coolants and ammonia gases).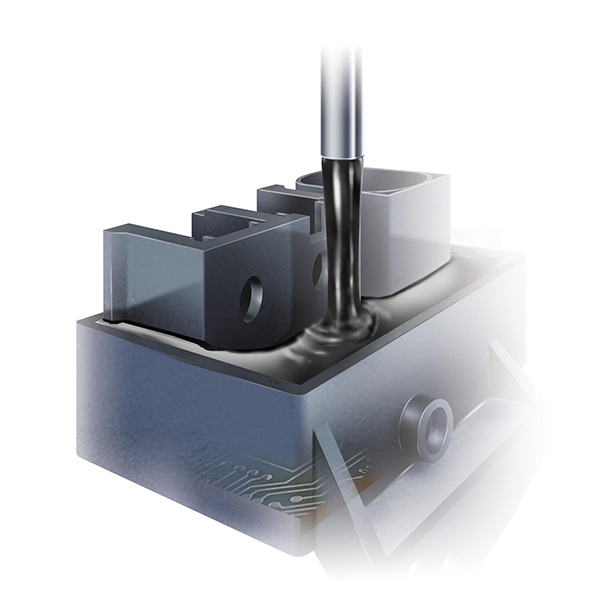 Development of the FERMADUR polyurethane moulding component
Sonderhoff develops FERMADUR, a two-component polyurethane system for the manufacture of hard- to gel-like potting compounds which are placed and cured directly on or in the component using FIP (Formed-In-Place) technology. FERMADUR is employed mainly for potting sensitive electrical components, circuit boards, sensors and sockets, but is also used for grouting filter end-caps and gluing filter packages.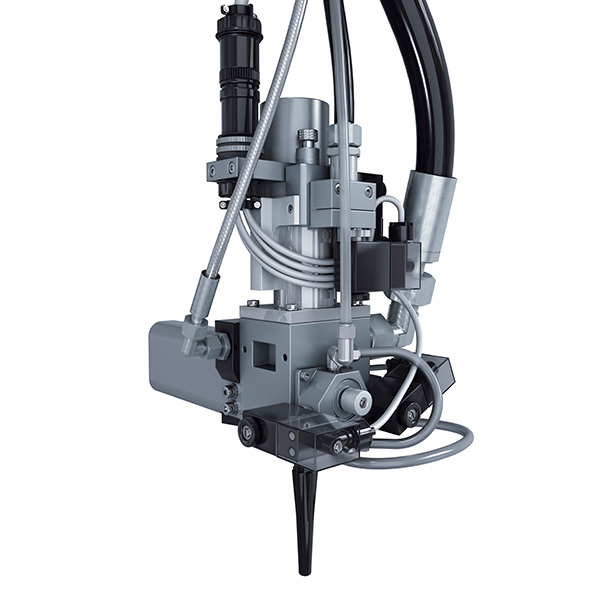 Development of the MK 50, MK 100 and MK 200 mixing heads
With the MK 50 (static, manual or automatic use), the MK 100 (manual or automatic) and the MK 200, EDF develops new mixing heads for the processing of fluid, medium- or high-viscosity plastics such as polyurethane, silicone-epoxy resins and other polymer materials.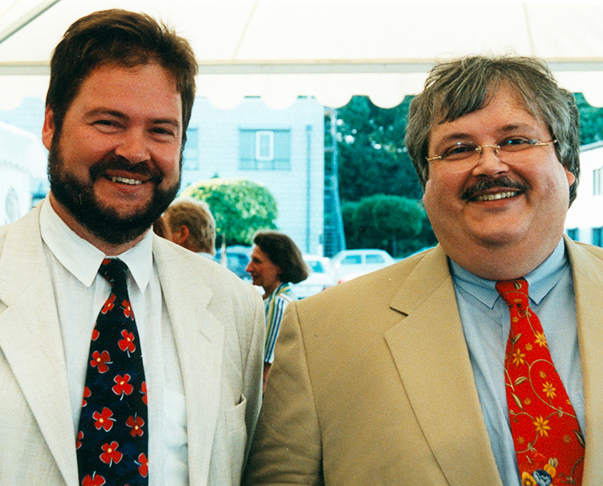 A new generation
The sons of company founder Karl-Heinz Westhoff, Rolf and Heinz Westhoff, become partners in the ERNST SONDERHOFF GmbH / Co. KG. This is the beginning of the generational transition.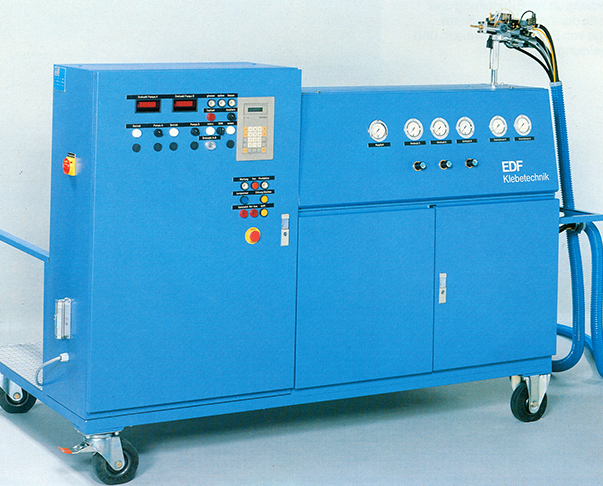 The first linear robot
Introduction of linear robot technology in dosing machine construction. Mixing and dosing machines which make use of this technology are presented for the first time at the K'83 plastics trade fair. The application of seals becomes faster, better and as a result cheaper, even in complicated geometries.
For the sake of the environment
Sonderhoff develops the cleaning agent SOFLEX, which is used as a water-soluble cleaning concentrate for mixing heads and made previously-used solvents such as methylene chloride superfluous. Sonderhoff is working on the development of new solutions as a priority, and replacing all foaming agents with environmentally-compatible alternatives. Consequently, SONDERHOFF is one of the first providers worldwide to consistently dispense with the use of chlorinated and halogenated hydrocarbons as foaming agents in the formulation and processing of polyurethane foam systems.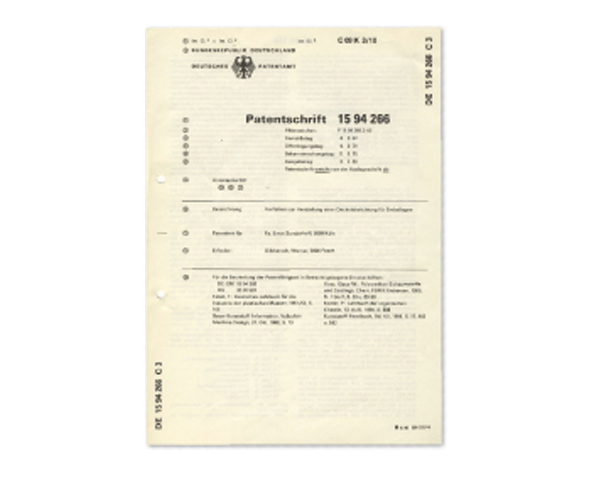 Patenting of FERMAPOR K31 "Procedure for manufacturing a lid seal"
The time has come at last. After a long, hard struggle, lasting over ten years, patent no. 15 94 266 for the sealing of packaging materials with 2C-polyurethane foam is issued worldwide in 1980. Innovative developments in the engineering sector are a decisive growth factor in its use and distribution.

FIPFG (formed in-place foam gasket) sealing technology is born with FERMAPOR K31. For the first time, a mixing head moves over the work piece to be sealed and applies the component mixture to the groove of the work piece.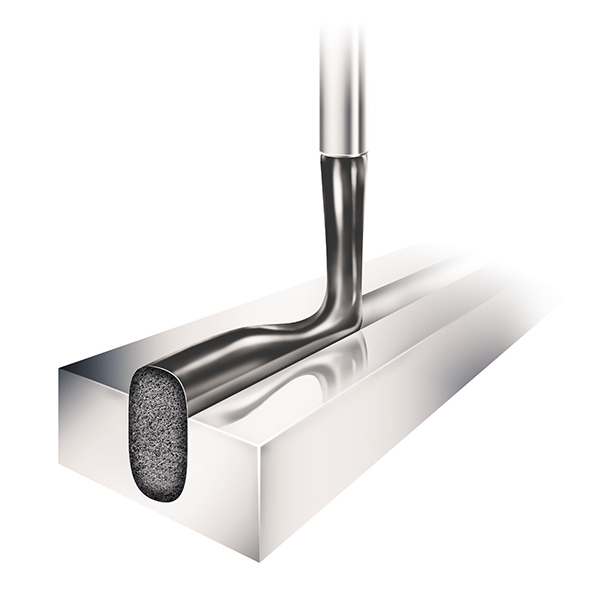 Development of thixotropic FERMAPOR K31 types
Sonderhoff develops thixotropic FERMAPOR K31, the 2-component polyurethane system for the production of soft-elastic foam sealings, which can be foamed onto the part directly with the help of FIPFG technology (formed in-place foam gasket). Now FERMAPOR K31 can be used on complex 3D parts even without a groove.
Successful sealing of moisture-proof lighting in collaboration with Schuch, Worms
Together with Schuch, a company based in Worms, Sonderhoff creates sealings for moisture-proof lamps.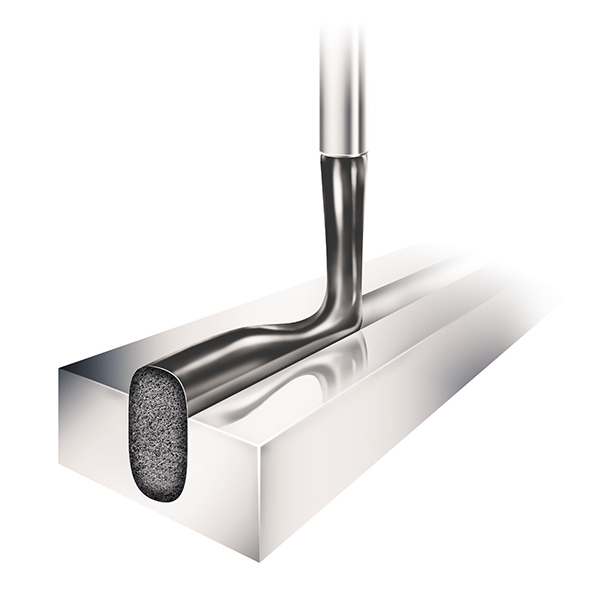 Development of FERMAPOR K31, the two-component, room temperature cross-linking polyurethane foam system
With BASF's own packaging enterprise, Sonderhoff develops for the first time its idea of reactive sealing masses: through the mixing of two liquid components at room temperature, they achieve the foaming of a sealant body of polyurethane.

FERMAPOR K 31 is born and a patent applied for. The 2-component, cold-setting polyurethane foam system sets out to revolutionise the method of sealant application in the field of plastic lids and metal drum covers.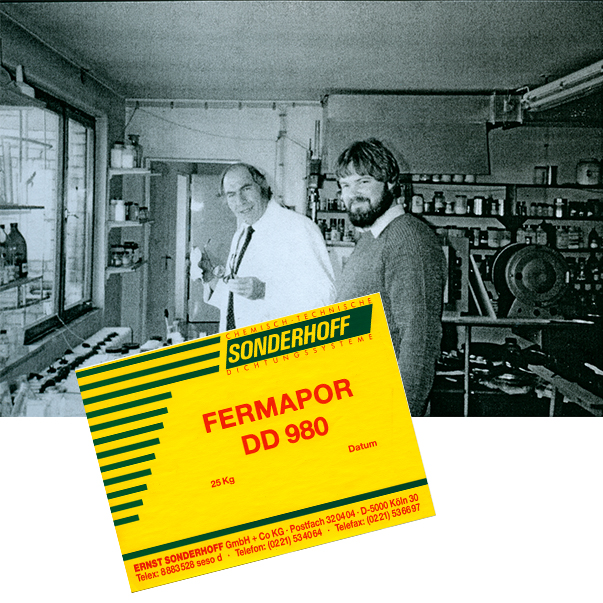 Development of FERMAPOR DD980 single-component PVC compound
Sonderhoff develops FERMAPOR DD980, a single-component PVC plastisol for the production of heat-curing, soft-elastic foam seals.
The FERMAPOR DD980 systems possess a high resistance to chemicals such as solvents, coolants and cleaning materials, alcohols, petrol, hydrochloric and nitric acid and ammonia gases. In addition, they distinguish themselves through minimal water absorption of <1 % in the uncompressed state.
Development of the fold-sealing compounds FERMATEX 1002 and FERMATEX S 952
In the sixties, Sonderhoff begins the development of sealing compounds for the packaging industry. The fold-sealing compounds FERMATEX 1002 and FERMATEX S 952 for fibre and tin plate packaging are the first developments in this sector.

This is followed by the single-component PVC compound FERMAPOR DD 980, which can be applied automatically, and in which a foaming reaction is induced by heating.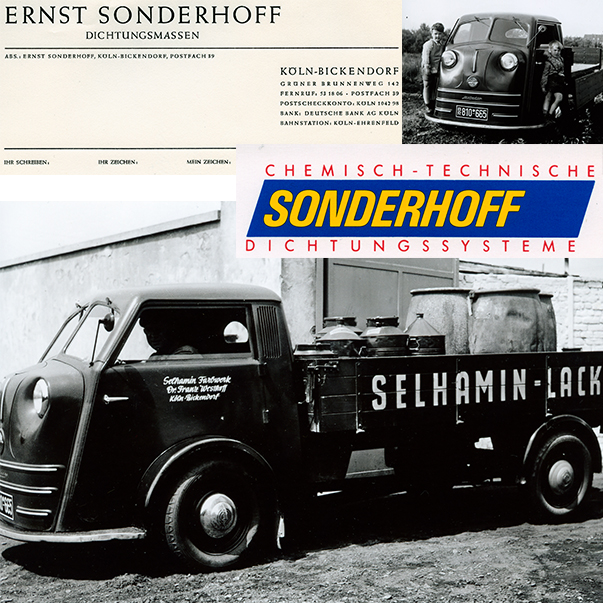 Acquisition of Ernst Sonderhoff Dichtungsmassen by Karl-Heinz Westhoff
Karl-Heinz Westhoff takes over Ernst Sonderhoff Dichtungsmassen, which sells single-component sealing compounds. These sealing compounds are manufactured in the Selhamin-Farbwerk - Dr. Franz Westhoff GmbH, which his father, Dr Franz Westhoff, purchased in the thirties.
At that time, solvent sealing compounds were still used in the engines of large volume diesel ship engines, tractors, earth-moving equipment, bulldozers and cranes, and in heavy duty transmissions and electric back geared motors.
Their outstanding sealing properties gained a reputation within the industry. Customers soon include prominent companies such as KHD, Liebherr, Fendt, ZF-Friedrichshafen, SEW, Case-Poclain and International Harvester.