Foam-in-place molding, sealing and potting of cable grommets, connectors and electronics
Polyurethane molded foaming of connectors, cable grommets and battery fingers

Potting of pins of connecting plugs

Sealing of electronic components with polyurethane encapsulation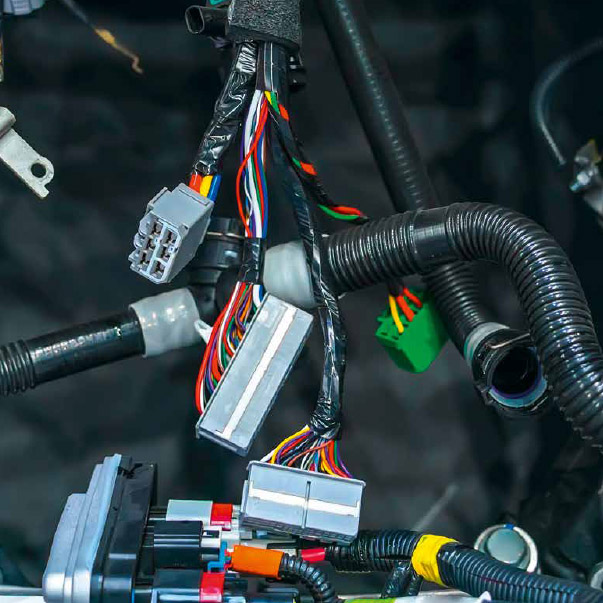 The modern and soon to be self-driving car is increasingly becoming a computer on wheels with more than 100 control devices and up to six kilometers of cable. The reasons for this are increased safety and comfort aspects as well as the electrification of the drive train for electric mobility. Cables also supply power to every consumer – from the oil pump to the vehicle lighting and from the radio to the sensor-controlled accelerator pedal.
This is why the number of control devices, sensors, actuators as well as electrical consumers and advanced driver-assistance systems is growing, and with it the amount of cabling. The cable harness distributes the energy for the consumers and the signals from the sensors and control devices in the car via multiple branching cable bundles.
This is where Henkel's products come in. We offer a range of suitable material systems for polyurethane foam-in-place molding, e. g. for connectors, cable grommets and battery fingers for the alternator, for potting the pins of connector plugs and for sealing electronics with polyurethane potting.
When it comes to foaming molded parts, sealing cable grommets, and sealing your electronics, are you looking for a complete solution consisting of a material system, dosing system and process automation from a single source?
Our perfectly coordinated system solutions allow you to reliably seal your cable grommets, connectors, battery fingers and electronics for robust use in road traffic so that they are waterproof and resistant to vibrations. The connectors or their cable connections and electronic components must be resistant to heat, vibration and other environmental influences and therefore receive special protection from our material systems to ensure a high level of reliability.
Do you need an automation system that adapts to your production requirements?
Our CNC-controlled mixing and dosing systems offer a high level of repeatable dosing accuracy and, thanks in part to systematic, sensor-based process monitoring, are also highly efficient. Thanks to their modular design, they can be flexibly integrated into existing production concepts.
Through our combination of individual material systems, customer-specific mixing and dosing machines and skilled process expertise, we offer solutions to address your technical and economic challenges.