Control cabinet
The expandable future-proof control center
Scalable, high-quality and durable control components
Servomotors and servocontrollers
New security features
Control Cabinet
Scalable, high-quality, and durable control components from well-known manufacturers are installed in a protected form in a high-quality brand-name switch cabinet with climate control. Inside, the switch cabinet offers enough space for future expansions. The easy-to-use special mounting plug-in system enables the addition of further control components, ensuring a high degree of flexibility in case changes need to be carried out in the future.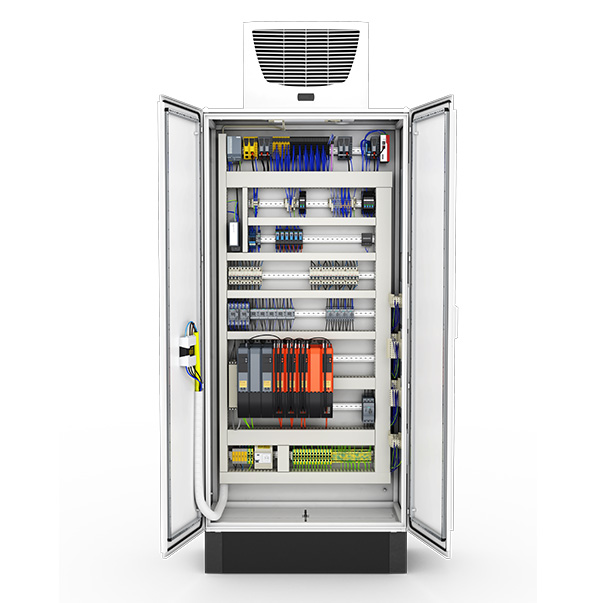 Servo motors and servo controllers -
higher resolution and precise path behaviour
The digital EnDat encoders of the servo motors enable very precise path behavior of the servo axes when the mixing head is moved. The use of an electronic nameplate in the servo motor offers the advantage of automatic parameterization of the servo controller to the current parameters of the connected motor. Thanks to the absolute encoders used, the servo axes of the linear robot are immediately ready for use after the control system has been started up. An improved mounting system makes it easy to connect single and dual controllers – during servicing, the servo controllers can then be exchanged very easily. The power supply of several servo controllers is provided by a central module, which also handles the communication of the control system.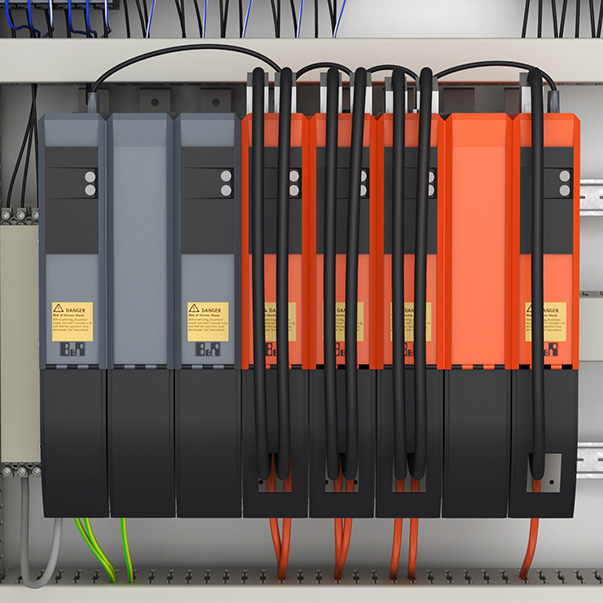 New safety features -
programmable, simple, fast
The new DM 50x machine generation gives high priority to occupational safety. Through the use of the latest integrated safety logic, safety functions such as safety gate switches or optional light grids, safety shutoff mats or more complex safety functions, e. g. SLS (Safely Limited Speed), can be implemented. And the new safety technology also takes up less space in the switch cabinet.
With the programmable safety logic, adjustments to the safety function can now be implemented much more easily and faster. The safety functions of the linear robot's servo axes are fully integrated into the safety logic and can therefore also respond very quickly to safety events.
DESCRIPTION
Modular IPC control system in the switch cabinet with Powerlink
EMERGENCY STOP function with proven safety concept, realtime capable bus system
Switch cabinet offers plug-in connections to plant modules (dosing machine, CNC linear robots, pressure vessels, etc.)
Protective door safety switch off with guard locking (optional when delivered with a protective fence)
Set-up and alarm logging, process data logging
Strand identification
Switch cabinet lighting
Operating hours meter
Remote maintenance via VPN router
Voltage adjustment to external voltages, 60 Hz version
Air conditioning unit for switch cabinet temperature control
Open peripheral interface
Central control of additional peripherals / automation possible
Data backup by means of USB stick or LAN
Data storage for operating system and system programs
Electrical system: Design according to EN 60 204-1
Power supply: 3 x 400 V, 50 Hz or 60 Hz or country-specific adaptation
Rated power: approx. 10 kVA
Ø consumption: approx. 4 kVA
Control cabinet: B x H x D 1,210 x 2,650 x 510 mm, approx. 350 – 450 kg

The control center of the new DM 50x

Industrial PC from B&R without mechanical wearing parts
VPN router for remote maintenance (remote collaboration)
Safely Limited Speed / Safety Modules