Battery housing system solution
Sealing of mowing robots and small devices
Fully automatic material application

Protection against moisture and corrosion

Seamless foam gasketing
System sealing solution for robotic lawnmowers and small devices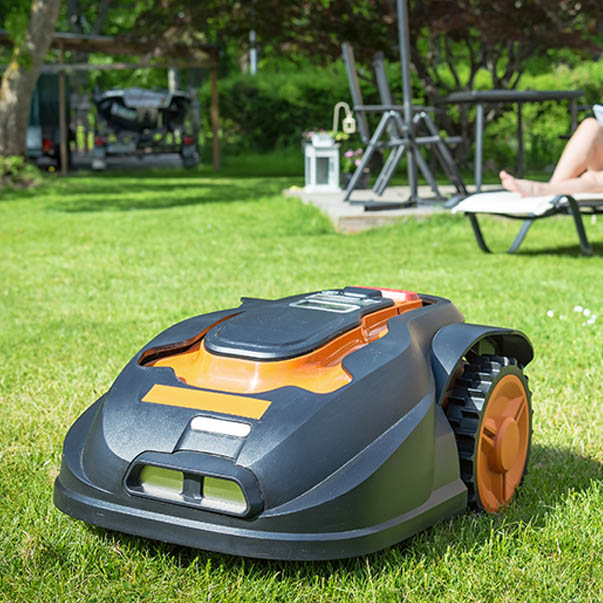 As in the transport sector and many other areas of the economy and society, electrification based on new battery technologies has also found its way into private households. Practical small appliances operated with cordless, rechargeable batteries are enjoying increasing popularity there, for the garden and in the do-it-yourself workshop, such as mowing robots, hedge trimmers, leaf blowers, and cordless screwdrivers and drills.
Our sealing and insulating material systems ensure that their batteries and electronics are reliably protected against corrosion by moisture and other external influences. For sealing the battery housings, we offer our 2-component FERMAPOR K31 polyurethane-based sealing foams. The foam gasket is seamlessly applied with our fully automatic dosing machine, providing excellent sealing in the installed state due to compression of the foam structure. In order to seal the electrical connections and electronics of small appliances against moisture and shocks, our 2-component polyurethane potting systems are used.
The material systems for foam gasket and potting can also be processed in combination with a mixing and dosing system for 3 components.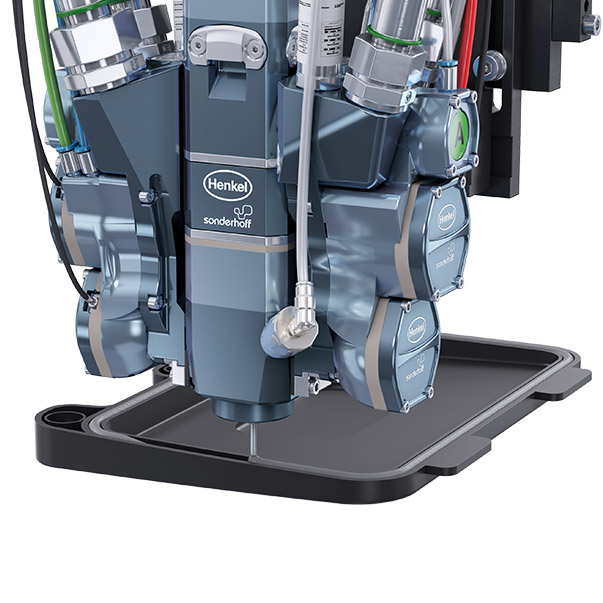 When it comes to sealing your battery housings and potting your electronics, are you looking for a solution consisting of a material system, dosing system and process automation from a single source?
We will provide you with a perfectly coordinated system solution, consisting of a sealing foam or potting material that satisfies your requirements, and a dosing system for high-precision, fully automatic material application, controlled by contour robots.
Do you need an automation system that adapts to your production requirements?
The modular design of our mixing and dosing systems with their peripheral interfaces allows flexible use, with excellent integration into existing production concepts. These can be operated easily and intuitively without requiring much training. Our CNC-controlled mixing and dosing systems offer high levels of repeatability and dosing accuracy, and thanks to systematic process monitoring they are highly efficient.
Our solutions therefore offer you precisely the levels of durability, quality and reliability that your customers expect from your products.
Tailored material systems for maximum product safety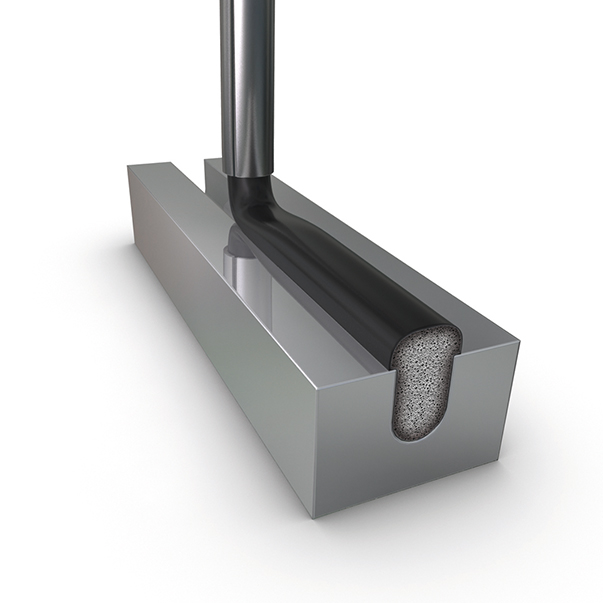 We carry out developments individually for your specific requirements
The reference material presented here, FERMAPOR K31-A-9675-5-VP and B-4 (B component) for sealing the battery housing covers of mowing robots, is a 2-component polyurethane sealing foam that has been used by leading equipment manufacturers for many years, and is tried and tested. It prevents the penetration of moisture into the battery housing to prevent corrosion, and it protects against dust, dirt and other foreign bodies.
Alternatively, we can also customize our sealing foams to meet your component requirements. Influencing factors include pot life until start of foaming, curing time, and the viscosity, hardness and adhesion properties. Thanks to the mixed-cell foam structure, the closing forces when installing the foam gasket are low.
The precision-contour, robot-controlled Formed-In-Place-Foam-Gasket (FIPFG) application process is crucial in precisely applying sealing foams into the groove of battery housing covers. This is done with our fully automatic DM 502 mixing and dosing machine.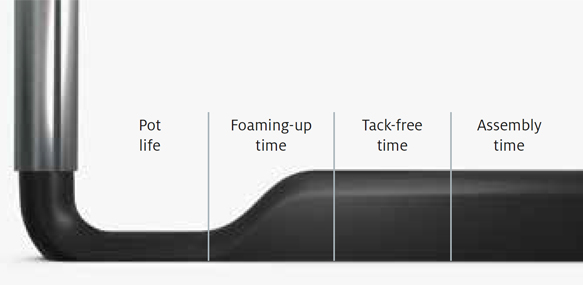 The different reaction phases of the sealing foam in the chronological sequence
FERMAPOR K31-A-9675-2-VP
FERMAPOR K31-B-4
Mixing ratio
4.5 : 1
Pot life time
40 sec.
Tack-free time
7 min.

Viscosity of the A component

1,500 mPas
Density of the foam
0.23 g/cm³
Hardness (Shore 00)
64
Temperature resistance
from -40 to + 80 °C
Pretreatment

Adheres well to powder-coated surfaces. To improve adhesion
on plastic and metal surfaces, pretreatment can be carried out
using corona, flame, primer or plasma.
In addition to the reference products, we develop material systems according to your individual requirements. Influencing factors include pot life until start of foaming, curing time, and the viscosity, hardness and adhesion properties.
Repeatedly opening and closing of the battery housing cover, and the sealing effect remains consistent.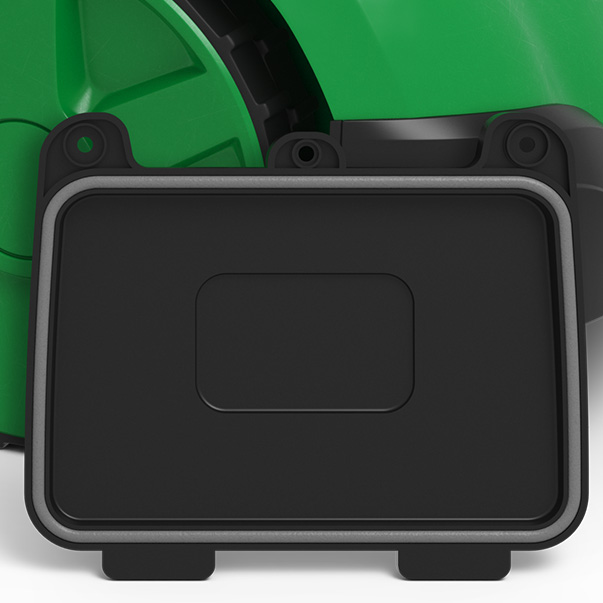 During final assembly of the battery housing cover, the foam gasket applied is evenly compressed over the entire length and – once installed – will result in a high degree of tightness in accordance with IP protection classes. It compensates for component tolerances when sealing and has high temperature resistance from -40 to +80 °C.
FERMAPOR K31-A-9675-5-VP generally achieves good adhesion on powder coatings and plastics. In special cases, adhesion can be further improved by flame, corona, primer or plasma application.
Due to its excellent shape recovery characteristics, the mixed-cell foam structure of the polyurethane seal can still be compressed well even after years (tested according to DIN EN ISO 1856). It is therefore possible to repeatedly open and close the battery housing cover for battery changes, and the sealing effect of the foam gasket remains consistent.
The video shows the polyurethane foam seal FERMAPOR K31 in a cross section in a groove - first in the uncompressed state, then about 50 % compressed, so that the sealing function of the seal is given and the component is tight.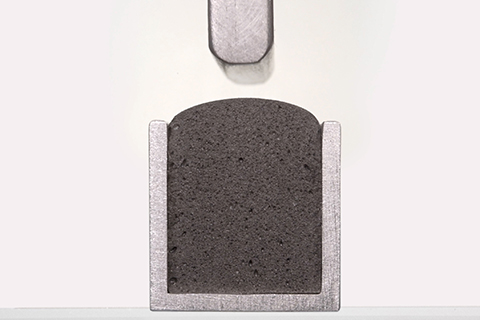 Cross-section of a polyurethane foam bead in the groove – unpressed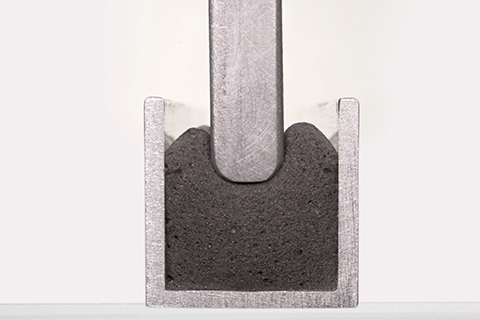 Cross-section of a polyurethane foam bead in the groove with approx. 50 % compression

Mixing and dosing system with 3-axis linear robot and shuttle table for picking up parts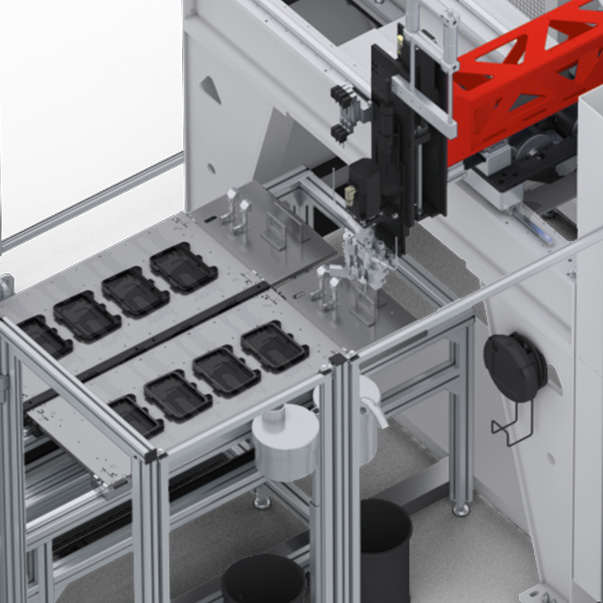 Flexible and fully automatic – fully in line with your requirements
The reference configuration shown here for sealing the battery housings of mowing robots consists of the DM 502 mixing and dosing system with the MK 825 PRO precision mixing head as well as the LR-HE plus 3-axis linear robot and WT 1-LEVEL shuttle table for holding parts. The two pick-up plates working in shuttle mode enable the workpieces to be picked up and alternately processed in a single plane. This makes it possible to guarantee continuous operation.
The battery housing cover to be sealed is positioned and fixed in place on the shuttle table either by a machine operator, who can also check the parts for quality, or alternatively by a Pick & Place Robot. In the latter case, an optionally installed camera or sensor system could carry out the quality control of the parts.
For the battery housings, sealing material is dispensed into the groove contour of the cover via the CNC-controlled MK 825 PRO precision mixing head. The dosing process must be very precise here. After the dosing cycle, the coupling point of the room-temperature curing foam gasket closes seamlessly and is thus almost invisible.
Even with short cycle times and high unit numbers, the material application process using the FIPFG method is carried out with high dosing precision and repeat accuracy. As a result, you achieve foam gaskets of uniformly high quality.
In addition, our fail-safe mixing and dosing system can be operated easily and intuitively without the need for extensive training. Thanks to the automatic logging of dosing program data, all process data can be traced and valuated by the machine operator via the CONTROL 2 operating panel while production is running.
In all solutions, our main focus is on extremely reliable plant engineering, minimized maintenance times and consistent dosing quality. As a process expert, we support you with individual consulting for the customized automation of your manufacturing processes.