The dispensing cells
SMART-M
Flexible inline integration
Fully automatic or semi-automatic manufacturing
In two sizes for optimal space utilization
The dispensing cells
SMART-L
Flexible inline integration
Fully automatic or semi-automatic manufacturing
In two sizes for optimal space utilization
SMART-M and SMART-L
Maximum possible variability in small space by cell design
The SMART-M and SMART-L is a 2-component dispensing cell for semi- or fully-automatic use for gasketing, gluing and potting the widest range of parts.
The system enables high-precision processing of liquid, medium and high viscosity polymers, such as polyurethane, silicone, epoxy resin or other polymer reactive substances.
The model variants SMART-M and SMART-L in different outer dimensions differ in the size of the traversing as well as in the number of material components to be processed.
The larger dispensing cell SMART-L offers a traversing of 1000 x 800 x 250 mm (x / y / z) for material application. The even more compact variant SMART-M allows material dosing in a travel range of 500 x 600 x 250 mm (x / y / z).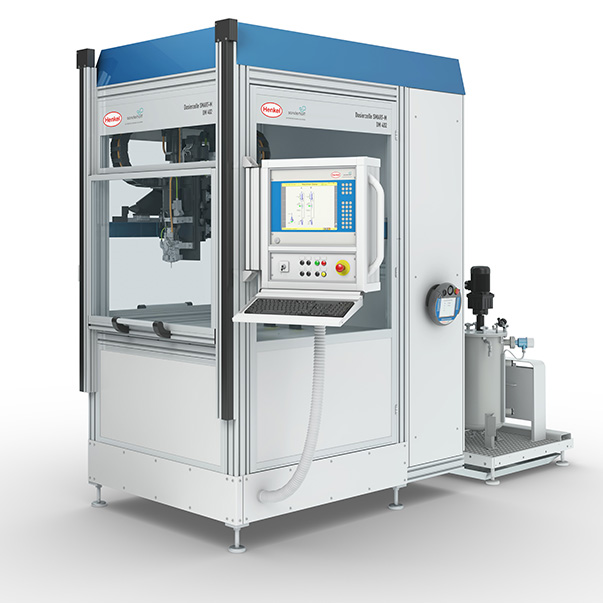 Quality at highest level
Cost-effectiveness through process safety and machine availability
The SMART - L dispensing cell always processes the used materials on a constantly high quality level with regard to reproducible material consistency and dimensional accuracy.
The use of cutting-edge sensors and actuators provides further reassurance of reliable system quality and process regulation. Since all setup, system, material and process data are automatically logged, the production workflow can be tracked at all times.
The "Sonderhoff SAFETY" package has been developed as a key measure for safeguarding consistently high levels of machine availability. It is primarily based on an underlying concept of preventive and scheduled maintenance.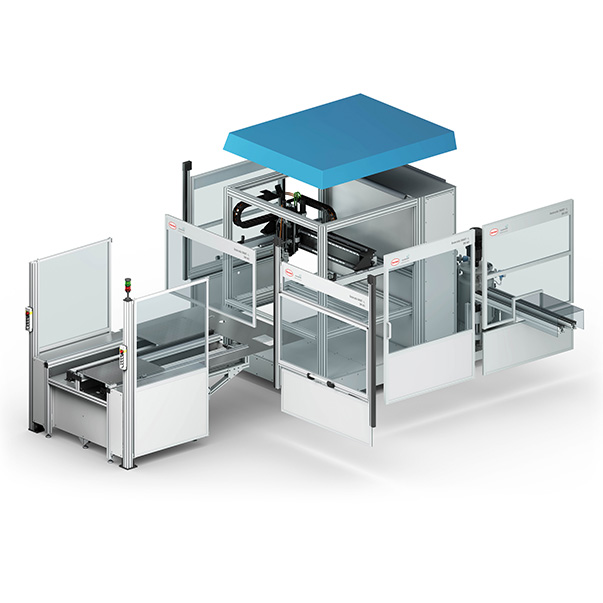 Prepared for today and tomorrow
Modular and flexibly adaptable to different production concepts
Thanks to their modular and compact design, the SMART-M and L dispensing cells can be integrated into different production concepts. The mixing and dosing area as well as the linear robot are placed on a common base of the dosing cell. The dosing cell is optionally equipped with the Sonderhoff precision mixing heads MK 625 or MK 650. Subsequent conversions of the dosing cell due to modified production concepts can be converted with little planning effort.
Different component applications are freely programmable with the SMART-M and L dosing cells. For frequently changing applications and component numbers, modules such as for example an optical component detection.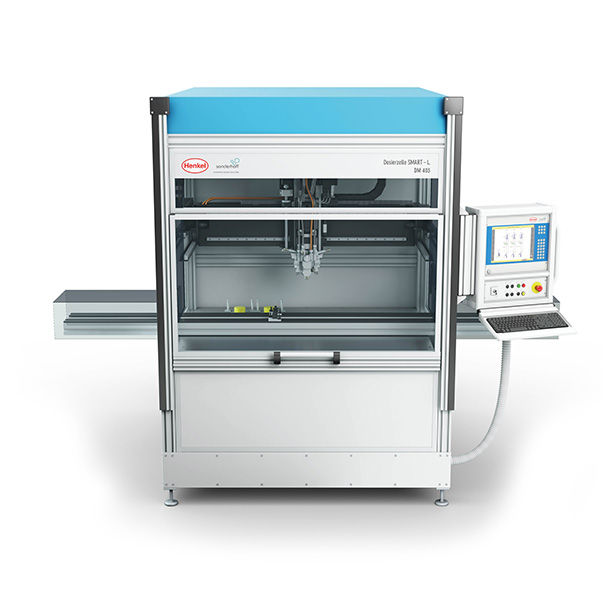 Process-optimised part feeding
Manual – semi-automatic – fully automatic
The standard version of the SMART - L dispensing cell is fitted with a lift door at the front. The parts awaiting gasketing, gluing or potting are manually loaded onto the dispensing cell work area. Alternatively, part feeding to the dispensing cell can be controlled semi- or fully automatically.
Part feed to the dispensing cell is a user-friendly process that either involves a rotary table with 180° separation into loading and working positions that alternate at 1.5 second intervals, or the parts are transferred on a conveyor belt running through the cell.
A light grid protects against inadvertent access to the dispensing feed area of the cell during semi-automatic part feed using a rotary table.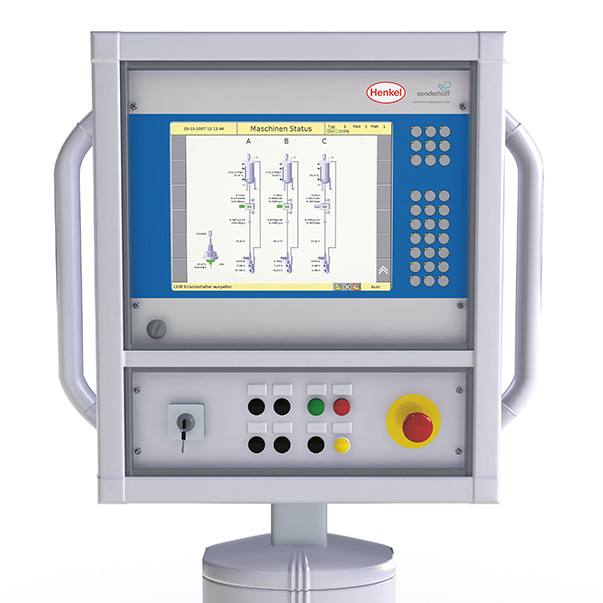 Comfortable control
Teach-in Box and "Sonderhoff-CONTROL II" user interface
In designing its SMART - L dispensing cell, Sonderhoff consciously strived to ensure that users can perform the widest range of operations easily and reliably.
The "Sonderhoff-CONTROL II" user interface with touch screen operation is a big step forward to this direction and has proven to be particularly useful. All of the system and process parameters can be pre-set and regulated to reliably assure fully-automated production by the system.
Using the "Teach-in" learning procedure offered by the multi-functional Teach-in Box simplifies the contour programming of the processed parts considerably.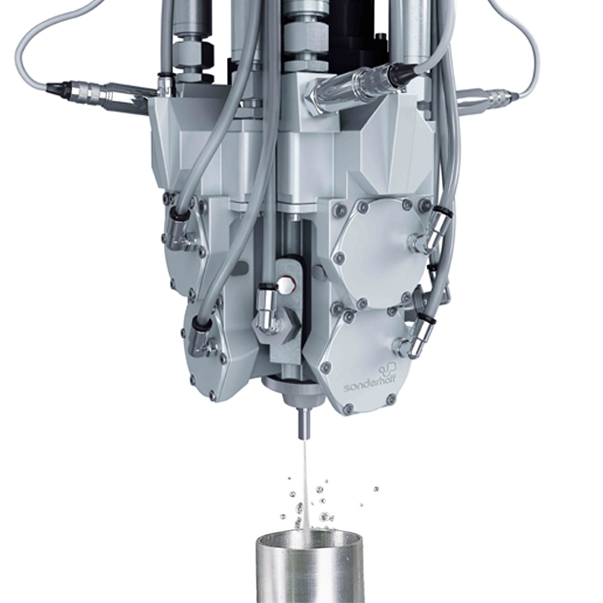 Clean and accurate dispensing
High-pressure water rinsing technology and "Stop-Drop DVS-3" nozzle shutoff system
Using Sonderhoff's patent-protected high-pressure water rinsing technology to clean the mixing chamber offers a series of additional benefits, including quality improvements and efficiency. Precise material output for part dispensing is assured by the pressure-regulated recirculating valve technology.
The "Stop-Drop DVS-3" nozzle shutoff system guarantees adherence to the precisely defined output rate and dimensional accuracy, especially in the coupling areas.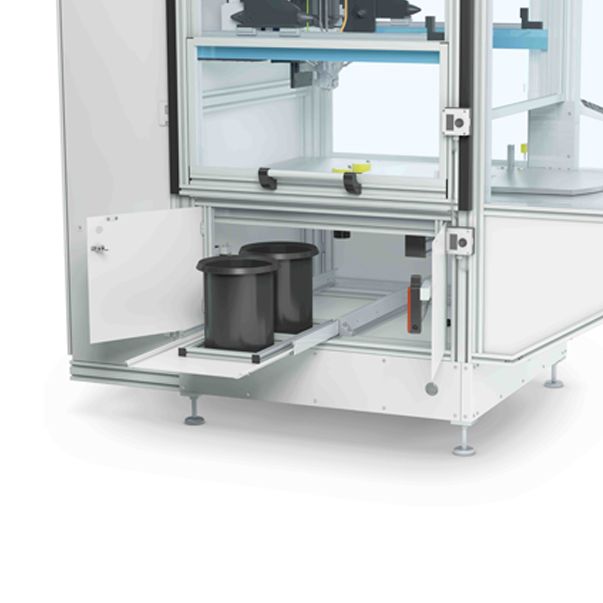 Improved user friendliness
Accessible from all sides
The clear layout and compact design of the SMART - L dispensing cell with its large rectangular apertures on the front and side doors improves access to the cell's mixing and dosing permitting fast and easy servicing and maintenance.
The service door is available either with swing opening to full height at an angle of 180°or as a lift version. The tanks for water rinsing are mounted beneath the mixing and dispensing level on bearing slides for convenient removal and drainage.
The cell roof is also removable, thus further simplifying access to the dispensing cell.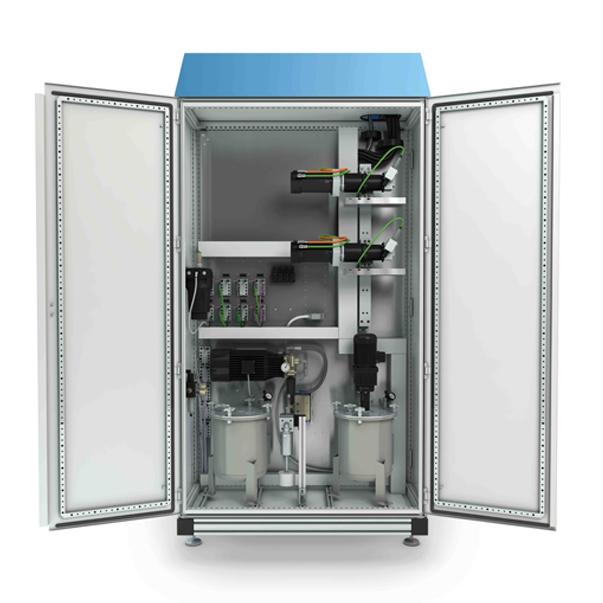 Compact outer dimensions
Fits into any ISO standard sea container
The height of the cell, without the roof and depending on the adjustable height of the feet, is 2.20 m, which is important for overseas shipment, where the ISO Standard stipulates containers with an opening height of 2.28 m. The hose layout for feeding the individual material components from dispensing pump to mixing head has been improved. A specially separated supply level at the base of the cell assures safe routing of the electrical and pneumatic lines. The lockable machine cabinet containing the dispensing periphery is located right on the rear wall of the cell. The pressure tanks for the material components are mounted on a separate base. The switch cabinet housing the control technology is separate from the SMART- M dispensing cell.
Depending on the configuration, small pressure tanks can be optionally installed into the machine cabinet – thus eliminating the need for a separate platform for it.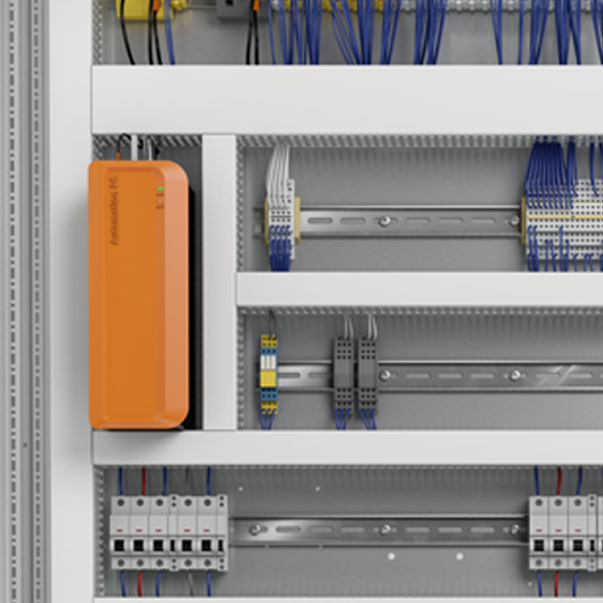 Wear-free and service-connected
Equipped with industrial PCs, prepared for onboard and remote diagnostics
The control of the SMART - M dispensing cell is based on the very latest industrial PC technology using a realtime operating and bus system. The industrial PC is equipped with a 2GB CFast memory card and 5 USB and 2 Ethernet interfaces. It has an Intel Celeron CPU with 1024 MB RAM and a 1.4GHz processor. Mechanical wearing parts, such as hard drives, are not needed.
The industrial PC has cooling fins rather than a fan.All of the system and program data are stored on Compact Flash memory cards. External devices can be easily connected and linked via plug & play, without having to first set the parameters. Using onboard and remote diagnostics via modem or TCP/IP our service team performs for you worldwide.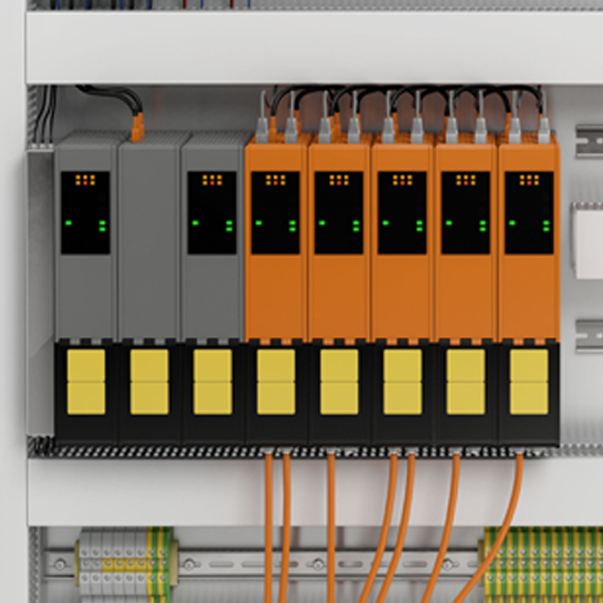 Servo motors and servo controllers
for higher resolution and path accuracy
The EnDat encoders on the new range of servo motors are now digital rather than analogue, and with better resolution. This enables outstanding path accuracy of the servo axes when moving the mixing head. The use of an electronic typeplate in the servo motor offers the advantage of being able to automatically set the servo controller parameters to the parameters presently set on the connected motor. The incorporation of an absolute encoder eliminates the need to reference the servo axes of the linear robot on the SMART - M dispensing cell. Once the controller has booted up, the axes are immediately ready for use.
The servo technology in the SMART - M dispensing cell has been improved. Individual dual or single servo controllers are simply clicked onto a mounting system – which enables very easy replacement of the servo controllers during servicing. A central module supplies power to several servo controllers and is also used for communicating with the control unit. As a result, less wiring is required, leaving more room for possible upgrades in the switch cabinet.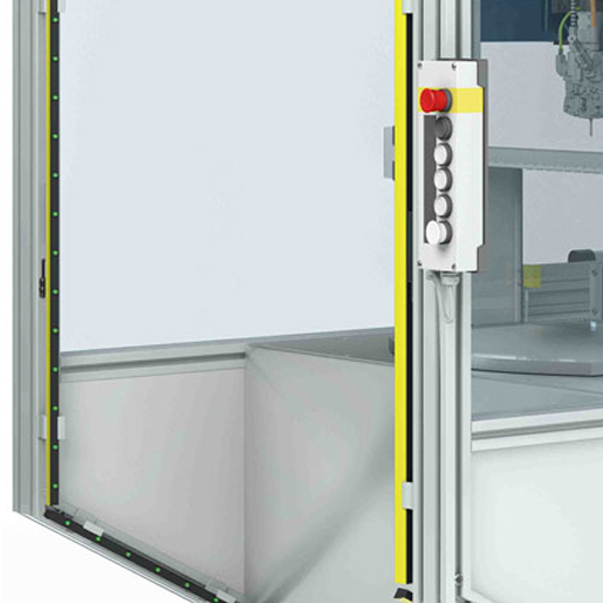 New safety features
Programmable, easy, fast
The new SMART - M dispensing cell also places work safety right at the top of its list of priorities. The use of cutting edge, integrated safety logic allows the implementation of safety features such as protecting door switches or optional light grids or pressure mats, but also more complex safety functions, such as SLS (Safely Limited Speed), for example. Added to which, the new safety technology takes up less space in the switch cabinet of the SMART - M dispensing cell.
Up until now, electromechanical safety switchgear was used for the conventional safety circuits in the electrical system. Because of the fixed wiring, this solution offered little flexibility. The new, programmable safety logic enables much easier and faster implementation of adjustments to the safety functions. The safety functions of the linear robot's servo axes and the optional rotary table are fully integrated into the programmable safety logic and can therefore also respond very quickly to any safety incidents.
Control concept
SeSelf-explaining operator guide with interactive menu-based programming using soft keys, function keys and touchbuttons; multifunctional mobile panel with integrated 6.5'' touchscreen; optionally available: stand-alone operator panel with display elements and operating keys, visualization on a 15" touchscreen
Modular "IPC" control fitted in the electrical switch cabinet and Power-Link
EMERGENCY STOP deactivation with proved and tested "Sonderhoff-SAFETY" concept, real-time bus system
Pluggable switch cabinet
Preselection of set-up / standby / manual / automatic modes, data safety with USB memory stick, serial interface or LAN
Recipe management, operator password protection with four selectable levels
Programmable potlife monitoring, shot size selection, automatic rinsing and material conditioning (air nucleation, mixing stirrer, etc.)
Automatic and spontaneously available material feed adjustment by pressure control
Timer with automatic switch-on function
Monitoring of the component pressure using the digital display
Open periphery interface
Central control of additional periphery/automation possible
Data for operating system and system programs stored on
Drive technology
Speed-controlled servo gear motor with speed indicator and adjustment on the display.
Drive performance
Pumps
Mixing head MK 400/425
(nur SMART-L)
Mixing head
MK 625
Mixing head
MK 650
kW
1,01
1,01
1,01
0,33
U/min
1 – 250
1 – 6.000
1 – 6.000
1 – 6.000
Technical data linear robot

| | |
| --- | --- |
| Max. sliding speed | 20 m/min |
| Max. acceleration | 5 m/s2 |
| Repeating accuracy | +/- 0,05 mm |
| Traversing range (SMART-M) | 500 x 600 x 250 mm (x/y/z) |
| Traversing range (SMART-L) | 1000 x 800 x 250 mm (x/y/z) |
Precision gear pumps (optional)

| | |
| --- | --- |
| Size | 0.05 / 0.10 / 0.20 / 0.3 / 0.6 / 1.2 / 3.0 / 6.0 / 12.0 / 20.0 ccm/U |
| Special pumps | on inquiry |
Pneumatic system
Pneumatic system with filter-pressure reducer, maintenance unit including pressure monitoring and valve connection plate to control the pneumatic loads
Connection ratings

| | |
| --- | --- |
| Electricity | according to EN 60 204-1 |
| Electrical power supply | 3 x 400 V, 50 Hz or 60 Hz, or according to country-specific requirements |
| Rated power | approx. 10 kVA |
| Ø Consumption: | approx. 4 kVA |
| Compressed air value | approx. 150 l/min at 6 – 7 bar |
| Water connection value | approx. 13 l/min bei min. 4 bar (Option MK 600 with High-pressure water rinsing) |
Dimensions

| | W/H/D | Operating height |
| --- | --- | --- |
| SMART-M | 1.200 x 2.400 x 1.700 mm | 950 mm |
| SMART-L | 1.700 x 2.400 x 1.985 mm | 950 mm |
General
Chassis
closed-cell construction with Makrolon windows
Platform cover
galvanized grid, separately standing
Mixing ratio
from 100 : 1 to 1 : 100, infinitely variable
Output quantity
SMART-M: from approx. 0,05 to approx. 0,2 g/s (MK 650) and from approx. 0,2 to approx. 2 g/s (MK 625)

SMART-L: from approx. 0,2 to approx. 3,0 g/s (MK 425 / MK 625), from approx. 3,0 to approx. 100,0 g/s
(MK 400 / MK 600), from approx. 0,05 to approx.. 0,2 g/s (MK 650)

Other output rate on inquiry
Viscosity processing range
1 mPas - 2.000.000 mPas, other viscosities on inquiry
Control
Display languages are available in German, English, French, Spanish, Italian and Chinese
Other country-specific languages on request
Strand identification
Switch-cabinet lighting
Operating hours counter
Remote maintenance via modem or TCP/IP
Adaptable to different power-supply ratings, special 60Hz version
Air-conditioning for switch cabinet
Quality assurance
Set-up and alarm logging, process data logging
Additional quality assurance devices are adaptable according to customer requirements
Material preparation
Pressure tank with capacitive minimum filling-level sensors and shut-off valve, with compressed-air fittings and compressed-air reducer valves for controlling the tank pressure
Safety pressure valve, TÜV type-approved
Pressure tank 24 l and 44 l, single-walled and double-walled, galvanised steel and chrome nickel steel
Wire mesh filter cartridges and plate disc filter
Rotary current mixer: 22 rpm
Rotary current mixer: 99 rpm
Electric heating for single-walled pressure tanks
Temperature control for double-walled pressure tanks
Automatic air nucleation system
Manual vacuum degassing
Prepared to control an automatic refilling device
Material supply for 20 to 1.000 l containers
Hose package
Recirculation hose package
Electric heating hoses with steel-reinforced teflon high-pressure hose core
Mixing head types
MK 400 with recirculation and high-pressure water rinsing (only SMART-L)
MK 425 with recirculation and high-pressure water rinsing (only SMART-L)
MK 600 with recirculation and high-pressure water rinsing (only SMART-L)
MK 625 with recirculation and high-pressure water rinsing (only SMART-L)
MK 625 with recirculation and high-pressure water rinsing
MK 650 with recirculation and high-pressure water rinsing
General
Material supply monitoring for component pumps
MDK 6 compressed air dryer
Workpiece automation optional with conveyor belt running through the cell
Workpiece automation optional with rotary table
Rinsing and filling shot container
Cell roof out of powder coated steel
Spare-parts packages
Transport, set-up and instruction
Technical data and values depend on the corresponding mixing ratios, material viscosities and the adaptation to pumps, hoses and mixing elements.