economic – efficient – ecologic
Dosing Cell 3E
The 2-component low-pressure dosing and mixing system which fits in every container.
Optional: now with shuttle table!
Dosing Cell 3E
The new feature for the 2-component low-pressure dosing and mixing system which fits in every container.
Dosing Cell 3E
The entry-level model for standard applications
The new Dosing Cell 3E is a 2-component low-pressure, mixing and dosing system for use in semi-automatic operation for gasketing, gluing and potting of a wide variety of components. With this system liquid, medium to high viscose media, such as polyurethanes or other reactive polymer materials can be processed precisely.
Sonderhoff has designed the Dosing Cell 3E to allow you as operator to easily and safely execute a wide variety of tasks. Standard operation is facilitated by the easy-to-handle, multi-functional MOBILE PANEL with integrated 6.5" touchscreen – an essential simplification for contour programming of components. The pre-adjustability and regulation of all system and process parameters ensure consistent production processing.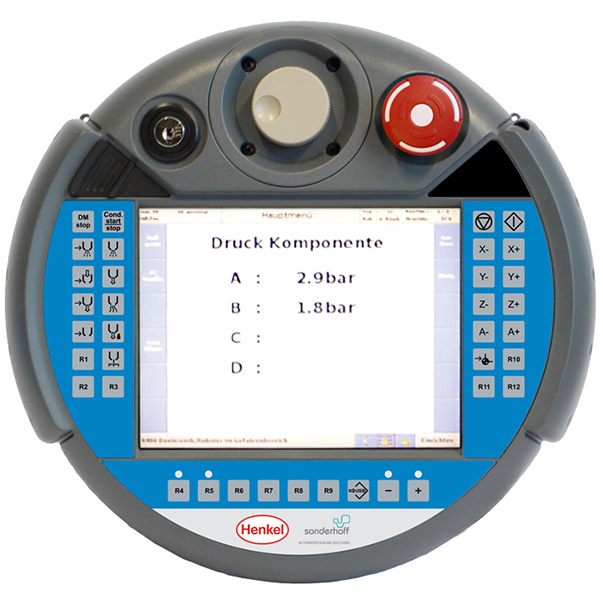 Economic
Build up and go!
With the 3E you can get started immediately. Place, plug & work!
To achieve this, we concentrated on the most essential characteristics and have designed the system for the most frequently used application characteristics. This has created a system which, through a very attractive entry-level price, enables extremely short amortisation times, and which produces small and medium quantities economically.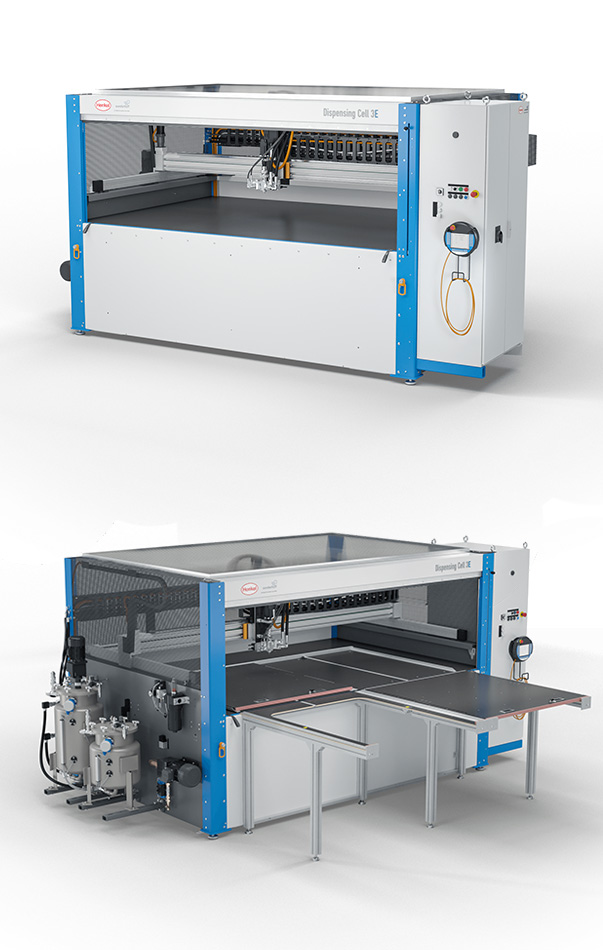 Efficient
The 3E saves time, space and costs
Everything in the machine is targeted at efficiency. The application rate of the MK 425 mixing head is between 0.5 g and 5.0 g per second, depending on material and mixing ratio. Experience has shown that this is the bandwidth which covers 80% of the current applications. The pressure tanks, with a 44 litre capacity for the A-component and 24 litre capacity for the B-component, accommodate the typical, asymmetric mixing ratio.
The machine concept itself is designed so that the machine can be delivered completely assembled in one piece in a container. Moreover the machine is prepared in such a way that it just needs to be set up at the destination location and connected to the mains supply. As soon as water and compressed air are connected, and the material is prepared in the material pressure tanks, production can begin – place, plug & work!
The machine is CE-compliant, and so an immediate, safe production start is possible. The manual liftdoor safely delimits the danger zone, so that additional protective fences or light barriers are not needed – an additional, efficiency-increasing saving of space and costs. Moreover, due to the high degree of standardisation, delivery time is shortened. Customers who are already familiar with the FIP(F)G technology can set-up the system on their own. Of course we would be pleased to support you on request!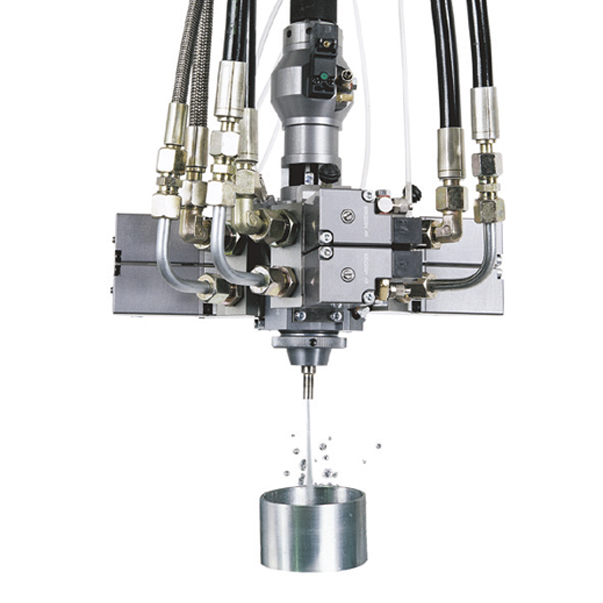 Ecologic
Achieve a lot with minimal effort
The ecological high-pressure water rinsing system is the essential characteristic of environmentallyfriendly processing of 2-components reaction materials. The use of solvents to clean the mixing head becomes superfluous. With this proven technology you make an active contribution to environmental protection – throughout the machine's service life.
The Dosing Cell 3E – a genuine Sonderhoff
The Dosing Cell 3E can't do everything – but with comparably little effort, it can do a great deal! And it can continue to do so for many years, thanks to the proven Sonderhoff quality. In spite of all the cost efficiency: The 3E mixing and dosing system uses the proven Sonderhoff components for all essential parts. Starting from the MK 425 mixing head, the central IPC controller, the modern sensors and actuators, to the pressure-controlled recirculation-valve technology, including automatic air nucleation, and extending to the high-pressure water rinsing system.
CONTROL CONCEPT
Self-explanatory operator guidance via dialogue programming using menu technology with softkeys, touch buttons and function keys; multi-functional mobile panel with integrated 6.5" touchscreen
Display languages available: German, English, French, Spanish, Italian, Chinese
Modular "IPC controller" integrated into the control cabinet by means of Power-Link
EMERGENCY STOP shutdown with proven "Sonderhoff-SAFETY" concept, real-time-capable bus system
Control cabinet pre-installed
Preselect for Set-up/Stand-by/Manual/Automatic operating modes
Recipe management
Operator password protection can be selected at 4 levels
Data backup via USB stick or LAN
Programmable pot-life monitoring and dosing quantity preselect, as well as automatic rinsing and material conditioning (air nucleation, stirring, etc.)
Automatic delivery rate adjustment available whenever needed, through pressure regulation
Preparation for automatic refill
Timer with automatic start-up
Pressure monitoring of components, digital component pressure display
Safety shutdown from protective door
Data storage for operating system and system programs on CFast storage media

MATERIAL PROCESSING
Mixing ratio
from 10 : 1 to 1 : 2, infinitely variable
Application rate
from 0.5 to 5.0 g/s (*)
Viscosity processing range
Component A: 1,000 mPas – 100,000 mPas (*)
Component B: 200 mPas – 1.000 mPas (*)

(*) depending on viscosity and mixing ratio / other application rates and viscosities on request
PRECISION GEAR PUMPS

| | |
| --- | --- |
| Component A | 1,2 ccm/Rev. |
| Component B | 0,3 ccm/Rev. |
HOSE PACKAGE

| | |
| --- | --- |
| Component A | Textile-reinforced, polyamide high-pressure hose |
| Component B | Steel-reinforced Teflon high-pressure hose |
| Recirculation hose package | |
MIXING HEAD TYPE
MK 425 with recirculation and high-pressure water flushing or component flushing
MATERIAL PREPARATION
Pressure tanks with capacitive minimum fill level sensors and shut-off ball valve, with compressed air fittings and compressed air reducing valves for primary pressure regulation of tank pressures
Safety pressure valve TÜV type-tested
44 l pressure tank, double wall, chrome nickel steel for component A
24 l pressure tank, double wall, chrome nickel steel for component B
Wire mesh filter cartridges
Three-phase current agitator running at 99 rpm for tank A
Automatic air nucleation
Preparation for control of an automatic refilling device
PNEUMATIC SYSTEM
Pneumatic system with filter-pressure reducer, maintenance unit with pressure monitoring and valve cluster for control of pneumatic loads
LINEAR ROBOT

| | |
| --- | --- |
| Speed: | 15 m/min |
| Acceleration: | 2 m/s2 |
| Traversing range x/y/z: | 2.500 mm x 1.250 mm x 250 mm |
DRIVE TECHNOLOGY
Speed-regulated servo gear motor with speed display and adjustment through the display
Pumps
Mixing Head
Drive performance
0,33 kW
0,33 kW
Drive rotational speeds
1 – 250 rpm
1 – 6.000 rpm
CONNECTION RATINGS

| | |
| --- | --- |
| Electrical system | Execution as per EN 60 204-1 |
| Mains connection | 3 x 400 V, 50 Hz |
| Rated power | approx. 10 kVA |
| Ø consumption: | approx. 4 kVA |
| Compressed air connection value | approx. 150 l/min at 6 - 7 bar |
| Water connection value | approx. 13 l/min at min. 4 bar |
GENERAL EQUIPMENT
Dimensions W/H/D approx. 4,200 x 2,220 x 2,050 mm
Chassis compact design, powder-coated
Weight approx. 1,500 kg
Material supply monitoring for component pumps
Compressed air dryer MDK 6
Air conditioner for control cabinet temperature control
Rinsing and filling shot container
Spare parts packages
Strand identification
FRONT VIEW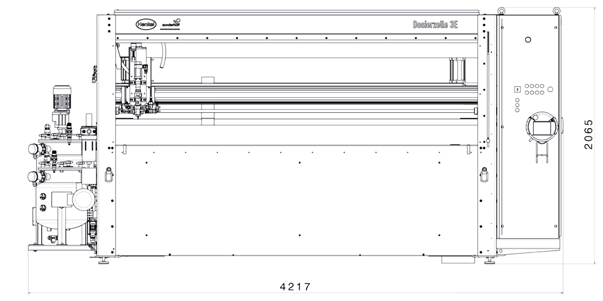 SIDE VIEW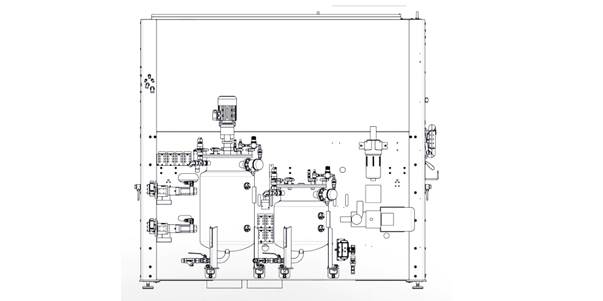 ISOMETRIC VIEW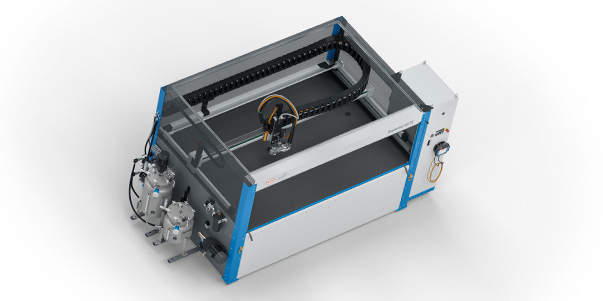 TOP VIEW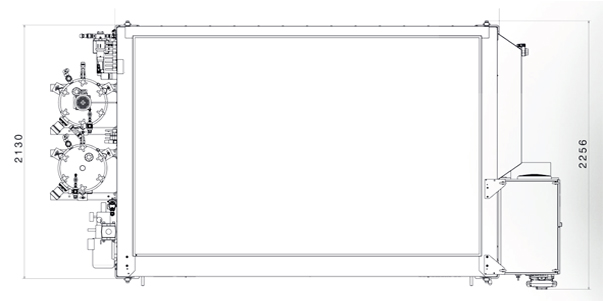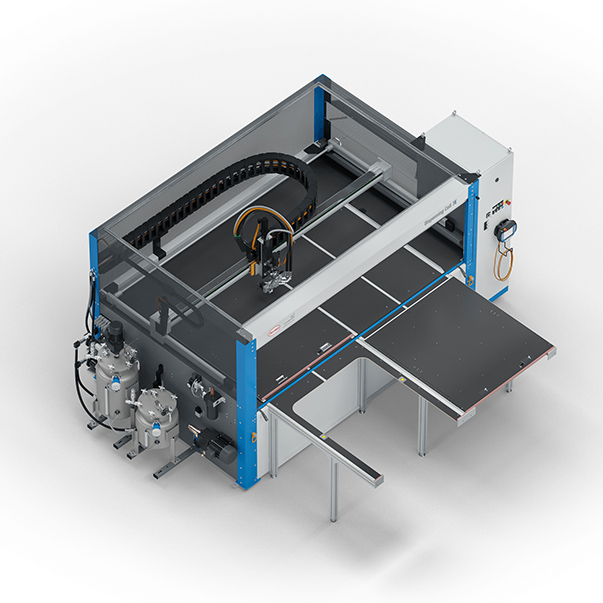 Area of application
This shuttle table unit permits the single-level processing of parts on two pendulum receiving plates in one plane, moving back and forth. This offers both continuous operation and short cycle times.
For larger parts, the two tables can be connected to one large shuttle table.
The table unit consists of a chassis section (fitted with adjustable levelling feet), with two moveable tabletops made of coated multiplex with attachment holes for securing the workpiece support or the workpiece itself.
The shuttle table is not integrated in the system, but is delivered with the machine for self-assembly.
Technical specifications
Manually operated hub of the shuttle table plates
Maximum load per table top 30kg
The two shuttle tables are in one plane and can be connected to be used as one large worktop
Dimensions shuttle table / operating surface (length x width in mm each):
Length (L)
Width (B)
Stroke (H)
Operation height (AH)
1224
1225
1475

992