SONDERHOFF DM 402 CC
For the application of closed-cell 2C polyurethane foam sealings
The dosing technology of the SONDERHOFF DM 402 CC mixing and dosing machine creates a foam sealing directly after the dosage with an almost fully reacted dimension – a huge benefit for process-oriented quality control.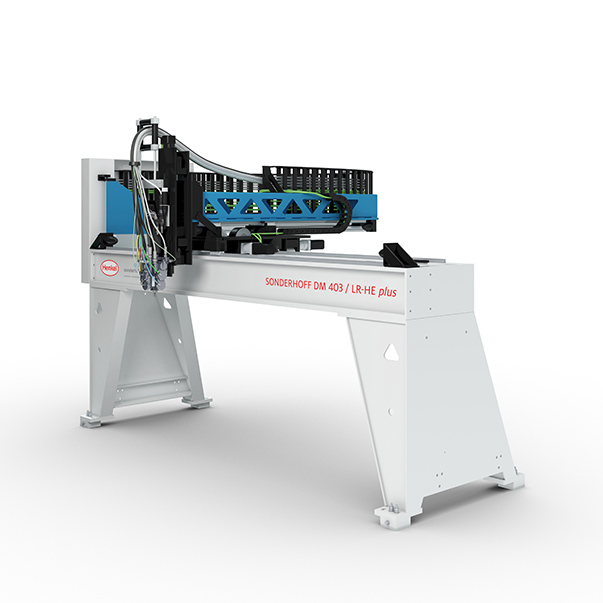 Familiar FIPFG benefits and proven peripherals for high process safety
The SONDERHOFF DM 402 CC works precisely and reliably, embedded in a proven installation layout. A traversing range that can be individually dimensioned depending on the robot type and a standard output rate of 0.5 to 2.0 g/sec enable the technology changeover to be made possible spontaneously and economically for many applications!
Gentle, dynamic mixing of the material components in the mixing head
The highly rigid linear robot offers highest positioning and repeating accuracy
Central control system for additional peripherals/automation is possible with the open peripheral interfaces
Remote maintenance via a modem or TCP/IP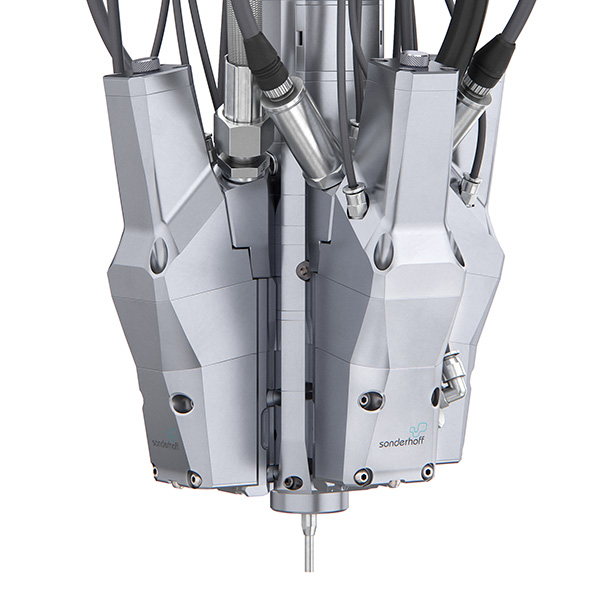 Innovative and economical through the CC process
The innovation lies in the mixing head and material processing. The new foam process makes recirculation of material unnecessary.
This simplifies changing material and accelerates process adaptations. So-called "shrinkages" can no longer occur. Furthermore, no oven is needed, but it can be incorporated if it is desired to additionally accelerate the process until the component is installed. The usual air loading no longer takes place in the storage containers, which enormously shortens the set-up time.
The surface of the CC foam sealing is smoother and more resistant than the conventional PU foam seals, and the cells in the foam structure are also significantly finer.
Control concept
Self-explaining operator guide with interactive menu-based programming using soft keys, touch buttons and function keys; multifunctional Mobile Panel with integrated 6,5" touchscreen
Modular IPC control fitted in the electrical switch cabinet with Power-Link
EMERGENCY STOP deactivation with the proven safety concept, real-time bus system
Recipe management, programmable pot-life monitoring, dosing quantity preselection, automatic rinsing
MATERIAL PROCESSING

| | |
| --- | --- |
| Mixing ratio | from 1 : 2 to 1 : 4 |
| Output quantity | from 0.5 to 2.0 g/s (*) |
| Material handling | tap line |
(*) depending on viscosity and mixing ratio / other application rates on request
PRECISION GEAR PUMPS
Component A
1.2 ccm/rpm (typical for output quantity 0.5 - 2 g/s and mixing ratio 1 : 4)
Component B
0.3 ccm/rpm (typical for output quantity 0.5 - 2 g/s and mixing ratio 1 : 4)
Rotation speed
Pumps: 1 – 250 rpm/min
Speed-controlled servo gear motor with speed display and adjustment through the display


Mixing Head
SONDERHOFF MK 125 with high-pressure water or component rinsing
2 or 3 components
Integrated tempering application
Mixing head: 1 - 6,000 rpm/min
MATERIAL PREPARATION
Pressure container with capacitive minimum fill-level sensors and shut-off valve, with compressed air fittings and
compressed air reducer valves for controlling the container pressure
Safety pressure valve, TÜV type-approved
Novel material preparation for fast process adjustment and optimized foam results
Direct adjustment of foaming degree possible
Self-diagnosis of relevant wear components by the control system
PNEUMATIC
Pneumatic system with filter-pressure reducer, maintenance unit including pressure monitoring and valve connection plate to control the pneumatic loads
OPTIONAL HANDLING SYSTEM
Linear robot SONDERHOFF HD or HE plus
Six axis robot