The reference class
SONDERHOFF DM 402/403/404
Low pressure mixing and dosing system for two to four components
Maximum precision with linear robots
Highest flexibility in equipment options
Half or fully automatic production integration
SONDERHOFF DM 402 / 403 / 404
Often copied, never equaled!
The SONDERHOFF DM 402/403/404 is a high-performance mixing and dosing system for two to four components for the semi- and fully automatic application of sealing foams, adhesives and potting compounds to various parts. This machine precisely processes liquid, medium and high viscosity compounds such as polyurethanes, silicones, epoxy resins or other polymeric reactive materials.
In the SONDERHOFF DM 404 the control is designed towards 4-component processing and represented accordingly in the operating panel. The valve for the fourth material component is manually attached to the mixing head.
Modular construction, innovative technology and reliable operation are the guarantees for a return on your investment. The SONDERHOFF 40x series can be incorporated as well into demanding inline production, with the highest requirements for reproducibility, as into job order production environments with often changing parts and the most varied materials. The SONDERHOFF DM 40x inserts itself very reliably into the production process and is the sector benchmark as regards long service life.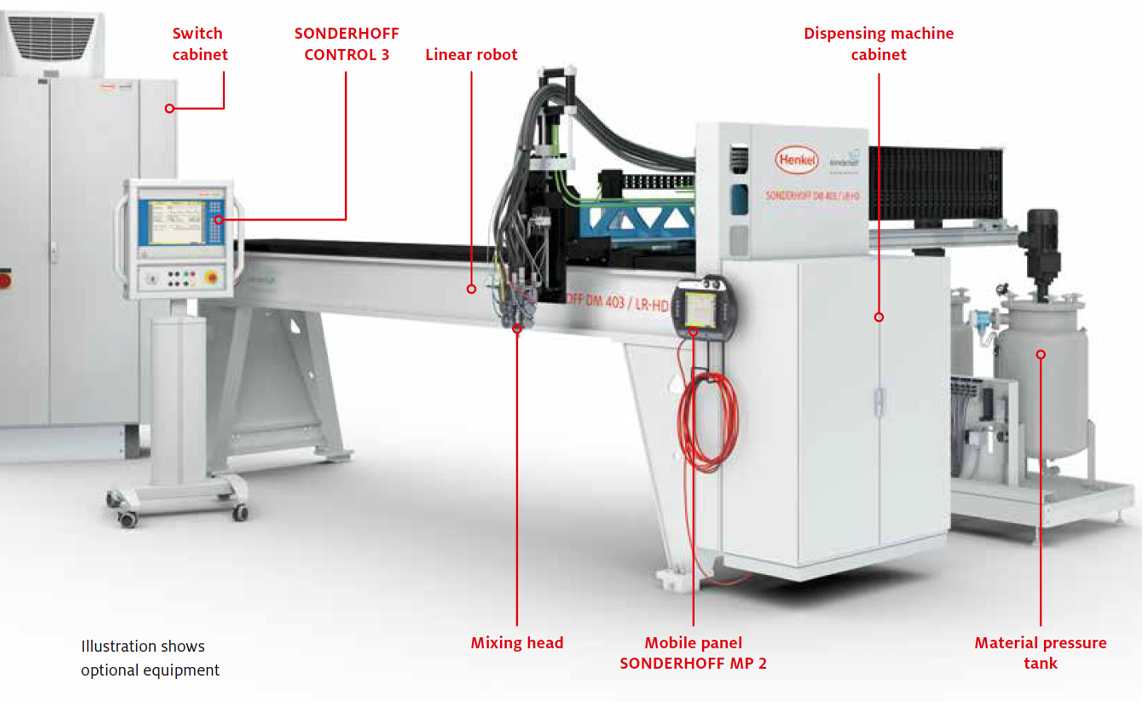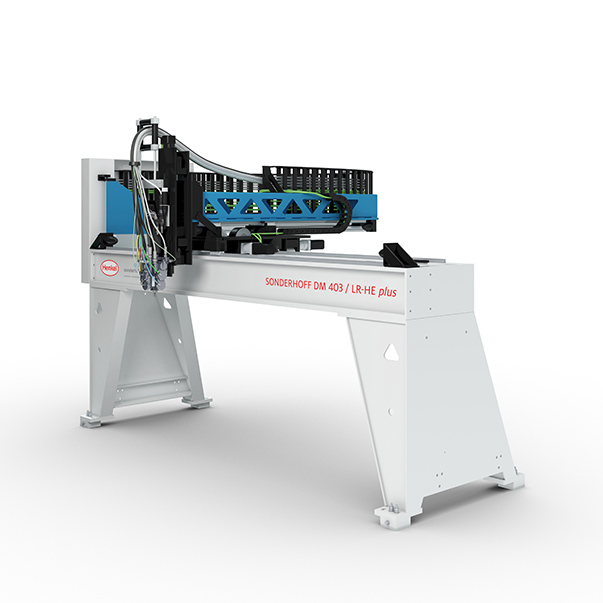 Dynamics, speed, precision
Very reliable even at high speed
High acceleration, narrow turning circles and fluid movements over long contours – no problem for the linear robots SONDERHOFF LR-HE plus and SONDERHOFF LR-HD. The dynamic 3-axis linear robots are characterized with high rigidity and acceleration over a very large working area. They also need, in comparison to 6-axis robots, significantly less space, and present a fluid motion – essential for the even and precisely contoured application of polymeric reactive materials.
The operation, programming and control is achieved via a menu dialogue input using a keyboard, the visualization via the display in the central mixing and dosing system control. Preferred areas for use are in applications with high material application speeds in conjunction with abrupt changes of direction.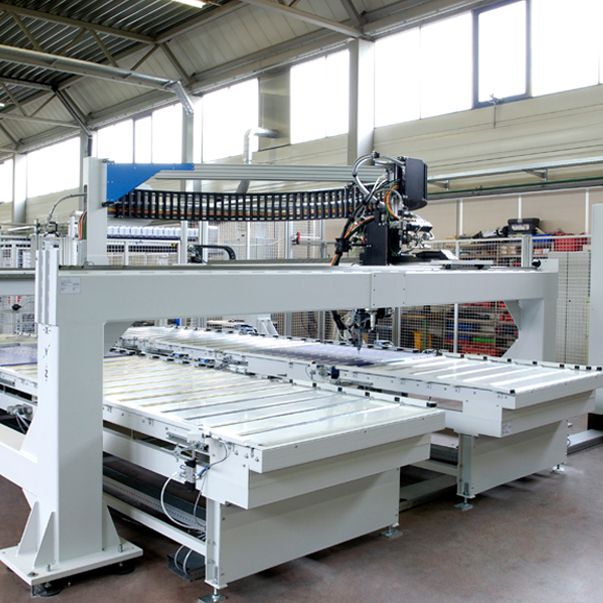 Equipped for today and tomorrow
Great flexibility in equipment options for the most varied production concepts.
Whoever purchases a SONDERHOFF mixing and dosing system is already equipped for tomorrow's tasks. This means that different constructions with new geometries and materials can be processed even under changing circumstances. The 3-component version SONDERHOFF DM 403 allows to process two different material systems with the same B-components simultaneously.
The SONDERHOFF DM 404 extends the processing possibilities by a further component: Thus two material systems with different B-components or 3 material systems with the same B-component can be processed. Whatever the use is – either as a unit in a fully automated production line or as a stand-alone system – each machine from the SONDERHOFF DM 402/403/404 series can be integrated also into YOUR production concept due to its modular design.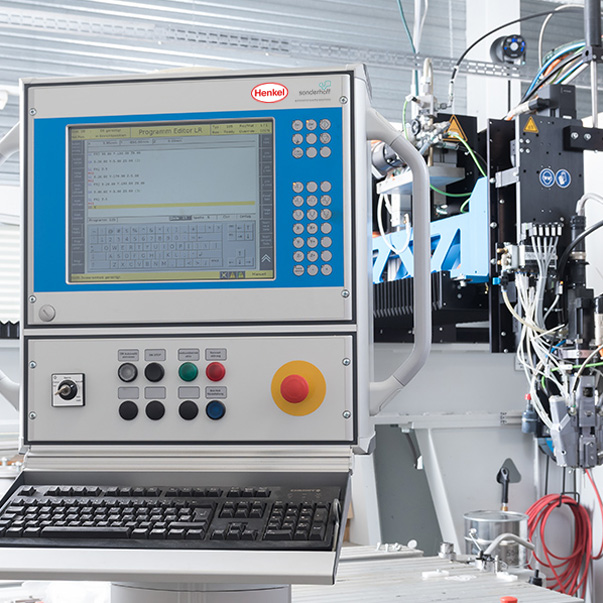 Quality on the highest level
The highest process safety and machine uptime
The materials used are processed with consistently high production quality. The use of modern sensor and actuator technology is a further guarantee for safe machine and process control. The automatic logging of all setup, material and process data enables the tracking of any preceding production sequence at any time.
A comprehensive service concept will help to gain continuously high machine uptime. It is based above all on the basic idea of preventive and planned maintenance.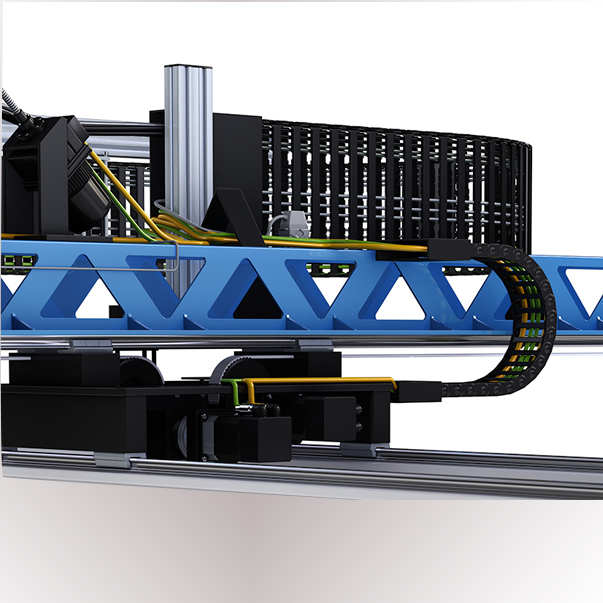 Reproducibility is king
The SONDERHOFF LR-HD and LR-HE plus linear robots
The basic framework for the linear robots is made in steel profile beam construction, welded, lacquered with levelling feet and prepared for anchoring to the floor. The guidance system is equipped with maintenance-free, low-wear linear bearings for high loads. Torsionally stiff precision gears and couplings as well as highly dynamic AC servo and rack-and-pinion drives in the SONDERHOFF LR-HD linear robot ensure very even and smooth axis movements, without juddering and shivering.
In the SONDERHOFF LR-HE plus linear robot, all axes are moved evenly and smoothly by AC servo drives, Omega timing belt drive on the X and Y-axes and rack-and-pinion drive on the Z-axis. The contouring control is integrated into the central IPC of the mixing and dispensing system.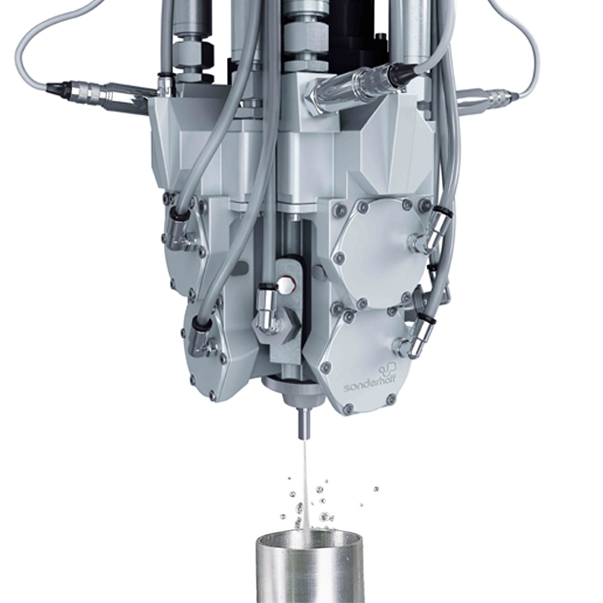 Clean and precise dispensing
SONDERHOFF STOP-DROP DVS-3 high-pressure water rinsing and nozzle lock system
The SONDERHOFF MK 400 or MK 425 precision mixing head is part of the basic equipment. Optionally, one of the further developed SONDERHOFF MK 600, MK 625 or MK 650 precision mixing heads can be used. Both mixing head series offer qualitative, ecological and economic advantages due to high-pressure water rinsing for cleaning the mixing chamber. Ecological high-pressure water rinsing is the essential feature of environmentally friendly processing of twocomponent reactive materials. The mixing ratio is infinitely variable from 1 : 100 to 100 : 1. The application rate ranges from 0.05 to 100 g/s depending on the machine configuration. Material viscosities from 1 to 2,000,000 mPas can be processed.
The air load measuring and control unit SONDERHOFF LBM-3 ensures consistent quality of the material components. In combination with pressure-controlled recirculation technology, a precise material output quantity will be achieved. The nozzle lock system SONDERHOFF STOP-DROP DVS-3 prevents dripping and allows an accurate dimension of gaskets particularly in the coupling area.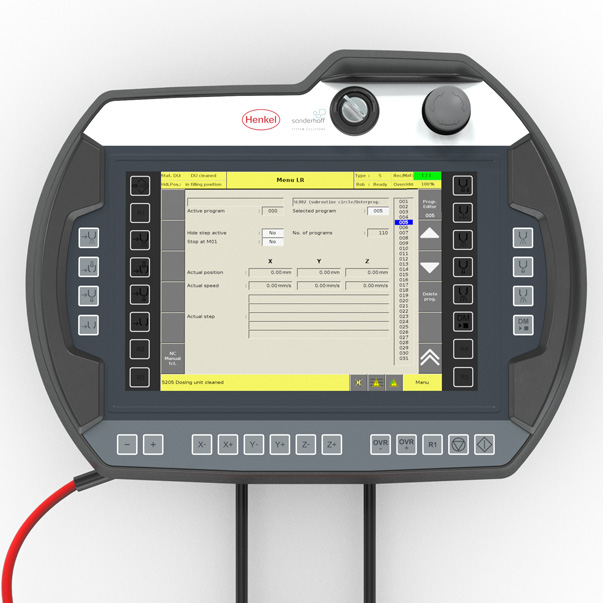 Work and control in comfort
SONDERHOFF CONTROL II teach-in-box and operating surface
The mixing and dosing systems of the SONDERHOFF DM 402/403/404 series are designed in such a way that you as
an operator can easily and safely fulfil the most diverse tasks. The standard operation is carried out via the easy to handle, multifunctional mobile panel SONDERHOFF MP with integrated 6.5" touch screen. Even more convenient is the additional 15" touch screen user interface SONDERHOFF CONTROL II, which is offered as an optional extra.
The fully automatic production sequence of the mixing and dosing machine is ensured by preset ability and control of all machine and process parameters. The use of the mobile panel SONDERHOFF MP simplifies the contour programming for the processed parts. Due to its modular design, the machine is easily accessible, so that cleaning and maintenance work can be carried out quickly and easily.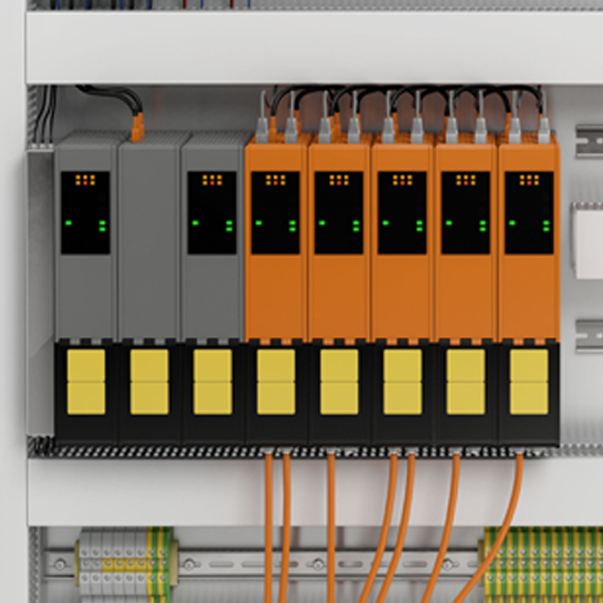 Always close to the action
Real-time control and online remote diagnosis
The control of the SONDERHOFF DM 402/403/404 is based on future-oriented industrial PC technology using a real-time operating and bus system. Due to this system, no mechanical parts like hard discs or fans are required anymore. All system and program data are stored on CompactFlash memory cards.
The networking and connection of external devices can be easily carried out by plug & play. Using onboard and remote diagnostics, our service is available to you worldwide.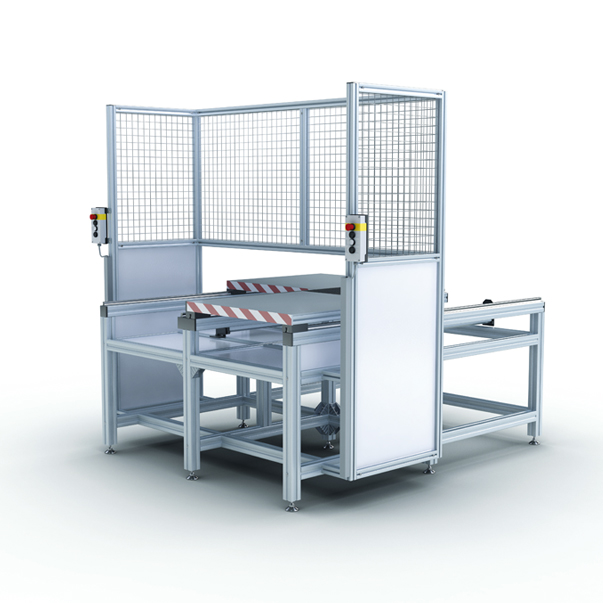 Safe part input on a short cycle
Shuttle table in one or two-levels
The shuttle table of the SONDERHOFF DM 402/403/404 mixing and dispensing systems allows processing of parts on two feeder plates in shuttle operation. These are arranged either on a single plane (SONDERHOFF WT 1-LEVEL) or placed one above the other (SONDERHOFF WT 2-LEVEL), so that very short cycle times and continuous production can be ensured.
The construction of the table consists of a stable base frame including levelling feet, an attachment for floor anchoring and two movable aluminium worktops with drill holes for the securing of workpieces or workpiece mounts.
The shuttle table allows a strict division between the robot danger area and the insertion area corresponding to the proven safety concept.
Control concept
Multifunctional mobile panel SONDERHOFF MP with integrated 6.5" touch screen
Self-explaining operator guide with programming buttons, function and touch keys
Modular IPC control fitted in the electrical switch cabinet with Powerlink
EMERGENCY STOP deactivation with approved safety concept; real-time bus system
Pluggable switch cabinet
Preselection of set-up / standby / manual / automatic modes
Recipe management
Operator password protection with four selectable levels
Programmable pot life monitoring, dosing quantity preselection, automatic rinsing and material conditioning (air loading, stirring etc.)
Automatic and spontaneously available material feed adjustment by pressure control
Monitoring of the component pressure using the digital display
Timer with automatic switch-on function
Open periphery interface
Central control of additional periphery / automation possible
Data backup via USB stick, serial interface or LAN
Data for operating system and system programs stored on Compact Flash
Drive technology
Speed-controlled servo gear motor with speed display and adjustment through the display
Pumps
Mixing head
Drive performance
0,94 kW
0,94 (alternatively 1,13 ) kW
Rotation Speed
1 – 250 U/min
1 – 4.500 ((alternatively 1 – 6.000) U/min
Precision gear pumps (optional)

| | |
| --- | --- |
| Size | 0,05 / 0,10 / 0,20 / 0,3 / 0,6 / 1,2 / 3,0 / 6,0 / 12,0 / 20,0 ccm/R |
| Special pumps | available on request |
Hose package
Length according to customer requirements with all electrical and pneumatic connections enfolded
A-Components
textile-reinforced polyamide high-pressure hose
B-Components
steel-reinforced PTFE high-pressure hose
Pneumatic system
Pneumatic system with filter-pressure reducer, maintenance unit including pressure monitoring and valve connection plate to control the pneumatic loads
Connection ratings

| | |
| --- | --- |
| Electricity | according to EN 60 204-1 |
| Electrical power supply | 3 x 400 V, 50 Hz or 60 Hz, or in country-specific voltage |
| Rated power | approx. 10 kVA |
| Average consumption | approx. 4 kVA |
| Compressed air connection value | approx. 150 l/min at 6 - 7 bar |
| Water connection value | approx. 13 l/min at min. 4 bar |
Dimensions

| | W/H/D |
| --- | --- |
| Platform incl. material pressure tank (per component): | 625 x 1,500 x 860 mm W/H/D, approx. 85 kg |
| Dosing unit/dispensing machine cabinet | 1,210 x 1,400 x 510 mm W/H/D (without frame, feet or carrying eyes), approx. 300 kg |
| Switch cabinet | 1,210 x 2,650 x 510 mm W/H/D, approx. 350 – 450 kg |
General

| | |
| --- | --- |
| Chassis | modular hybrid construction, painted RAL 7035 |
| Container platform: | Galvanized grating, with adjustable leveling feet and drip pan, separately standing |
| Mixing ratio | from 100 : 1 to 1 : 100, infinitely variable |
| Output quantity | from 0.05 to 100.0 g/s, other output quantities on request |
| Viscosity processing range | from 1 mPas to 2.000.000 mPas, viscosities on request |
Control
Deactivation through safety door with interlocking (optional when a safety fence is delivered)
Free-standing control panel with display elements and operating keys, visualization via a 15" touch screen
Display languages are available in German, English, French, Spanish, Italian, Chinese
Other country-specific languages possible
Strand identification
Switch cabinet lighting
Operating hours counter
Remote maintenance via modem or TCP/IP
Voltage adaptation to different power-supply ratings, 60 Hz version
Air conditioning unit for switch cabinet temperature control
Material preparation
Material pressure tank with capacitive minimum fill level sensors, safety pressure valve (TÜV type approved), overfill protection (only when using a refill station) and shut-off ball valve, with compressed air fittings and compressed air reducer valves for pre-pressure control of the tank pressures
Material pressure tank, single-walled, galvanized steel in 24 L or 44 L
Material pressure tank, single-walled, stainless steel in 24 L or 44 L
Material pressure tank, double-walled, stainless steel in 24 L, 44 L or 90 L
Wire mesh filter cartridges and plate disc filter
Three-phase agitator with 22 rpm or alternatively 99 rpm
Electric heating for single-walled containers
Temperature control for double-walled containers
Automatic air loading
Manual vacuum degassing
Prepared to control an automatic refilling unit
Material supply by refilling units for containers from 20 to 1,000 liters
Quality assurance
Nir load measuring and control unit SONDERHOFF LBM-3
Sett-up and alarm logging, process data logging
Additional quality assurance devices are adaptable according to customer requirements
Hose package
Recirculation hose package
Electrically heated hoses with steel-reinforced PTFE high-pressure hose core
Double-walled medium heated hose with PTFE high-pressure hose core
Mixing head types
SONDERHOFF MK 20 with feed lines and static mixing
SONDERHOFF MK 400 / MK 425 with feed lines and high-pressure water or component rinsing
SONDERHOFF MK 400 / MK 425 with recirculation and high-pressure water or component rinsing
SONDERHOFF MK 600 / MK 625 / MK 650 with recirculation and high-pressure water or component rinsing
General
Material supply monitoring for component pumps
Compressed air dryer MDK 6
Rinsing and filling shot container
Spare parts packages
Protective fence after clarification of agreed scope of delivery and statutory provisions
Transport, setup and instruction